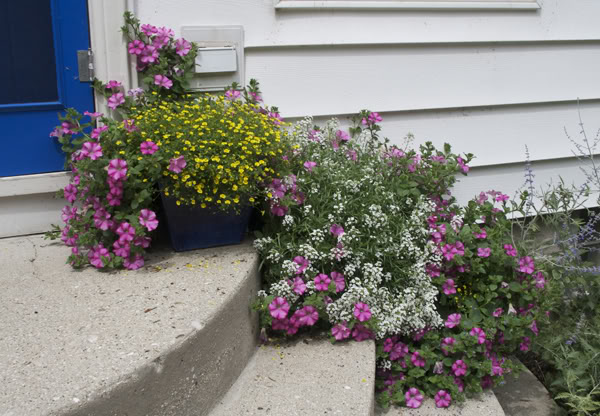 Last week I wrote about my favorite new plants of the summer. Here are a few that earned honorable mentions a couple that were just plain disappointments.
Narrowly missing the "best of" list was Petunia Raspberry Blast. I never really liked this petunia much in the past. It just came across as a bit gaudy to me. And then last year I saw it used in one of the street containers downtown in the town where I work. As I drove through town all of the containers looked nice, but only the container with Raspberry Blast consistently caught my eye.
I grew it this year on the front steps and I do think it was the right pop of color for that area. It also required very little maintenance other than the usual and a haircut about mid-summer.
As Tim Gunn would say, it's "a lot of look" but in the right place, I think Raspberry Blast is pretty great.
Another honorable mention goes to a pretty ordinary flower: Superbells White. It has a light yellow center that brightens it up. It was in the center of my window box and it just kept on blooming all summer. More and more I'm liking calibrachoas much more than petunias.
Now's the time we get to a couple of disappointments. These were two of the most hyped Proven Winners winners plants of the year, so perhaps what we're dealing with is too much build-up. Like prom, sometimes the real deal just can't live up to the expectation. Really, these plants were promoted so much you would think that they would deadhead the rest of the plants, and water and fertilize the garden for you. And fight off weeds.
The first disappointment was Lobularia Snow Princess. Yes, it's a million times better than the Lobularias of the past, so in that aspect, it was a winner. But go one day without water, and Snow Princess looking like Frosty the Snowman after he gets locked in the greenhouse. I know most containers really do like to be watered every day in the middle of summer, but most of them can go a day or two without looking positively pathetic. Snow Princess is, like her name, just a little too high maintenance for me.
And the biggest disappointment of the summer: the highly touted Supertunia Pretty Much Picasso. I think this flower looks great in the promo material, when you're looking at just the flower on a white background. Unfortunately, that's not how we see our plants. We see them with stems and leaves and not always perfectly lit.
The beauty of Pretty Much Picasso is in it's green rim on the flowers, but as it turns out, it's almost impossible to see that green rim (which is more of a Kelly green than a chartreuse) when it's actually planted, unless you are on top of it. I also didn't find it to flourish well. It just never filled out very nicely. Of course, that could be entirely gardener error, but if I made that mistake with PMP, then I'm sure I've made it with other flowers that have handled it anyway.
And the last problem with PMP, is that it just doesn't go with much. Because the beauty is in the edges, you want to highlight those and not bring in a ton of other colors to fight with it in the same containers. I saw nurseries that mixed it with peach colors in containers (not my favorite), and a lot of Snow Princess and PMP in hanging baskets (disappointment in a basket?), and none of them looked particularly stunning to my eye.
So I'm sorry to say, PMP, I don't think you're going to make the cut next year. That's OK, there's a newbie on the way next year … and I think he'll fill your shoes, and then some, just fine.