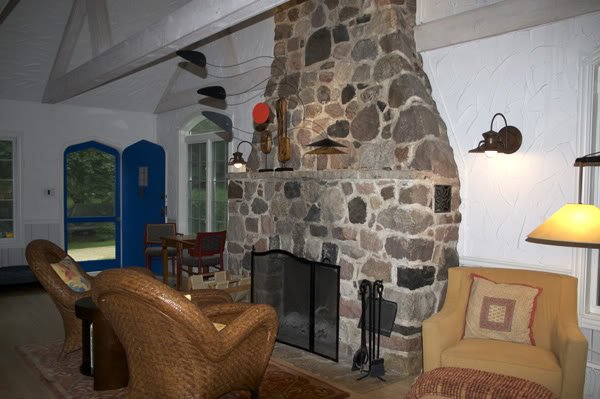 I've (and I say I've because I get no help whatsoever from Mr. Much-More-Patient on these matters) chosen almost all the paint colors for the remodeled areas of the house and even though I wasn't conscious of it at the time, it appears I'm really into gray at the moment.
Let's start with the most important choices: The living room ceiling and walls. Because our living room ceiling is crazy tall, painting it will never be a DIY project. And because I'm paying someone to do it, I want to make sure I like it the first time. There's no way to guarantee that, of course, but I'm going with what I know on this one.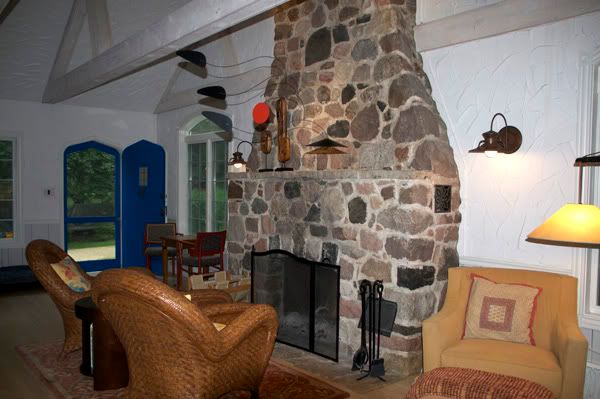 The living room was white white … in fact there was no paint on the walls. Just drywall compound.

The old walls were the horrible swoopy plaster stuff, that was white. In fact it was so white because it had no paint on it. So take a bucket of drywall compound, smear it on your wall and let it dry. That was the color of the walls. I didn't want white white, but I definitely wanted something that I knew I wouldn't tire of. (By the way, all the color samples here look really strange and don't even look all that close to the actual color to me, but just go with it!)
Mascarpone
So the walls and ceiling in the living room will all be Benjamin Moore (all colors are BM, even if they won't necessarily be painted using BM paint) Mascarpone (AF-20). You may remember this color from my totally boring and seemingly neverending search for the perfect white. This the color that all the trim in the house (except for the bathrooms) will eventually be (when I get to it). It's a nice warm off-white that I don't find too creamy or too yellow. I was unsure about the trim and the walls being the same color but then I looked around the Internet a little and it seems that's quite the trend these days. That's not why I'm doing it, but hey, I'll go with it.
This really bizarre picture of the mobile that came with the house—we liked it so we just left it right where it was—shows the one wall in the living room that is fully paneled. The gray we're going with will be a little darker and a little warmer than what's there. Also, that horrible swoopy plaster stuff on the walls is gone! Oh happy day!
Gray Huskie
One full wall in the living room as well as the wainscotting on the other walls is random width paneling. This had been painted a light gray color that sometimes looked white in low-light situations. It didn't look quite right with the Mascarpone, so I'm taking it a few shades darker and a little warmer with Gray Husky (or Huskie, depending on which fan deck you're looking at). This paneling is also on the walls in the upstairs hallway that is open to the living room and up the staircase. I was (and am) worried it may be too dark, but I wanted enough contrast to notice it and that will certainly happen with Gray Husky. Incidentally, I've been toying with the idea of refinishing the beams, but it's not something I ever even considered until a week ago or so. I figured it would be safer to live with it for awhile before deciding if they should be refinished. Part of me wants to wait because I don't know whether to go with a weathered cedar look or just white. So, if anything, that's a project for the future.
One other thing about the colors for the living room: I have completely tired of the sort of modern French country colors that are currently in the room. I yearn for a crisp navy, tan and off white palette in the worst possible way. Because of this renovation, however, that's not in the cards at the moment (although it wouldn't be horribly expensive, but it would require a new couch and two new rugs. I'd recover the chair and ottoman and the coverings on the other other chairs in the room would be DIY projects. Anyway, I chose the colors for the living room with this in mind so that down the road, when we can change things around, we'll be able to without having to paint yet again.
Revere Pewter in the kitchen. Revere Pewter
In our bedroom I'm going to go with Revere Pewter. This is the same color I used in the kitchen and I really love it. It changes throughout the day from gray to beige but it always feels warm and like a good neutral vs. a lazy neutral (that is, one of those "safe" colors).
Both bedrooms will have wood plank (all the contractors call is car siding, which is a term I've never heard before) ceilings painted Mascarpone.
Stonington Gray
The other bedroom, which is going to be yellow, black, gray and white, is going to have its walls painted Stonington Gray.
Pale Smoke
Quiet Moments
The bathroom paint color is still up in the air but I'm looking for a grayed blue or green. I want a color that looks gray when you look at it by itself but skews blue when looked at with the Caribbean blue accent tile that will in there. I'll be doing tile halfway up the walls so this is only for the top of the walls and the ceiling, which I think I'm going to paint in a 50% dilution of the wall color.
As you can see, it's all a little gray, but I think there's enough variation that it will still be interesting. And, as I always remind myself, other than the living room ceiling, it can all be repainted when I leave my "gray" phase.
In case you want to check out the previous construction updates here they are:
Construction Update 1
Construction Update 2
Construction Update 3
Construction Update 4
Construction Update 5
Construction Update 6
Construction Update 7
Construction Update 7.5