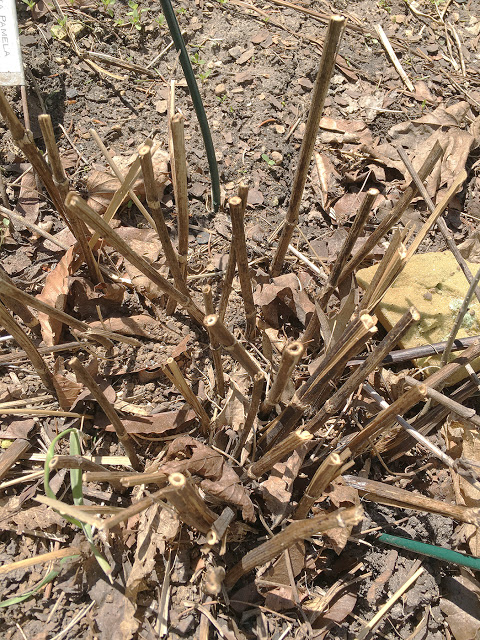 Plant death happens.
But it sort of stinks when it happens to you. Every spring I check in with all my plants. It doesn't take but a minute: Dead or alive? Sometimes it takes some time so this is a question asked frequently. Sometimes all that remains is an empty spot in the garden where I could swear a plant used to be.
It seems like it was a rough winter in my garden. I'm surprised by this because it wasn't particularly cold save for a week here or there, and there wasn't a lot of snow. The latter may be the issue as snow offers a nice layer of insulation for plants. But a bunch of snow piled on top of a plant can be an issue too.
Since I'm dealing with this in my own garden right now, here's a few things to do when you think you might have to call in the plant coroner.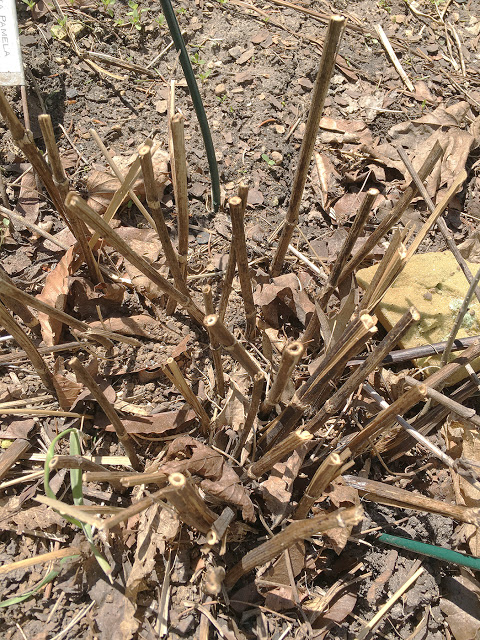 This should be a clematis ('Pamela') but so far it's just leftover stems. I am concerned but not greatly so. This plant has been a stalwart in my garden and a great performer and I can't think of why it may have failed. There's nothing to do about it other than sit tight and have faith.
1. DON'T PANIC
I have to remind myself of this all the time because the second I see a plant that might be dead, my first inclination is to dig out its remains and rid my garden and myself of the reminder of what was. Don't! If it's early in the season, there's still chance it may spring to life. It doesn't hurt anything to leave the plant in the ground for the time. I usually use this time to make some decisions about whether it needs to be replaced and with what.
2. LOOK FOR SIGNS OF LIFE
If I think a plant might have bit the dust, the first thing I do is really inspect it, looking for bits of green at the crown. I'll also look at other plants of the same variety to compare them too. The Nepeta I have planted along the path is looking terrible this year, and I have no idea why. At first I thought it was just slow to emerge, but when I looked closer I saw one very healthy plant with about 4 inches of growth, a couple with tiny sprouts and many with nothing.
If the plant in question is a woody shrub, you can scrape your fingernail on a branch and if you see green there's life left.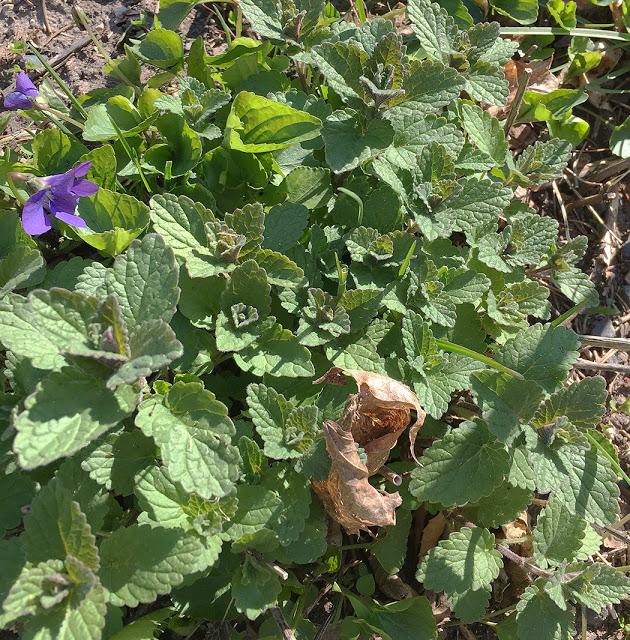 One of the Nepetas on the path is looking nice, with lots of fresh foliage (and some woodland violets—grrr—to boot). But the plant right next to it, below, is DOA. I should at least be seeing some signs of life on it if the same plant growing next to it has this much growth. All I see there is baby weeds that need to be dealt with.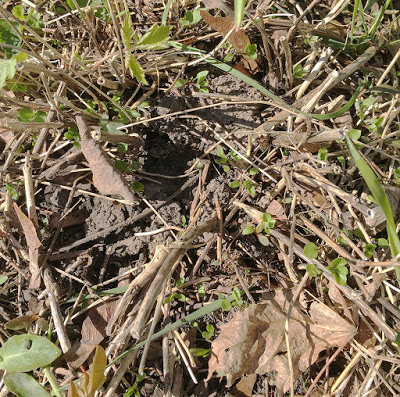 3. MAKE A PLAN
OK, there is a chance your plant is dead. Keeping in mind tip No. 1, don't do anything drastic yet, but start thinking about what the backup plan is in case it is indeed DOA. That might meant replacing it with the same thing, which isn't a bad idea. Unless you suspect that the plant died because of a cultural problem—stressed from growing in too much shade or too much sun, or sitting in soggy soil or being grown in the wrong zone—in which case you're better off picking something more appropriate for that spot. Or not. Because maybe you were just hedging your bets on the condition requirements a little bit but you really love the plant. Sometimes it's worth giving a plant a second try. And of course, you may decide to go in a different direction all together.
I have planted—and dug up when it died—lavender at least three times. A few years ago I discovered a variety called 'Phenomenal' and heavily amended the soil to provide great drainage (lavender wants poor soil with sharp drainage). And it has been beautiful. So much so that I bought more plants. Guess what I'm pretty sure bit the dust this winter? Yep … all of them. But I love them, so there's a good chance I'll be replanting them, because I love that plant.
4. DON'T BLAME YOURSELF
A plant may or may not have died in your garden. Big deal. Shake it off. It doesn't mean you're a bad gardener or have a brown thumb. Plants die. They die from old age, because they were a deer snack, because winter was cold, or not cold, or summer was too hot, or they were too wet, or too dry or because the soil was wrong. Instead of thinking about the plant that just died, think about how many plants are thriving and make up your beautiful garden.
Do you know how many plants have died under my care since I first planted something on my own the year I graduated from college? It has to be in the hundreds. Many have been no great loss. Some have really hurt. No surprise, I find the level of hurt involved in losing a plant is directly related to the price tag on it.
There is one great part about a plant death: New plants.
Longtime readers will know I have a serious clematis addiction, so the fact that there are several clematis in my garden that are being very slow to show their faces this spring is more than a little disturbing to me. And, even though I swore there would be no more clematis this year, I have ordered five that will be replacements if plants don't pop up, or they will find a different home if everything does come up, which I sincerely hope happens. There are worse things in the world for a gardener to face than having to buy some new plants (or to have a few spares to find homes for).
So take heart: Plant death happens, and yet gardening life goes on.