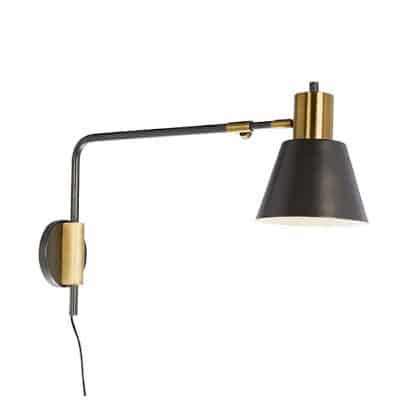 This is the part of this six-week challenge where I've come to the full realization that there will be no major reveal in a week. Not a complete one anyway. This has been a frustrating project in that regard because nothing is seeming to come easily. I would guess this is more typical of most projects people do than when we redid our bathroom last spring. In that case, the decisions just flowed.
Part of the problem is that my brain is taking me to the garden, not to the Internet to look, seemingly endlessly, for the right area rug (now rugs). Never before have I wished more for an interior design friend who I could hand the reins over to.
In fact, there's been basically no progress on the room since last week. I'm still in shopping/decision-making mode, which I suppose should have been doing somewhere around Week One. Choosing items that work is much harder when you're trying (not very successfully, I might add) to stick to pretty tight budget.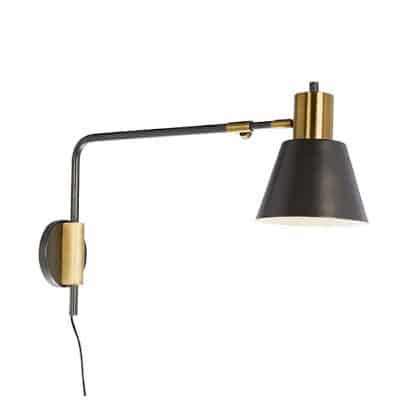 This is what we'll use for the desk light. Unfortunately it came with a broken switch so we're waiting for a replacement to arrive.
There have been some missteps. Cushions that I ordered for the existing wicker chairs came and they were far too small. I decided the existing curtains are not going to work. A light came with a broken switch.
The good news is that we've been able to move Mr. Much More Patient's desk back into the space so he can get back to working properly.
The biggest decision I've been struggling with is that of rugs. Although I like the sort of muted-but-warm color palette that the fixed elements have in that room, I feel like a basement needs to go to great lengths to feel warm, so I'm looking at very vibrant area rugs. You gotta love a little rudimentary Photoshop work for such things.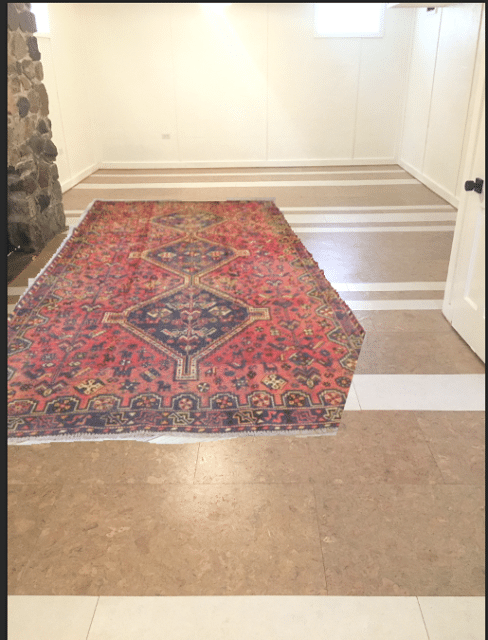 This rug, a vintage one I found on ebay, is my favorite. Unfortunately it was a bit more than I wanted to spend and had not been cleaned. I figured by the time I had it cleaned it would be way out of my price range.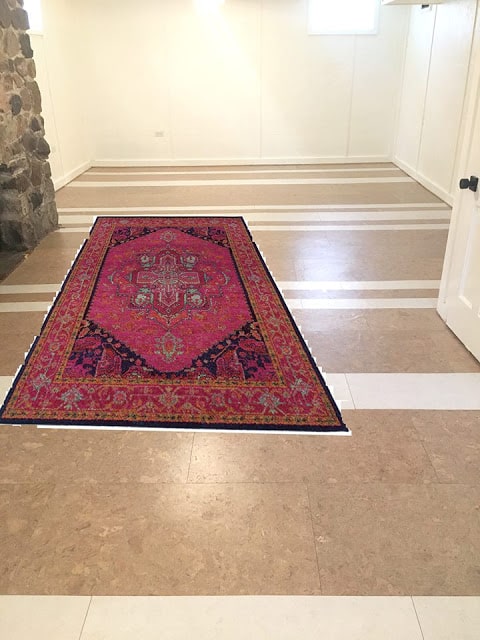 I've been playing around with other "faux vintage" rugs that are much more affordable, but I can't decide if I should go more towards pink or orange.
I did make one rug-related decision that I'm really happy about. I got this rug for the stairs to use as a runner. So good news: I love it. Bad news, that's a big project because I'll have to pull off the existing carpet (ew) and patch and paint the stairs before that can happen. See, this is why these projects are supposed to happen in winter!
The stairs to the basement are narrow so a typical runner wouldn't work. Instead I ordered several 2×3 rugs that I'll use for the stairs.
This room will be finished and look great at some point, but I'm just giving you the head's up, next week's big reveal may be less than revealing. Such is life in the land of real DIY.
For better or worse, I'm redoing this room as part of the one room challenge. Make sure you check out the other guest participants (who, presumably, have made better progress than I have.)

And check out previous weeks in this project in case you've missed them: