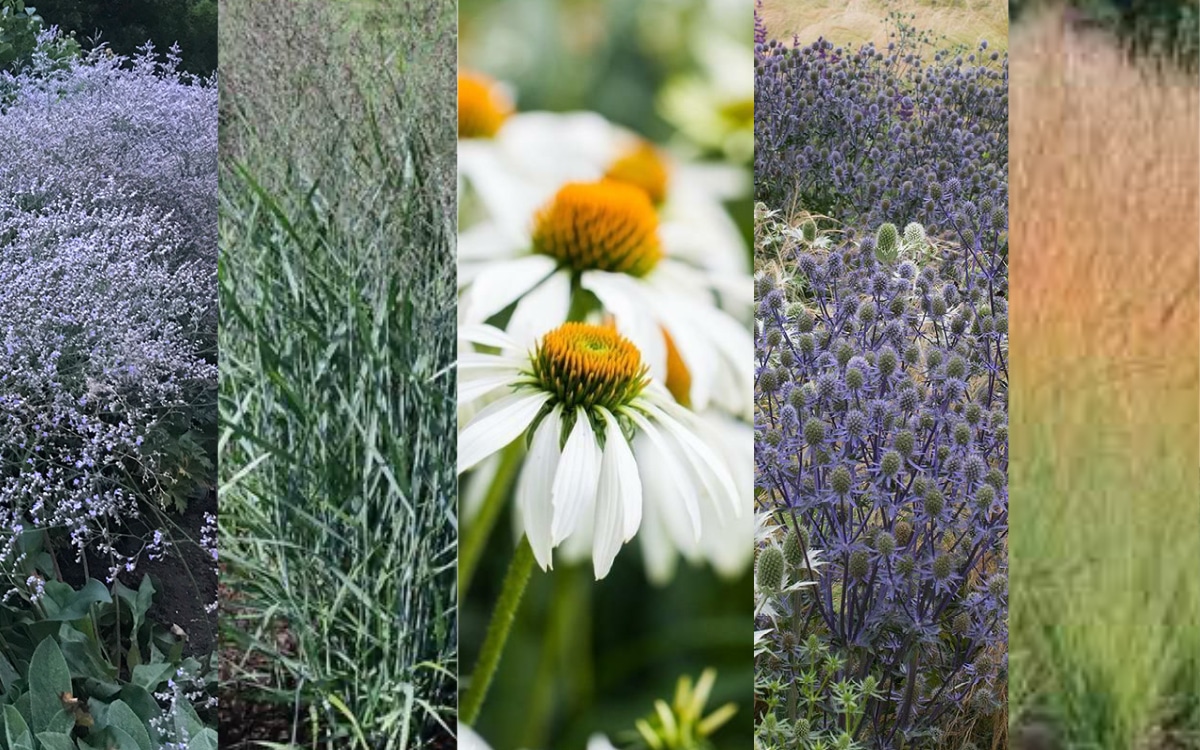 There's a well-established garden-making process around here: Every other year I make a new garden space. It is a lot of work, puts me behind in other areas of my arguably already too-large garden and takes a bit bite out of the plant budget. By the end of the project I swear I'm all done making new garden spaces and hold to that for a year. And then, almost like clockwork, the following year I end up making another garden.
In 2020 the big (and by big I mean the biggest garden space I've ever tackled) project was the new garden area along the road and driveway. That project (which I'm incredibly happy with even though there's lot of tweaking to be done) was precipitated by the removal of an enormous ash tree that died from emerald ash borer infestation (along with most of the other ash trees in the area). With the new sun exposure it because a weedy mess, which wasn't the entry to our property that I wanted.
Here in 2022 it's a septic project that means there's another area where some trees have been removed. Something will grow there, so my options are weeds (increasingly a range of invasive species) or something a bit prettier. I'm terrible about naming garden areas but I can assure you, I will not refer to this one as the "septic garden."
What I like about this project is that I think it's very typical for what a lot of homeowners might deal with. The space is approximately 30 feet by 15 feet, with a slope that leads to a "creek" where water runoff flows for much of the spring and early summer. Thanks to that tree removal, there's a good amount of sun on the east end of it, and it gradually changes to a part-shade area on the west end. None of it has been planted (by humans anyway) but the soil is our usual sandy loam, with a fair amount of humus from years of falling leaves on it. Our soil tends to be fairly high pH, so acid-loving plants are typically a non-starter here because they require amending the soil annually.
This area is a bit farther from the house so deer pressure will be an issue.
I reached out to designer and plantsman (and my personal favorite descriptor: plant philosopher) Roy Diblik to team up on this project. Roy shares his design tips in his book The Know-Maintenance Perennial Garden and also on his YouTube channel, but I thought it might be helpful to work with him to employ those practices in a plan from start to finish so gardeners could see how to apply that knowledge in their own gardens.
He came for a site visit in mid-December (see that video here) and then a month later we met to talk through plants and plans. You can watch our whole design discussion here. More videos will follow all the way through planting and beyond.
The design is still being finalized but here are most of the plants that we'll work to this area. In addition to these perennials, there are two Cornus alternifolia (pagoda dogwood) here (refugees from the driveway containers) and I may work in a handful of reseeding annuals this year or in the future.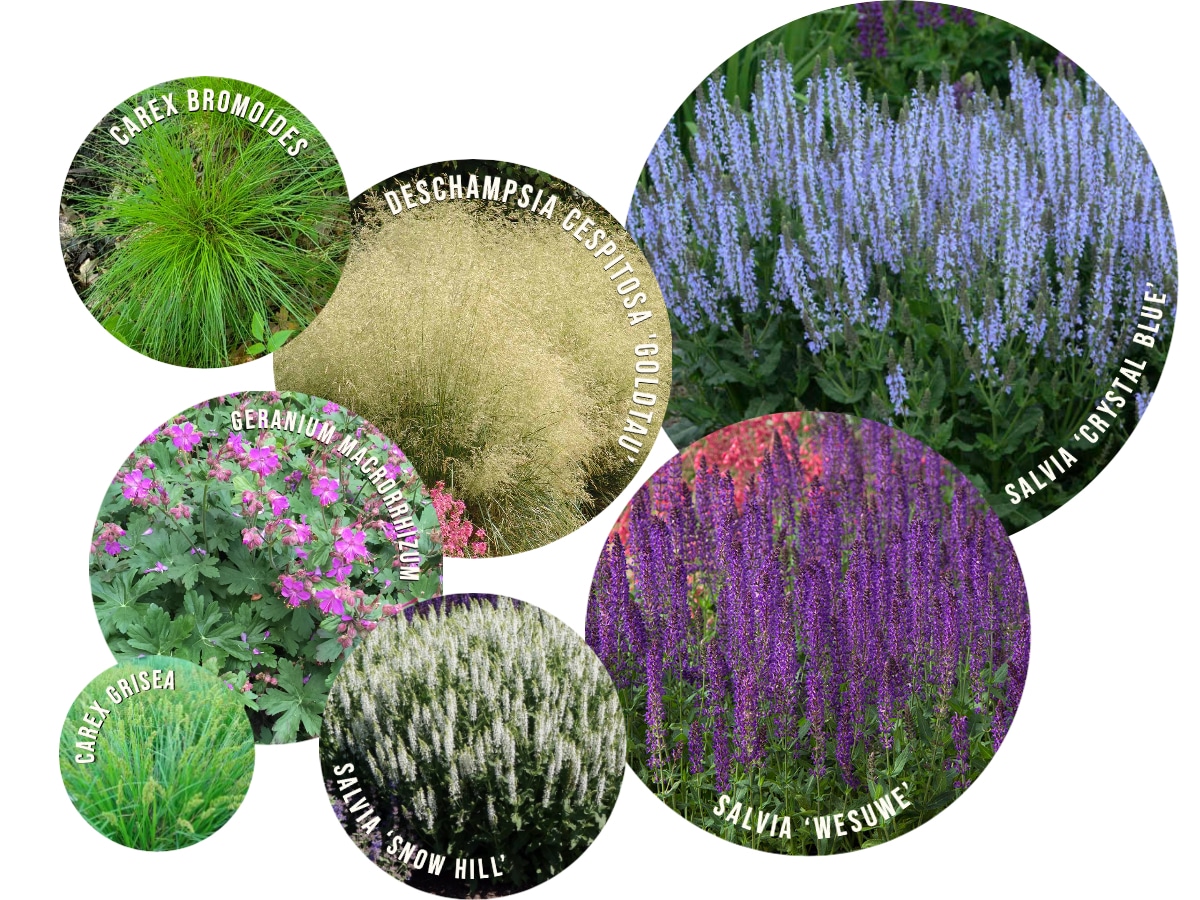 Salvia nemorosa 'Crystal Blue': Zone 3-8, 20″ tall x 24″ wide, sky blue flowers.
Salvia nemorosa 'Wesuwe': Zone 3-8, 12-18″ x 24″ wide, violet-purple flowers.
Salvia nemorosa 'Snow Hill': Zone 3-8, 18-24″ tall x 24″ wide, white flowers. This will be interspersed among other plants.
Geranium macrorrhizum: Zone 4-8, 12″ tall, 24″ wide, amazing do-it-all ground cover. We'll create a "river" of G. macrorrhizum in the garden to bridge the gap from a nearly garden and fill in under the dogwoods. I have a ton of 'Bevan's Variety' available already in the yard for this area and I'll mix in a few lighter colored varieties for interest.
Deschampsia cespitosa 'Gold Tau': Zone 4-9, 12-16″ tall (2-3′ in flower), 24″ wide. It's a beautiful, fluffy grass that wants moist soil. 'Gold Tau' is more resilient to occasionally dry soil so the plan is to plant this on the bank where rain will likely keep it moister.
Carex bromoides: Zone 4-8, 8-12″ tall. Can tolerate being fully wet at times, so a good option for the bottom of the slope where the creek will occasionally rise to.
Carex grisea: Zone 3-8, 20″ tall. Another sedge that appreciates moisture so a good one to plant in conjunction with C. bromoides.
Molinia caerulea 'Heidenbraut': Zone 5-9, 12-18″ tall (3-4′ flowers), 24″ wide.
Molina caerulea 'Poul Petersen': Zone 4-8, 12″ tall (24″ flowers").
Echinacea purpurea 'Alba': Zone 3-8, 18-24″ tall, 12-18″ wide. 
Limonium latifolium: Żonę 4-9, 18-30″, 12-18″ wide. This is one of those plants that I take note of every time I see it and I'm excited to finally be getting some in my garden. 
Stachys officinalis 'Hummelo': Zone 4-8, 18-24″ tall and wide, can push into part sun/shade areas. 
Coreopsis verticillata 'Golden Showers': Zone 4-9, 24-36″ tall, 18-24″ wide. This will be my first return to Coreopsis in more than a decade, after I had one go completely rogue in my garden. The yellow is needed in the design and I'm happy it's part of the plan. It will be kept in check by Panicum 'Prairie Dog'.
Panicum virgatum 'Prairie Dog': Zone 4-9, 3-4′ tall, 2-3′ wide. Blue foliage.
Aster oblongifolius 'October Skies': Zone 5-8, 15″ tall, 30″ wide. One of the few asters that is deer resistant. We'll work this in here and there.
Eryngium planum 'Blue Glitter': Zone 4-8, 36″ tall, 12″ wide. This will also be popped in amongst many of the plants in this section.
I have to say, I'm thrilled with this plant palette. It incorporates more varieties than I anticipated we'd be able to. And the process of working with Roy on this design was fascinating. I always say that I'm a gardener who dabbles in design, but I am not a trained garden designer, so I never know if the way I approach design is "right." Of course there is no "right" way, but it was comforting to see that I start my design concepts the same way Roy does.
Of course there will be further tweaking of both the plant palette and the design. I hope you'll come along for the ride.