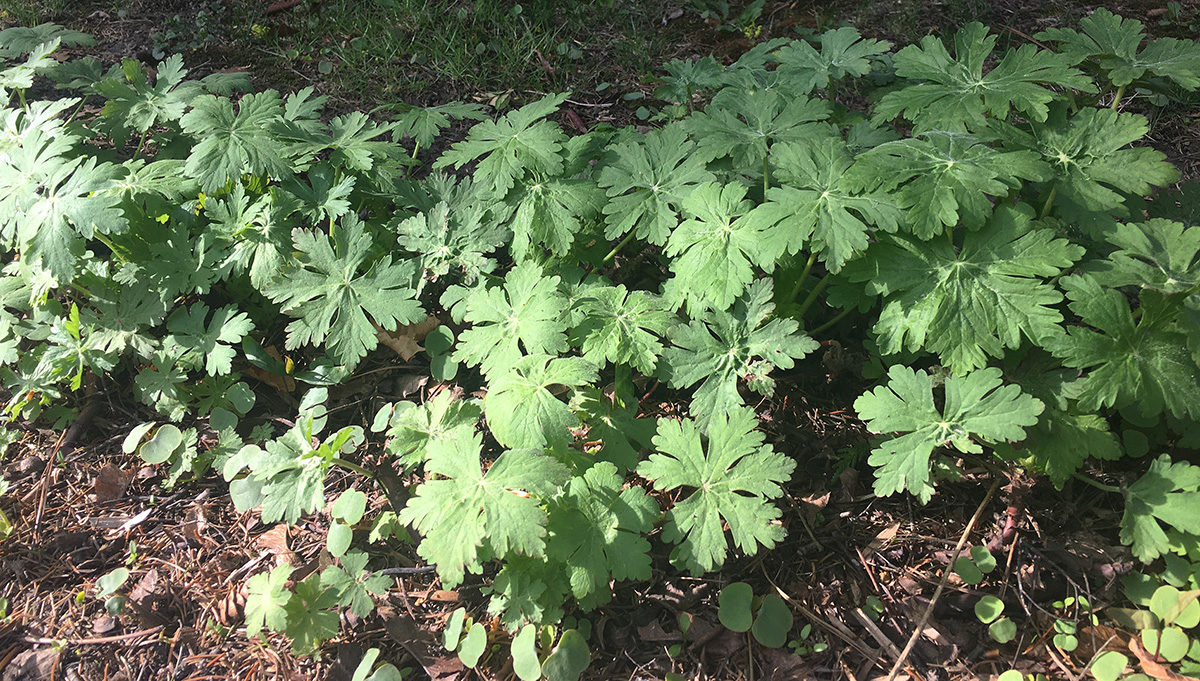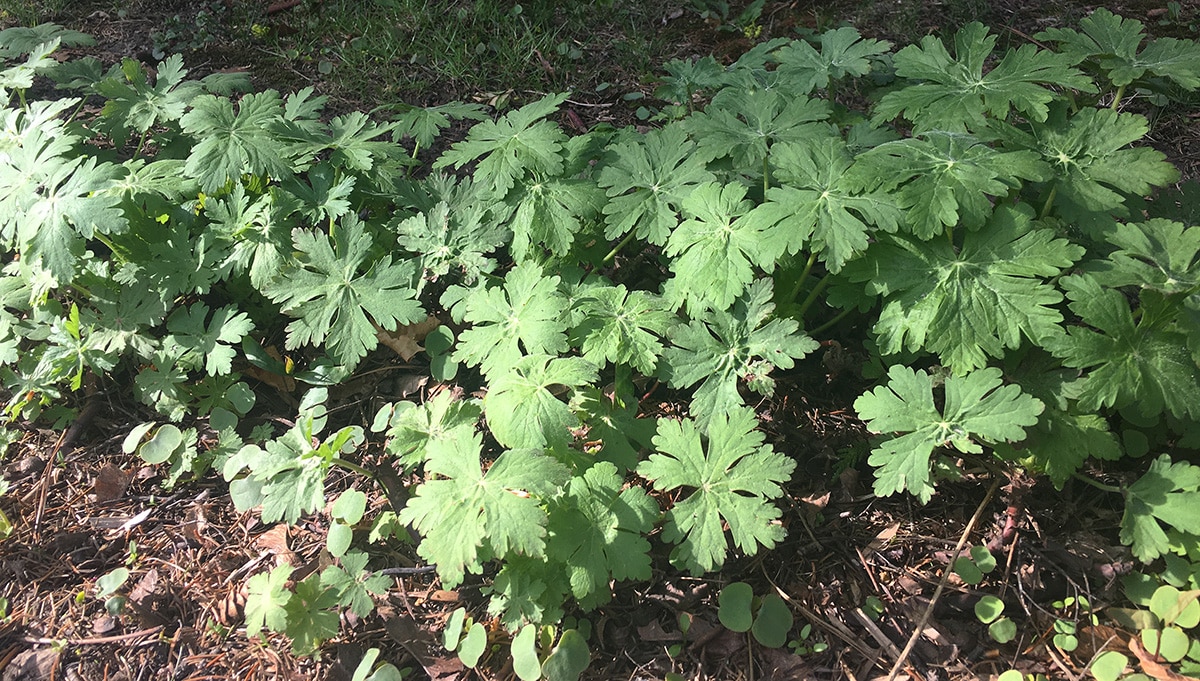 I take no pride in admitting that this Plant to Know, which is one I now hope to never be without, is also one that for a time I wrote off as just another garden plant. But that's a problem with a plant that isn't particularly flashy and that you rarely need to visit. And in a nutshell, that's Geranium macrorrhizum. It just does its thing and it does it well.
On its own, big-root geranium, as it's commonly known, is completely underwhelming. Sitting in a nursery container it looks like a geranium that's not doing much of anything. But there's a warrior hiding under that somewhat ordinary exterior. Pair it with a few sister plants and you will create an army of plants that will create a tall groundcover (to me anything over 4 inches tall is a tall groundcover) that will shade out most nasty invaders. And this army is willing to fight this battle on nearly any turf. I grow it in full sun, which is not all that impressive, but also in dry shade, even under thirsty cedar trees, which is worthy of a plant military commendation.
Because of this admirable performance in almost every condition I've thrown it in, Geranium macrorrhizum is not just a plant you should know, it's an all out garden all-star in my book. And I'll fully admit that I didn't pay it much attention until I saw it planted en masse in Linda's garden. It's just so damn good.
But I want to be clear about what you're getting when you get into a relationship with this plant. You're getting a plant that you won't notice a lot of the time. In fact I can almost guarantee you'll forget about it until one day you realize how tidy an otherwise messy area might look. Technically it spreads, but in my garden it doesn't really move along until I divide it, which I can do as frequently or infrequently as I like, it seems. I got most of mine from my sister-in-law who let me dig out about 10 chunks out of her garden when she was revamping a bed. I now have it on both sides of my driveway in fairly long stretches and along the bank of the creek where it holds off advances by nasty invaders like garlic mustard weed. I'd like to bulk up its presence along the driveway (if it lined my entire long driveway that would be perfectly acceptable to me), so when I have some time I'll do a little dividing this spring.
As for care, well, I don't know what to tell you. Other than watering it well after planting and dividing I don't think I do anything to it, including cutting it back. It's sort of semi-evergreen so it never really gets too ugly, but I can't actually recall ever pruning out any of the previous year's dead bits. 
And at least in my yard, at the top of its list of attributes is that it is completely untouched by deer and rabbits. There aren't a lot of plants that these garden destroyers (I'm resisting using and expletive for effect) will not even take a little nibble of, but Geranium macrorrhizum is one of them, likely because of its slightly fuzzy, scented leaves.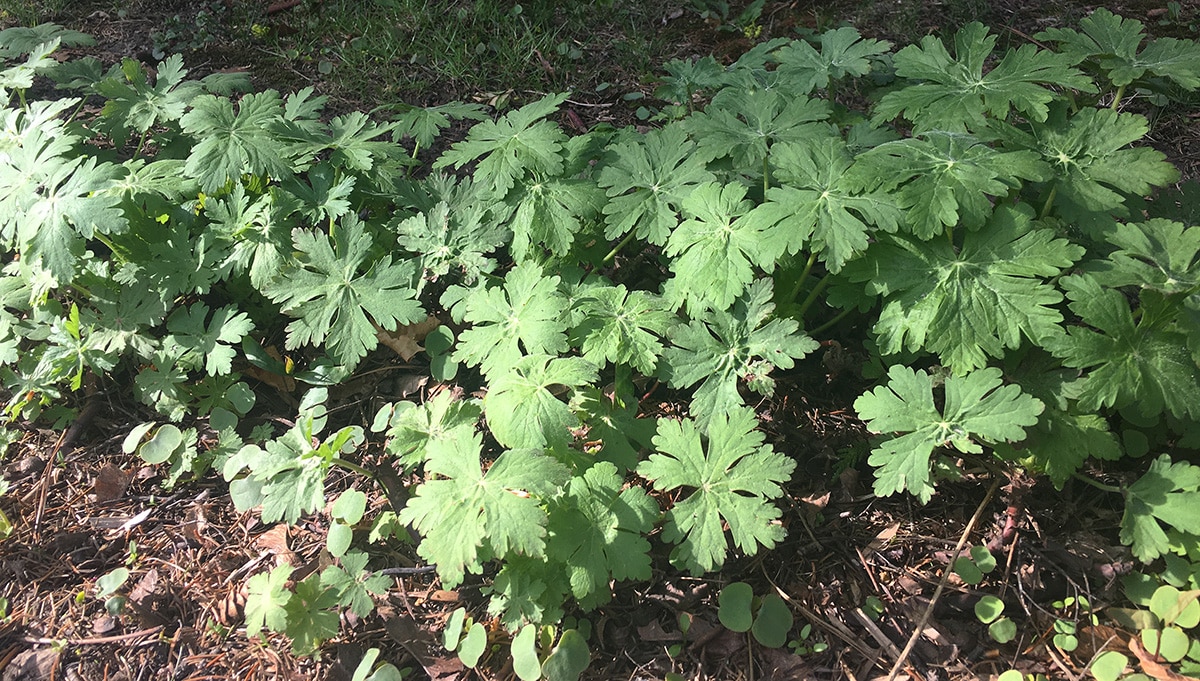 I suppose a fussy gardener could ask more of plant, perhaps in the way of large blooms. You won't get that with big-root geranium. It does have small flowers that fall in the fuschia-purple realm and stick around for a long time, but I'll admit that I had to double check the color of them. That should say more about me than it does about the plant because they are quite lovely. It's just that my interest in this plant is far more in the foliage than the flowers (and I'm a flower lover!). And this is as good of a time as any to mention that it gets nice autumn color too.
Am I fawning a bit here? I think I am. But let me put it to you this way. Geranium macrorrhizum is the George Clooney of the plant world: Handsome but not flashy, dependable, able to act in a wide variety of roles and better in quantity. (OK, I feel like I'm stretching on that one but who wouldn't want a whole bunch of George Clooney's standing by to help out?)
It is the parent of several hybrids, including Geranium x cantabrigiense 'Biokovo', which I also grow, like and recommend. But I feel something more for macrorrhizum. It's a trusted friend that I never really have to worry about.
So put a little George Clooney in your garden. I can almost guarantee you two will have a long and loving relationship.