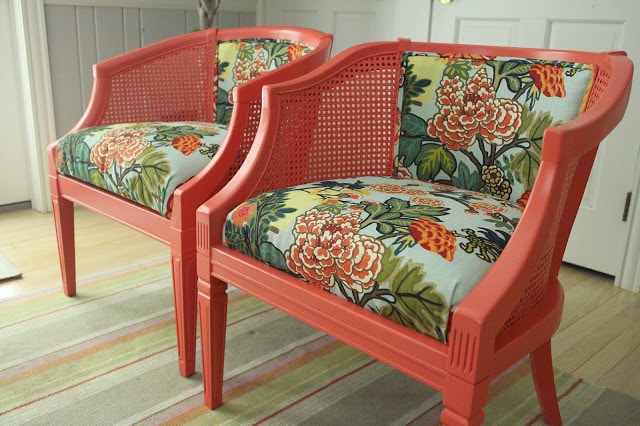 You know I always have several projects in the works at one time, but I think this one holds the record for longest in-progress project. Obsessed with cane chairs, I found a pair of them on Craigslist more than two years ago and picked them up for $30 each. This really wasn't a good deal (I've since seen similar chairs at Goodwill for $5), but I drove a long way for them and I wasn't going home without them!
They languished, like many of my projects do, in the basement for some time. Then I reupholstered a couple other chairs as practice for these last winter. Finally, this fall, I decided it was time to really get going on these. I'll save the tutorial (such as it is) for another post, because it's way more fun to just skip to the good part.
And here it is.
This is the part where I show you the picture of what these chairs (they don't match by the way, but close enough for me) looked like before, in all their dusty rose velvet glory. Except I can't find that picture. That's how you really know that you've taken way too long on a project: when the before pictures have been moved off your computer and now reside on a hard drive with 9 years of other photos and can't be found.
But I did snap these in the driveway after I had already removed the fabric and sanded them, but before I started painting.
I've been lusting over an orange chair (I can't explain this, but it started here) for years and I've been lusting over that fabric for almost as long. Even though the whole world has already done their thing with Schumacher's Chiang Mai Dragon fabric and moved on, I just kept coming back to it. I am a sucker for a large, bright floral. The paint color, by the way, is Benjamin Moore Starburst Orange.
Technically speaking, reupholstering these chairs wasn't that difficult, other than that I was constantly afraid of screwing it up or doing something to mess up the fabric. By far the longest portion of the project was laying out the patterns on the fabric. I was so afraid to screw it up and I wanted the pattern on the chairs to match as closely as possible.
I also chose a turquoise houndstooth fabric for the back, not only to switch it up a little, but also to save a bit of money. I like the look.
These are in the back sunroom/office/den, which is the next room on the list for improvement. At some point we'll be redrywalling in there (the dreaded textured walls still exist in there) and putting in a wood plank ceiling like the rest of the downstairs rooms. I think they'll look great in that room once everything is finished. Oh, and they are pretty darn comfortable too!
It might have taken a long time, but this might be my favorite DIY project to date.