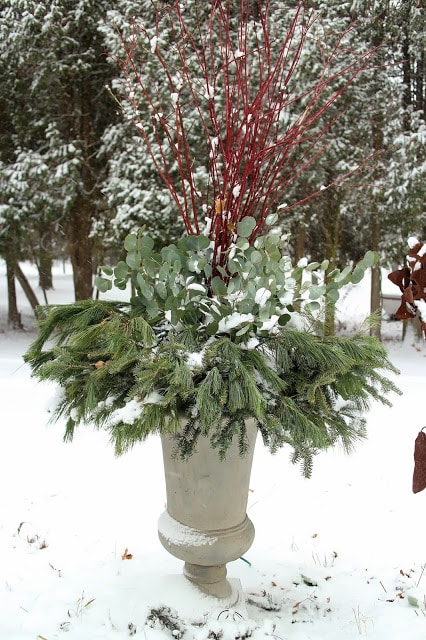 Holiday decorating is a slow process at my house. I'm so amazed by all the holiday home tours on the Internet … I haven't even really thought much about the inside.
I love doing my outdoor containers though. I leave them decorated (sans lights) almost all winter because I love looking at them.
I also added silver dollar eucalyptus. I had to order it in bulk online but I'm glad I did. I quite like the effect and it seems to be holding up great outside. We got a bit of snow yesterday to make everything look extra festive.
The window box looks like it might need a little trimming on some of the white pine. There are some lights in it and then I jammed a bunch of lights at the base of the branches for a nice glowy effect.
I love how it looks from inside at night.
I think I'm going to add a few branches to the inside of the topiary type form on the big container. I just feel like it's lack in color during the day.
It does look pretty great at night though.
Of course there are parts of the garden that look pretty great all on their own too. This is why I always leave all the flowerheads on the hydrangeas in winter. It adds so much texture to the garden.