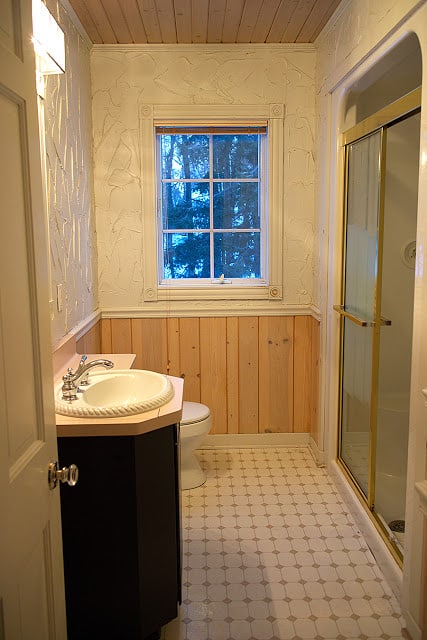 Are you familiar with the
One Room Challenge
? Every spring and fall, a group of bloggers each choose one room in their house to renovate in six weeks and once a week post an update of what's happening. The selected bloggers work with brands who provide some support. I'm not doing that.
But I am going to play along as a guest participant and do my own private One Room Challenge and link up other bloggers doing it on their own. If you know me and my habit of not really finishing projects, you know this is possibly insane. On the other hand, maybe having a real deadline will make this happen.
And the project I'm choosing is one I've already mentioned: the downstairs bathroom. To refresh your memory about this room, let me sum up its history. When we looked at the house before we bought it, both Mr. Much More Patient and I said that renovating the bathroom was at the top of the list. Fourteen years and a massive renovation later, the bathroom is the only room in the house that remains untouched. I did paint the pickled pink vanity a couple years ago, but I had no desire to put any other effort into fixing up this room because I knew that no amount of lipstick could pretty up this pig.
Here's the kind of ugly we're talking about. Pickled pink paneled wainscoting and ceiling, more of that horrific wall texture (and if you thought it was bad in the rest of the house, you have no idea how gross it is in a bathroom from a dust/mildew perspective), vinyl floor, pink laminate counter, rope sink, fake gold shower door, plastic shower insert, boob light, ugly lights and more.
One benefit of waiting to redo the bathroom is that we now have a second bathroom upstairs, so the pressure is off as far as showers and running water goes.
Since this is our downstairs bathroom, it serves as our main guest bathroom and of course we use it occasionally as well. Because of that I wanted it to be a little exciting and I wanted to do a few of the things I didn't do in the upstairs bathroom. For instance, I want marble. No, it's not particularly practical, but I've done practical everywhere else in the house and now I just want some pretty, even if it's at the expensive of practical.
So here's the plan.
Go to this post for more details on each element, but I think it's pretty much self explanatory. Bright, light, and everything that the current bathroom is not is pretty much what I'm going for.
So off we go. And why waste time, because this has already happened.
Come back next week for an update on this space, and in the meantime, check out the bloggers officially participating in the One Room Challenge and all of the other folks playing along as guest participants.