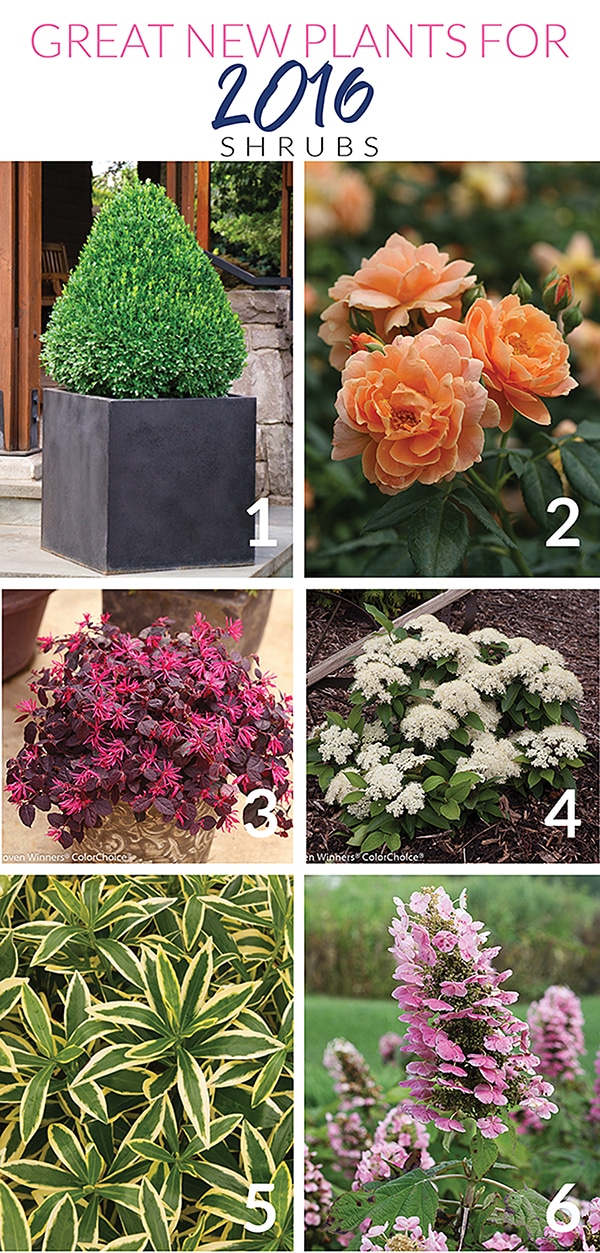 A couple weeks ago, I shared some
new annuals for 2016
, and today I'm sharing new shrubs that look interesting.
Some affiliate links have been used.
1. Petite Pillar Dwarf Boxwood: Plant producers are smart to be working on new boxwood introductions because I still think it's the single hottest shrub of the moment. This one grows in a naturally columnar shape, topping out at 2 to 3 feet. Buxus microphylla 'MonAlex': Zones 5-9, full to part sun, 2-3 feet tall x 2 feet wide.
2. At Last Rose: This apricot beauty is said to have the disease resistance and low-maintenance needs of popular landscape roses such as Oso Easy and Knockout roses, but unlike others, doesn't lack the rose scent. It has a lot of petals so it takes on an old rose look. I'll admit, I'm wary of scent descriptions, but if this one is all it is cracked up to be, it'll have a spot in my garden. Rosa x 'Horcogjil': Zones 5-9, full sun, 30-36 inches tall and wide.
3. Loropetalum Jazz Hands Dwarf Pink: I can't grow this little dark-foliage beauty, but I sure wish I could. What more could you want in a plant: gorgeous purple foliage, hot pink dainty flowers and all in a package that can fit in a container or at the front of the border. Loropetalum chinese 'Kurenai': Zones 7b-9b, full to part sun, 1-3 feet tall x 3 feet wide.
4. Lil' Ditty Witherod Viburnum: So many shrubs are being downsized these days, which makes sense as the popularity of small-space gardening grows. This diminutive viburnum is another front-of-the-border charmer with fluffy white flowers that can grow a healthy crop of fruit so long as a pollinating plant is nearby (Viburnum nudum 'Brandywine' is one). It's super hardy and, like most viburnums, a cinch to grow. Viburnum cassinoides 'SMVCDD': Zones 3-8, part sun, 1-2 feet tall and wide
5. Moonlight Parfait Winter Daphne: Foliage shrubs are way too often overlooked, but they are so important in a garden. The amazing variegated foliage on this daphne will brighten up any partially shaded corner. It does get sweet-smelling pink flowers, but honestly they are an afterthought when the foliage is this pretty. Daphne odora 'Monstrik': Zones 7-9, full shade to partial sun, 3-4 feet tall and wide.
6. Gatsby Pink Oakleaf Hydrangea: You are probably impressed that I managed to get through this list with just one hydrangea on it. Gatsby Pink was my pick to win Shrub Madness and I was really wrong. It was out in the second round, but I still think it's a phenomenal plant. First of all, oak-leaf hydrangeas are lovely. They have interesting foliage that usually gets a nice color change in fall. The long flowers look like a combination of a paniculata hydrangea and a lacecap, and start white but quickly turn pink. Hydrangea quercifolia 'JoAnn': Zones 5-9, part sun, 6-8 feet tall and wide.




What new shrubs are you hoping to add to your garden this year?