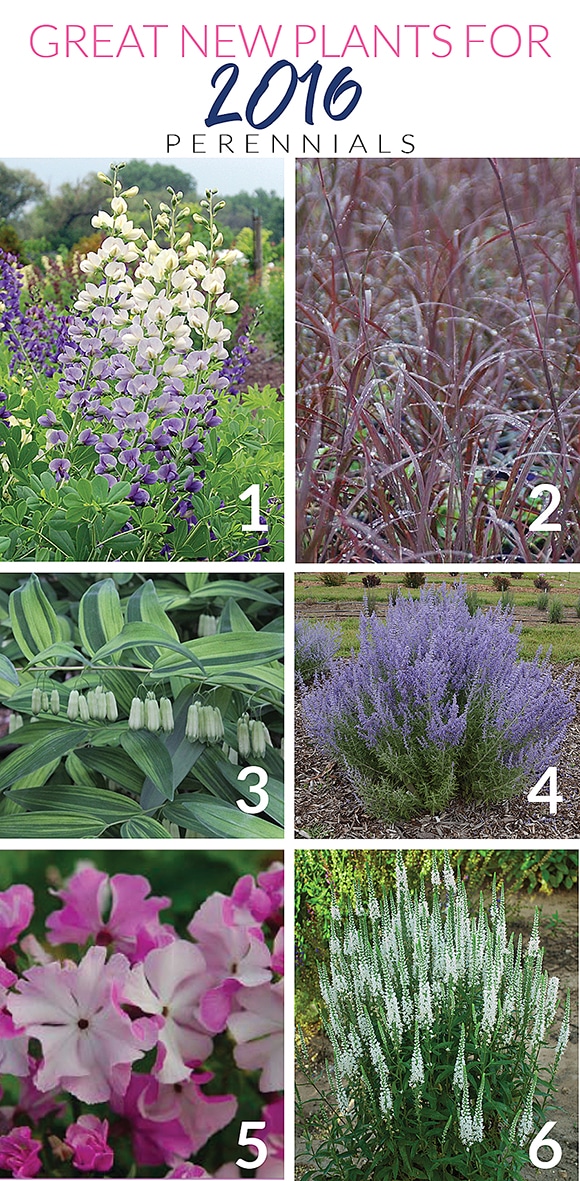 No surprise, I had a harder time narrowing down the list of cool new perennials than the annuals or shrubs. I can see all of these eventually finding a home in my garden.
1. Baptisia 'Lunar Eclipse': There are a ton of new baptisias on the market, but this is the one I'm really in love with. Baptisias are big plants that don't like to be moved so I won't get one until I have a good spot for it, but I'm in love with the looks of this plant as much as I've been with any. (Full sun to part shade, zones 4-7, 3-3.5′ tall x 4-5′ wide)
2. Andropogon gerardii 'Blackhawks': I do love a good grass and this big bluestem grass has a lot going for it, not the least of which is that great purple color for much of the season and then deeping to almost black in fall. (Full sun, zones 4-9, 5′ tall x 2′ wide)
3. Polygonatum falcutum 'Nippon Sunburst': Solomon's seal is among my favorite shade-loving perennials and few things look better than a naturalized patch of them. This one is downright stunning. I'm wary of variegated plants because they often grow much slower, but this one is too good to pass up (although the price is a bit shocking). (Part sun to light shade, zones 4-8, 18″ tall)
4. Perovskia atriplicifolia 'Denin 'n Lace': Few perennials are as great as a happy Russian sage. They are about as low maintenance as they get, they have a beautiful upright form and have a long bloom period. I have had nothing but issues with them flopping though. There's a chance I've been growing them in soil that's too rich. Still, I like the sound of this new cultivar which is said to have nice, strong stems and, from the looks of the photo, an abundance of flowers. (Full sun, zones 4-9, 30″ tall x 36″ wide)
5. Primula sieboldii 'Petticoat Junction': I'm new to primulas, but I do find them charming. This one is an Intrinsic Perennials introduction which is what made me notice it. They spend a lot of time developing plants and those that I've grown have all been winners. (Full sun to light shade, zones 5-8, 4″)
6. Veronica 'White Wands': I like Veronicas; they have great form and new varieties are often better performers than they used to. This white one is a different take on the more common blue and pink varieties. I've had good luck getting a rebloom on them if I shear them back after the first flush of flowers fades. (Full sun, zones 4-8, 14-16″ tall x 16-18″ wide)
Do you see anything that catches your eye?
And check out my picks for great new annuals for 2016 and great new shrubs for 2016.