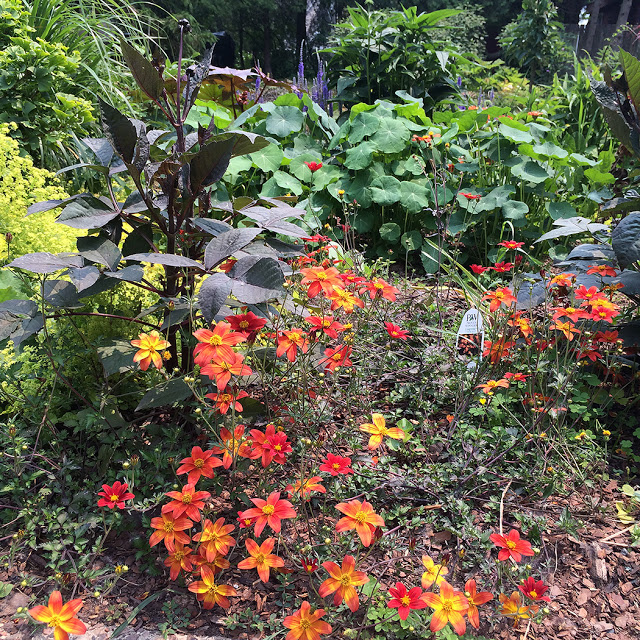 Every year I have the good fortune of growing several new plants, some provided for me to trial and others that I seek out and purchase because I NEED them. Since the garden is finally filling out, I thought it would be a good time to show you some of the interesting new plants I'm growing this year.
It's always funny to me how a plant can sneak up on you. When I unpacked Bidens 'Campfire' from my box of Proven Winners trial plants I was underwhelmed. I grew Bidens 'Goldilocks Rocks' several years ago and it wasn't my favorite, but I admit to being a bit turned off by really gold-color yellow flowers sometimes. The flowers on 'Campfire' are a red-orange mix (far more orange than they are coming off in this photo) and I love them with the combination of the dark-foliage dahlias ('David Howard'). Bidens has a great, sort of floppy nature with very thin stems that make is look sort of ethereal. I have to say, so far I like this plant enough to seek it out every year for the border. (It should be available in nurseries next year.)
I'm a big fan of mandevillas, so when Big Bad Flower sent me a new garden mandevilla that only grows to 12 to 18 inches, I was intrigued. Sun Parasol Garden Crimson mandevilla has what I consider to be perfectly red flowers. They are neither blueish, nor orangeish and not at all pink. They are true, bold, beautiful red. I combined it in a pot with dwarf sweet peas that I grew from seed (another first-time plant for me that I will definitely be growing again). Right now I think the sweet peas are winning a little, so I need to thin them a touch to make more room for the mandevilla, but all in all I love the combination.
I doubt this rose is very new, but it's new to me and I'm in love. Last year I swore off roses because I was so sick of all the problems with them. Well, sawfly larvae got them again this, but I was able to manage the population so there is still some foliage left, and last week I was rewarded with my first bloom from 'Autumn Sunset' climbing rose. It's a peachy yellow that fades to very light yellow, and much peachier, but what I love the most is the absolutely heavenly scent. This is what I've been waiting for in a rose. I pray to all the gardening gods that I can make this climber take off because I'm so in love with it I desperately want it to take over the front of the house.
I don't think you can really tell from the photo, but 'Silver Hearts' brunnera is truly silver. I'm not kidding and I didn't even think such a thing was possible, but it is shiny, metallic silver. The leaves are quite large and substantial, too, so if this makes it through a few winters I think this could be an absolute star in the shade garden.
Proven Winners comes up with new Superbells every year, and this year they sent me 'Holy Moly,' a hot pink and yellow combo. I'll be honest here, striped flowers aren't my favorite, but as you can see it is growing great and looks bright and cheerful along with Sunsatia Nemesia on the front steps.
Tuff Stuff hydrangea, sent to me by Proven Winners, doesn't look like much now, but it is growing really well and looks really healthy. There's a lot riding on this hydrangea, which I love the photos of, but like most northern gardeners, I'm skeptical of the bud hardiness on it because it blooms on old wood and I've been down that road and burned before. Tuff Stuff was bred to have much better stem and bud hardiness so time will tell. This one will get to 24 to 36 inches tall, but it has a baby brother (this is a male hydrangea, in my estimation) that gets to half that size. If this guy does well, I will seriously consider adding several Tiny Tuff Stuff hydrangeas to the front of the border.
What's new in your garden this summer?