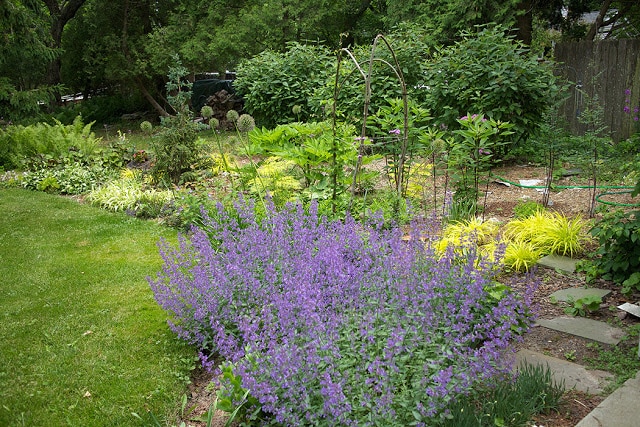 Last week I had to go to Newport, Rhode Island, for work, and although business travel isn't high on the list of things I want to be doing in summer, it was a pleasure to be in such a beautiful city.
Before I left I gardened like a mad woman to get all the major jobs in the garden finished before I left. This meant pulling out as many weeds as could, mulching, planting everything still left in pots (and then I found another handful of plants sitting around).
When I came home, I was rewarded by a garden that is looking as good as it ever has. Even though there isn't much blooming right now—lady's mantle, nepeta, a few clematis and a handful of other things—the foliage on all the plants is looking healthy comes in the widest variety of greens a person could imagine.
I took advantage of the garden looking good last weekend to run and take a bunch of photos. It's such a pleasure to be in a garden that doesn't appear to be crying out for maintenance, even though we know there always weeds to be pulled, plants to be moved and planning to be done.
The east side of the property has three arrowwood virburnums that I planted three or four years ago. Two winters ago they were decimated by deer, but I fenced them off last winter and now they are really flourishing and providing the screening we were looking. Sadly, I've just read that the viburnum leaf beetle has been spotted just 20 miles from us and their favorite thing to munch on (and usually kill within two to three year) is arrowwood viburnum. There's not much to be done about it other than cross your fingers.
On the far end of that bed is a shadier area where 'Tilt-a-whirl' hosta and ligularia rule the roost.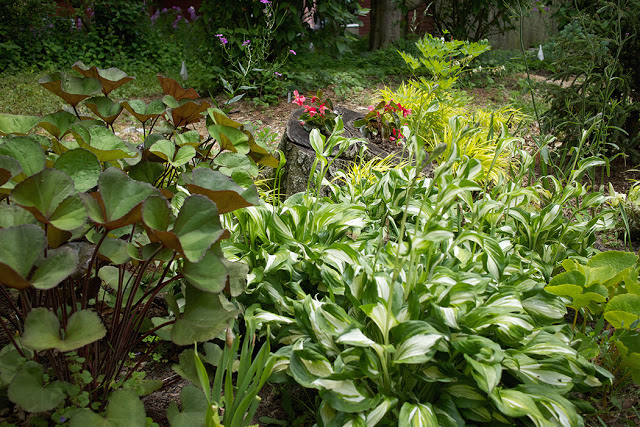 I'm growing a climbing hydrangea up the north side of the garage and even that is looking healthy although they are notoriously slow growers. I'm happy to see a few flowers even. I should add here, that you should think very carefully about growing a climbing hydrangea up your house or garage because they can really damage wood siding. Since our garage is pretty basic, I'm not worried.
The other side of the circle of grass in the side/back yard was modified a little last year and that too is looking pretty good.
This patch of nepeta is kiddy corner to the patch I showed you above and it creates a great color echo in the yard.
This clematis (whose name I have forgotten but it has a label that I will check) is growing up the skirting on the deck.
I picked up some begonias on sale and planted them under the serviceberry tree and I couldn't be happier with how that worked out.
Over the years I've come to learn just how adaptable most hostas are. I stuck this 'Abiqua Drinking Gourd' in on the back side of the main garden and I love the contrast in texture.
Nearby there were a few holes in the garden so I stuck in some petunias. Because there are taller plants around them, you can't really see them until you get close to them an it's a nice surprise. There's also one of several caster bean plants in there that I put around the garden. I hope they take off soon, but we'll need much warmer weather for that to happen.
Along the path to the garage this garden of blues, chartreuse and purple foliage plants is starting to come together.
On the other side of the house, the shade gardens have some filling out to so but so far they are looking OK.
In the distance you can see my first climbing hydrangea.
Here's a better view. It is nowhere near as impressive as my mom's (which I showed you on Facebook the other day) but hopefully someday it will be.
This is the plant of the year, 'Biokovo' geranium.
My little stone crane amongst the Egyptian walking onions.
The annuals in the front patio bed are starting to come together.
And one last shot of my new Aralia 'Silver Umbrella.' The hosta ('Elegans', I think) keeps trying to eat it so I keep trimming off leaves.
How's your garden looking?