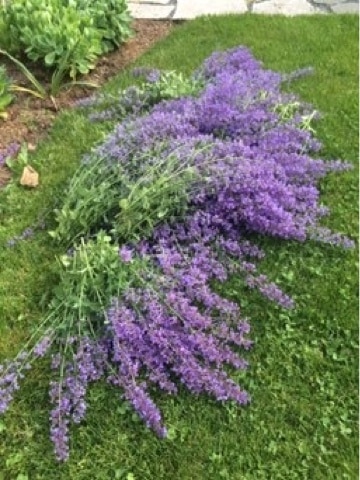 I'm leaving my garden for almost two weeks. It's a bittersweet time to be away as I want to savor every bloom and new leaf and change and mentally bottle it to be conjured up come January.
At the same time, summer is about much more than just gardening and it's time to do some summer stuff.
Any success in the perennial garden has come at the expense of the vegetable garden so I don't expect to miss much there, other than my first pea and probably the first zucchini (you know it's a weird year when those two things start producing at the same time).
In my last-minute rush to get out the door I took a few steps to make sure the garden looks as good as possible when I return.
Even though some of the nepeta was still looking great, I cut off those beautiful flowers. The crown will regrow and probably be full and lush by the time I'm back and a second blooming will follow.
The plants look a little sparse but I won't have to see them.
In fact, when I cut it back, new growth was already coming up in the crown.
The chine hedge in the circle garden also got a haircut. The plants should have several inches of fresh new growth by the time I get back.
There will be plenty of unsavory gardening tasks to attend to when I get home. Weeds know when the gardener is away and they always flourish. Even though I'm not spending a ton of time in the garden these days, a little bit of weeding here and there helps a lot.
The dogsitters will water the containers and Mr. Much More Patient will be home intermittently and he has been briefed on some garden tasks.
I'll miss my garden. Maybe even enough to be excited about the weeding that awaits