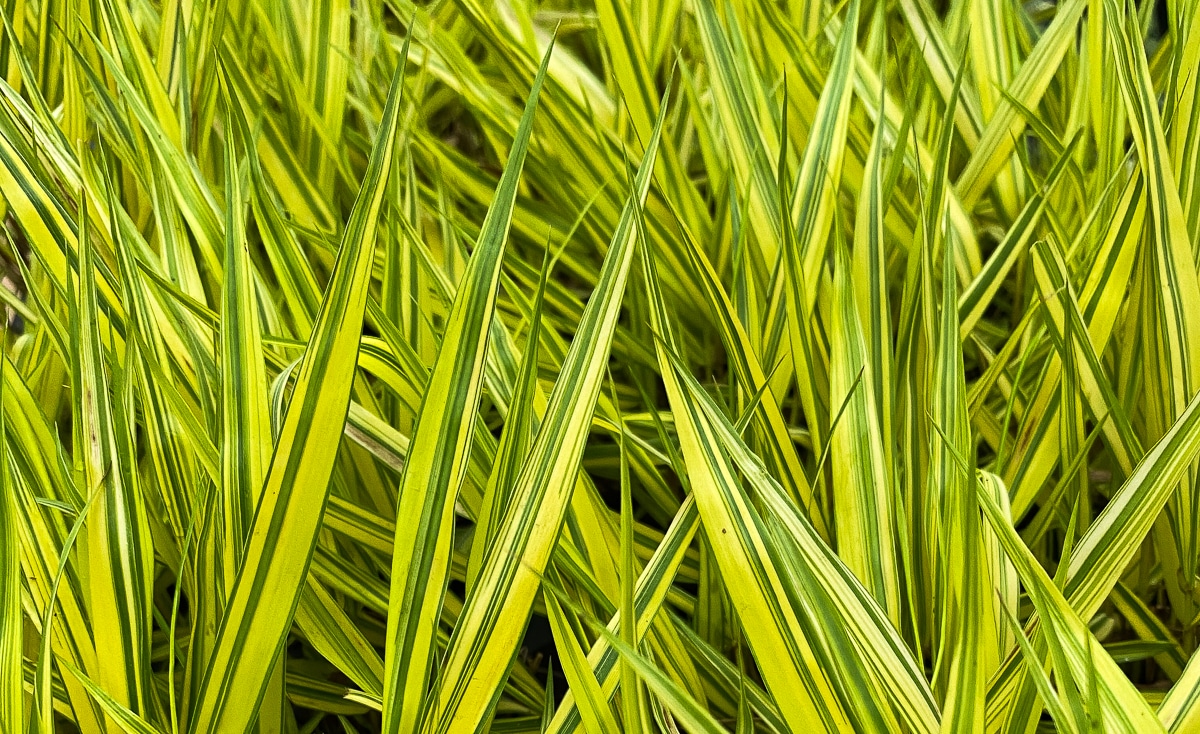 My patio is full of plants, and more are on the way. It's a sure sign of two things: First, a new garden is underway, and second, I am, predictably, quite behind. I always have an excuse for this, but I feel like this year it's more legitimate than usual. We had a rather significant flood that unfortunately happened one week after we had done all the bed prep for the new garden.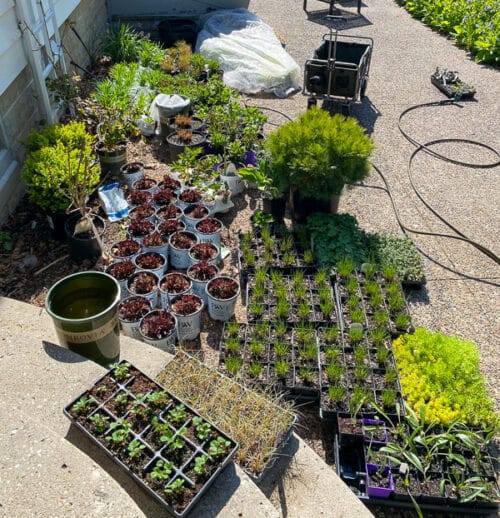 We're still going back to undo some of that damage, and honestly it could have been so much worse, so we're very fortunate that it wasn't. Oddly, I'm not nearly as frantic about how behind I am than I usually would be. Could I actually be getting more patient? Unlikely, frankly.
This pause, however, does give me an opportunity to tell you a little bit about the plants and the plan for this area.
The finished garden area is somewhere around 3,400 square feet. It's massive. I don't know that I'll be able to plant that all this year, but I'd guess that I'll do at least 75 percent of it. The sheer number of plant varieties going into this garden seems excessive. It may be. But it's also an enormous area that I think can carry this number of plants. 
The design concept might be called dynamic naturalistic, but I don't think it's quite that. Perhaps it's my take on that style. Here's how I think of it: large swaths of plants and plant matrixes (i.e. typically two varieties planted together to sort of become one) that trickle into one another as though someone knocked the game board table. I don't want clear definition where one plant starts and another begins, rather an intermingled border. Make sense? If it doesn't, that's OK, because I'm not quite sure how that will work until I get in there and start planting.
Without further ado, let's get to the plant list.
SUN GRASSES
Sporobolus heterolepis 'Tara' (prairie dropseed): Zone 3-9, 2-3′ tall and wide
Molinia litoralis 'Transparent' (moor grass): Zone 4-8, 2-6′ tall x 2-3′ wide
Andropogon gerardii 'Blackhawks' (big bluestem): Zone 3-9, 5′ tall x 2′ wide
Schizachyrium scoparium 'Standing Ovation' (little bluestem): Zone 3-8, 4′ tall x 1′ wide
Bouteloua gracilis 'Honeycomb' (blue grama): Zone 3-10, 30″ tall x 18″ wide
SHADE GRASSES
Hakonechloa macra 'Aureola' (Japanese forest grass): Zone 5-9, 2-3′ tall x 1-2′ wide
Carex pensylvanica (Pennsylvania sedge): Zone 3-8, 6-12″ tall and wide
Carex flauca 'Blue Zinger' (blue sedge): Zone 5-9, 12-18″ tall and wide
SUN PERENNIALS
Penstemon 'Blackbeard' (beardtongue): Zone 3-8, 30-36″ tall x 24″ wide
Alchemilla mollis 'Thriller' (lady's mantle): Zone 3-7, 1-2′ tall and wide (also part shade)
Nepeta 'Cat's Pajamas' (catmint): Zone 3-8, 12-14″ tall x 18-20″ wide
Veronicastrum virginicum 'Queen of Diamonds' (Culver's root): Zone 3-8, 4′ tall x 2′ wide
Liatris spicata (blazing star): Zone 3-8, 2-4′ tall x 12-18″ wide
Salvia nemerosa 'Caradonna': Zone 4-8, 18-24″ tall x 18″ wide
Stachys x 'Summer Crush' (betony): Zone 4-9, 24″ tall x 18″ wide
Echinacea pallida (pale purple coneflower): Zone 3-10, 2-3′ tall x 12-18″ wide
Asclepias tuberosa (butterfly weed): Zone 3-9, 12-30″ tall x 12-18″ wide
Calamintha nepeta 'Montrose White' (calamint): Zone 5-9, 12-18″ tall and wide
Lobelia siphilitica (blue cardinal flower): Zone 4-9, 2-3′ tall x 12-18″ wide
Pycnanthemum muticum (blunt mountainmint): Zone 4-8, 1-3′ tall and wide
Sanguisorba hakusanensis 'Lilac Squirrel' (burnet): Zone 5-9, 24-30″ tall x 18″ wide
PART SHADE TO SHADE PERENNIALS
Heucherella 'Red Rover': Zone 4-9, 8″ tall x 18″ wide
Actaea simplex / Cimicifuga racemosa 'Brunette' (bugbane): Zone 3-8, 3-4′ tall x 2-3′ wide
Aralia cordata 'Sun King' (Japanese spikenard): Zone 3-9, 30-36″ tall and wide
Astilbe chinensis 'Visions': Zone 4-9, 18″ tall and wide
Persicaria amplexicaulis 'Golden Arrow' (mountain fleece): Zone 4-7, 2-3′ tall and wide (also sun)
Athyrium niponicum 'Crested Surf' (Japanese painted fern): Zone 3-8, 20-22″ tall x 30″ wide
Geranium macrorrhizum 'Bevan's Variety' (bigroot geranium): Zone 3-8, 12″ tall x 18-24″ wide
Thalictrum 'Elin' (meadow rue): Zone 4-9, 8′ tall x 2 ' wide
BIENNIALS AND SELF-SEEDERS
Foeniculum vulgare (bronze fennel): 4′ tall (may be perennial)
Angelica gigas : 5-6′ tall x 18-24″ wide
Digitalis ferruginea (rusty foxglove): 3-5′ tall x 12-18″ wide
TREES AND SHRUBS
Cornus mas (cornelian cherry dogwood): Zone 4-8, 15-20′ tall and wide
Pinus strobus 'Blue Shag' (Eastern white pine): Zone 3-8, 4′ tall and wide in 10 years
Amelanchier x grandiflora 'Autumn Brillance' (serviceberry): Zone 4-8, 15-25′ tall x 15′ wide
The list is a little light on trees and shrubs. Frankly I hadn't intended that to be the case but the budget has been decimated and at some point I started to wonder if I needed them. It seemed like an easy way to stop spending for this year and I can always add them later. I wouldn't mind a weeping katsura in there at some point. 
Generally speaking I was looking for deer resistance (hence why you don't see any hostas), although I know a few of these may be tempting to them. I was also looking for generally low maintenance down the road. I don't want to do a lot of deadheading or general minding. A big cut back after blooming for the salvia, nepeta and stachys seems reasonable to me.
I always planned to have goldenrod in the mix as well. However I have a lot of native goldenrod growing in this area and I thought that rather than fight it, only to buy a different goldenrod to replace it with, I would see where it wants to grow for a bit and decide if I can make that work. 
Spring bulbs, primarily daffodils and alliums, will be a big part of the plan in the future as well, but I'm happy to wait to get a feel for the space before I add those in, so that might be this fall, or maybe next year.
This is not a garden that will come together in one year, but there's comfort in that when taking on a project this big.