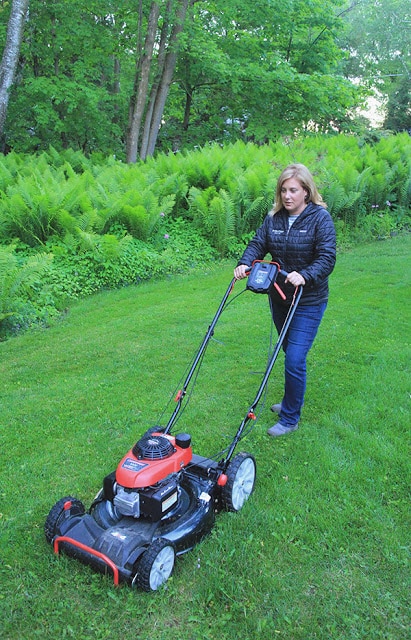 Hey friends! This post is sponsored by Troy-Bilt, who sent me a mower to review and paid me for my time. But you know all opinions are my own. As are all the weeds in my lawn. 
I've come to accept that I'll never have the perfect lawn. There will always be weeds in it and it will never feel like a pillow under my bare feet. Because we choose not to use synthetic herbicides and fertilizers, maintaining a pristine yard is more challenging.
But that doesn't mean we don't like a nice looking lawn. We overseed when necessary, fertilize at appropriate times with an organic fertilizer, repair bare spots, hand pull bad weeds where we can (dandelions are at the top of the hit list), make sure to keep the mower blade high enough that we're not scalping the lawn, water on rare occasion if absolutely necessary, mulch clippings onto the lawn and trim edges to make everything look neat.
I want a good looking lawn when I look at it from the patio. Get in close and you'll see lots of clover, a bit of moss in some spots and various other less-than-perfect areas. From the long-view though, it looks pretty good, especially after it has recently been cut.
I have huge respect for people who love their lawns. I'm an admirer of gardens and gardening and to me, lawns are part of that. But for my life, I need a good looking lawn that is maybe a bit (or a lot) shy of perfect. And I need it to look that way without a lot of effort.
I accomplish this level of looks-good-from-the-patio through a bit of work in the spring. This is when the holes are patched, thatch is raked up, big weeds are pulled and, a week or so before Memorial Day, the lawn is fertilized with Milorganite. I also do a very simple form of relieving compaction in frequently traveled areas by sticking my garden fork in and rocking it back and forth (over and over again). Then I spread a thin layer of sifted compost over the top and reseed.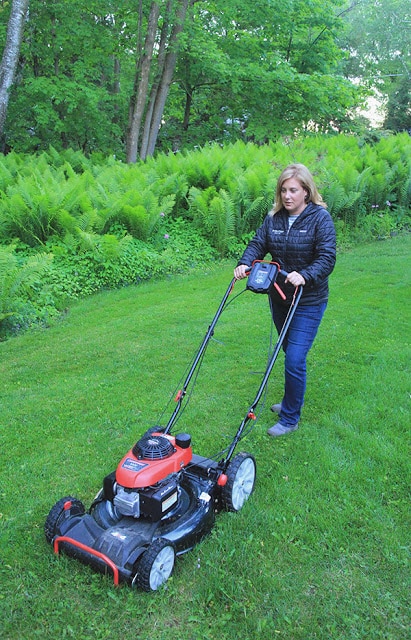 I like a good walk-behind mower for quick mowing just around the house. And this one will pretty much pull you around the yard. All you have to do is steer.
But after that, the lawn is pretty much on its own for summer. The sum total of the time I'm willing to spend it on during the high season is a weekly mowing and trimming. And I like to get it done quickly. Often that means we only mow the areas closest to the house. Or sometimes the weekend gets away from us and we need to do a quickly cleanup before company comes over. That's when a good walk-behind mower is best. We have the big Horse XP tractor for when we're doing the whole enchilada, but that's overkill for a quick job.
Troy-Bilt recently sent me the TB490 XP self-propelled mower to test. It has all of the bells and whistles you'd expect on a mower like this (bagging, mulching or blowing ability; hose rinse connection; easy pull start, etc.) but I'll it shines in its versatility. It has front-wheel drive (good for maneuverability), rear-wheel drive (good for our varying terrain) and all-wheel drive (for the best of both) and you can easily switch among the different modes with the hand controls. See how those rear wheels are big? That means that when it's in rear-wheel drive or all-wheel drive, this baby has some get up and go, to the point where it can take you a little off guard when you first try it (not in a dangerous way, but in a lace-up-your-tennies kind of way).
What I'm getting at here is that this thing will pull you around the yard if you want it to. Meaning all you have to do is steer. It's the ultimate in lazy-man's mowing, which I think you'll see is right up my alley.
You can check out a quick video review I did of it on YouTube.
Most people I know strive for great looking lawns, and if you enjoy taking care of a lawn, I think attempting to achieve the perfect lawn is a noble exercise. But I think it's OK to strive for a pretty good lawn too. In fact, I'm perfecting the good-enough lawn. Come see my green weeds. I bet you can't spot them from the patio, especially if I get a drink your hand first.