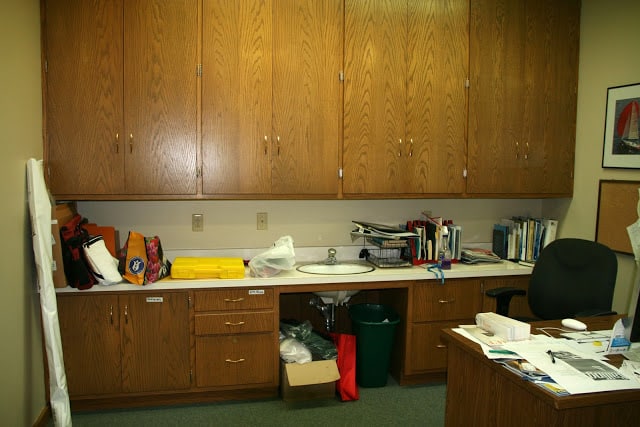 Having successfully spray painted a handful of odd things including a
lamp
(including the shade) and our wall-mounted
stereo speakers
, I'm far more inclined to at least give spray paint a chance to improve a situation before buying something new. And once again, spray paint has come through!
As I've said from the beginning, it was crucial to keep the office renovation on a shoestring budget. There are some great deals to be found on cabinet hardware (the handles I got from Ikea were incredibly well priced, I thought) but hinges are a whole other thing. And there are 32 hinges on the small wall of cabinets in my office. Even if, by some miracle, I found hinges for $2 each, I'd already be at $64. No way, José.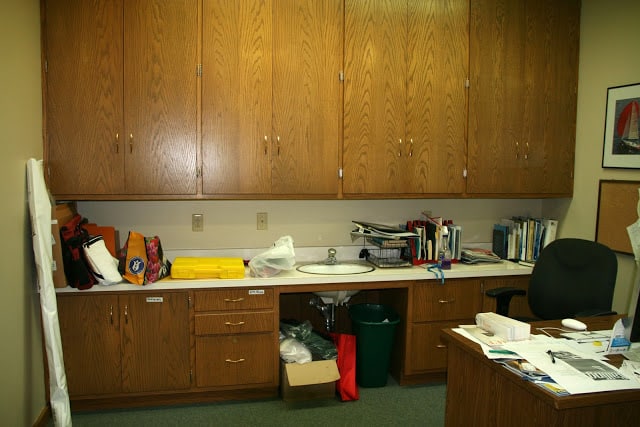 All that shiny brass hardware HAD to go!
I had nothing to lose by trying to spray paint them. And thankfully, after all that pain of staining the counters and painting the cabinets, this was an incredibly easy project.
I took them all off when I was painting the cabinet doors and plunged them in a bucket of my favorite pre-paint cleaner Dirtex and gave them a really good scrub with a stiff-bristle brush. I'm not sure what was on them, but they were really dirty.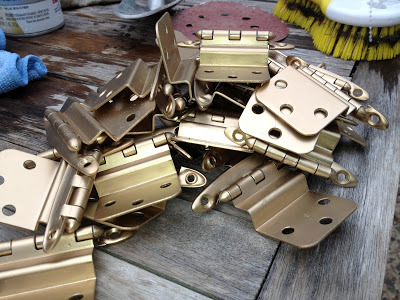 I pulled out one of the many old bedsheets I save for projects like this as well as for moving, protecting plants from an early or late-season frost and covering up the dog bed and just laid them out in the driveway on that. Lest anyone forget how long ago I started this project, just take a look at these pictures. It was fall!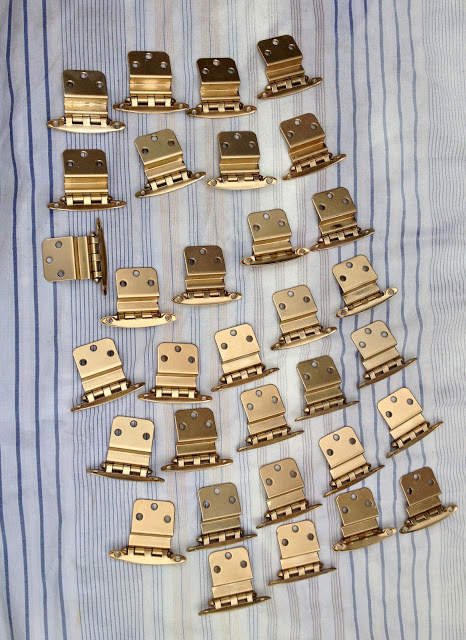 I picked up Rust-Oleum Universal in Titanium Silver, only because it was the only silver-toned metallic spray paint available at the hardware store that day (I would have gone for a satin nickel if it had been available). I've really gotten the hang of spray painting and like everyone says, the key is to do several very light coats. So light that the first few don't really look like much paint has been applied. It's not really until the third time I go over it that it is a different color and I usually do at least one more coat. This all happens in the span of about 15 minutes. When you're doing super thin coats, it doesn't take long for them to dry. I did give them a good hour or so to dry before I flipped them over and did the other side.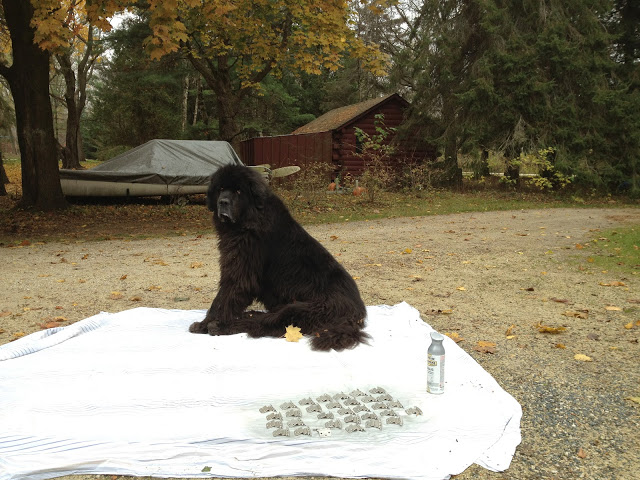 Sidenote: When on earth are those Viburnums that I planted to screen the neighbor's shed and never-used boat going to grow enough to do some actual screening? Speaking of which, does anyone want to buy my neighbor's house? Supposedly it's quietly for sale. If you buy it and move that godforsaken boat off the property line, I promise I will offer you first choice of any plants I dig up, divide or don't have room for.
Then I brought in spray paint drying supervisor Hudson to guard them while they dried. OK, I didn't really. He apparently thought that we should have bedsheets in the driveway all the time and why on earth wouldn't you sit on it if someone laid it out all nice like that.
I did have to buy new screws because I figured painting the old ones would be either a big pain or a massive failure or both.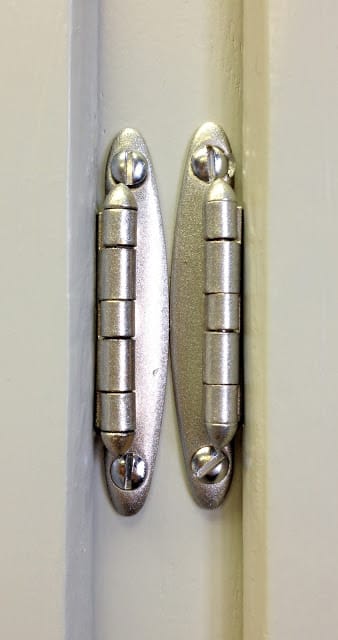 Ack! I wish I had fixed that screw to turn it north-south before taking this picture. I hate when slotted screws aren't lined up.
I've been really impressed with how well the hinges have held up. I'm not seeing any wear on them at all. Granted, these cabinets aren't constantly being opened like they would be in a kitchen situation, but we are rifling through there at least once a day looking for something or other.