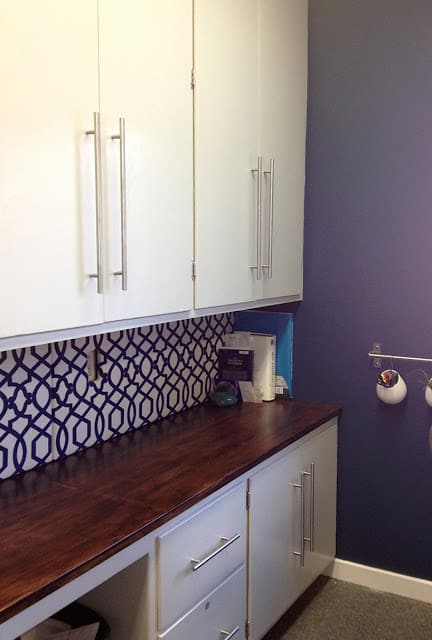 Hey it's me. Remember me? Gosh I've been a bad blogger lately. I had a rough couple of weeks at work and then a cold and some trip planning and blah, blah, blah. Who cares right? Life sucks sometimes; get your crap together and write a blog post why don't 'cha?
So I now take you back to yet another of my projects that I expected would take a few weeks and stretched into months. It's still not finished, but it's down to finishing touches and it's time to get in depth about some of the projects involved with it.
And that would the office. Here's what it's looking like now.
And you might remember, this is what it used to look like.
Even if it's not finished, you gotta admit that is SO much better. I feel so much more productive in this space. Seriously. I'm using more file folders. I'm making to-do lists that are getting done. My e-mail inbox went from more than 2,000 messages to no more than 200. I make it my goal to get it down to 200 every day before I leave. I get about 100 messages a day so it's a lot of time on e-mail, but it helps me feel much more in control about this.
I started by painting the trim and the walls. The trim went to BM Cloud White (so much fresher!) and the walls were painted BM Hudson Bay. I am absolutely loving this navy blue. Because I had to content with moving very heavy file cabinets around, I painted the wall in sections, which is not really the way you're supposed to paint rooms but it turned out fine.
Then I moved onto the cabinets. This was a job I completely underestimated the amount of work on, but I am so happy I did it. I'm happy because I've sort of been planning on repainting our kitchen cabinets at home myself and after having done this, I now know I will absolutely NOT be doing that. Too much work and frankly, I'm not happy enough with the results.
These are el cheapo cabinets. They are half-inch plywood with oak veneer. This was a heavily grained oak and I didn't want to be able to see the grain through the paint so I knew I'd have to do something to help fill in that grain.
Because I had limited space to work in the basement, I did the upper and lower cabinet doors separately, starting with the uppers. I took them all off, making sure to number them, and first cleaned them with Dirtex, which is my go-to pre-paint cleaner.
Then I sanded them with the random orbital sander. I went through more sandpaper on this job than you can imagine. I started with 80-grit and worked my way up to 220-grit, but I think I actually could have stuck with the course-grit paper longer to help knock down that grain. But no amount of sanding will eliminate grain entirely, so I turned to a product I'd not tried before: Fine Paints of Europe's Brushing Putty.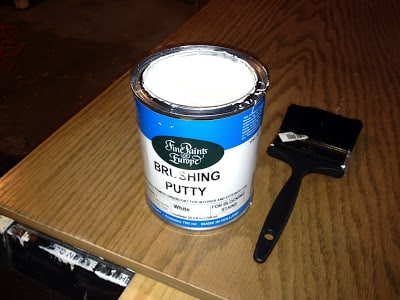 I used a cheap brush with stiff bristles to apply the brushing putty thinned with Penetrol.
This product is quite expensive ($45 for .75 liters) and honestly, it's not easy to work with. Fortunately one of the reasons I love Fine Paints of Europe is that they have incredible customer service, so I called to get some help in using it and they talked me through the process. The first thing to do is add a little bit of Penetrol (a thinner available at the hardware store) to some brushing putty pour in a container. I did no more than 5% Penetrol and mixed it throughly. Then I used a cheap stiff-bristle brush (you WILL be throwing this brush away when you're finished with a coat of brushing putty so the cheaper the better so long as it's not losing bristles in your finish), to apply an even coat. But that's not so easy. In fact, brushing even thinned brushing putty is a little bit like frosting a cake. There is no self leveling happening with this product, so it's up to you to apply it where you want it. Because my basement was pretty cold I had to wait a full 48 hours before it was dry enough to sand lightly with 120-grit paper. The idea is to smooth it out, not to take a lot off, because you could easily sand right through all the brushing putty you just put on.
Then I applied a second coat the same way. And honestly, I probably should have applied a third coat, but I just couldn't justify the cost for this project. I sanded it again, but the places where I didn't apply it too smoothly really dogged me at this point. Overall, I found it hard to find a balance between oversanding and sanding enough. After thoroughly cleaning the dust off (the brushing putty creates a really find powdery dust that was everywhere), I primed with an oil primer (as is necessary when covering the brushing putty).
This is where the process got really tedious. Painting both sides of cabinets requires a lot of drying time in between, so I'd paint for 40 minutes every night, which leads to a lot of clean up and set up time for little progress.
I used a different paint than usual on the cabinets. Fine Paints of Europe Eco satin is my top tier paint for woodwork, but it is a huge budget breaker and if you recall, the whole idea of this office makeover (done on my dime) was to keep it cheap. My next choice is BM Aura. But this time I used BM Advance, which I'd read great things about and claims to be formulate for woodwork. Even though lots of people (including John and Sherry at Young House Love who just used it to paint their kitchen cabinets) love it, I have to say I'm not a fan. It just didn't level nicely for me. Granted, by this point in the project, my basement was a horrible place to be painting. Residual dust was hounding me and the temperature was just too chilly for quick curing so all the dust that was around had even more opportunity to stick to the paint.
I did two coats of paint on each side, let the doors sit for a full week to cure, and then reinstalled them and repeated that overly long process with the bottom doors. One of the longest, most boring projects I've ever done. And let me tell you, my office was looking particularly awful during that long process. We had a new person start during all of this and I can only imagine what he thought about my office when it looked like this on his first day.
But once they were hanging I started to get really annoyed with the finish. There was a serious dust issue (not to mention dog hair which is my menace) and a lot of uneven spots. So I gave them one more light sanding and recoated them with one coat of my old standby Aura paint. And the difference was amazing, not just because of the paint but also because I was out of that dirty basement (note to self: deep clean basement before taking on any more painting projects).
I replaced all the dated hardware with Ikea hardware, and did a little number on the hinges (more on that later), and I have a completely new look. The cabinets aren't perfect by any means, and I'd be annoyed if I looked at them all day, but my back faces them so that's not an issue. And the look is great, I think.
I've already shown you some of the counters (nightmare!) and the corkboard "backsplash" I made. Next I'll show you what I did with the desk and a few of the other finishing touches.