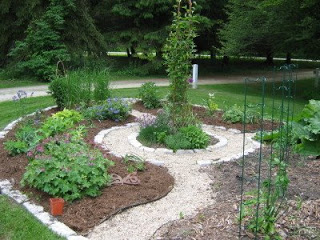 For the first time in my life I'm going to try my hand at vegetable gardening. Well, not the first time. When I was a kid my mom gave my brother and I some space in her veggie garden to grow things that are satisfying for kids to grow. In our case it was radishes. I detest radishes, but fortunately my dad liked them, so I would merrily pick a radish and hand it to him, waiting to watch him eat it and compliment me on how good it was.
I've also grown a lot of tomatoes (although technically I suppose that would be fruit gardening). It was actually the tomatoes that led me down this path. A few years ago I created what I call the Circle Garden. It's not a circle, but it's round so let's not get too technical about it.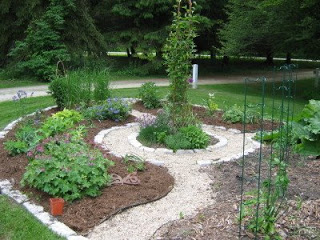 It's one of my many gardens that is still under construction (although, aren't they all?). In one segment of it I planted rhubarb and tomatoes. Well that was great. For three years. And then last year my tomatoes were not doing well at all. I had yellow leaves, not a lot of fruit, and, generally, they were unhappy. I realized that the problem with the circle garden is that it doesn't allow anywhere for me to rotate where I place the tomatoes (the rest is planted with perennials and then herbs, a climbing rose and a clematis in the middle). So, last year I started thinking about a veggie garden somewhere, but where? I didn't want it too close to the house (come on, they are NOT pretty, at least not to me), but there wasn't a lot of sun elsewhere.
So we ended up putting it on the opposite side of the property (I'll explain more some other time), after cutting down a few huge pine trees. But the inspiration for this garden—the thing that REALLY made it happen—was lunch at the Kumeu River Vineyard in Auckland, New Zealand. It was there where I saw this raised veggie garden.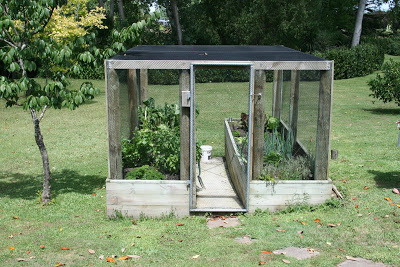 The problem there was the birds, but without the top netting I thought this kind of garden would work perfectly to combat the deer and bunny issues we have. So my dear husband set to work and built me something like it. This is the first bed completed.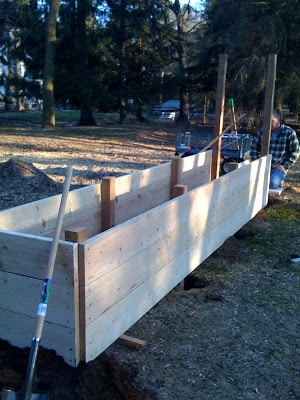 I'll have post more on the veggie garden soon. I'm really excited. Now if those veggies would just hurry up and grow (oh yeah … have to plant them first.)