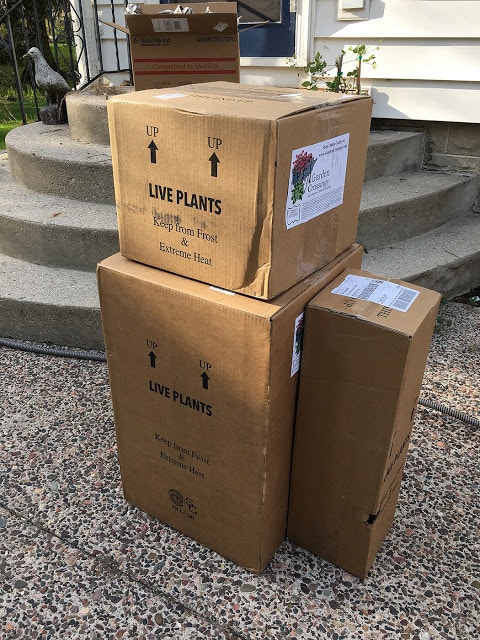 Oh my, there is so much going on in the garden and I'm not sharing any of it! Bad blogger! Soon, I promise.
We had the most amazing weather for Memorial Day weekend and I spent plenty of time in the garden. It was lovely. But, once again, I was so busy gardening that I didn't take any photos. So today I'm going to wrap up my mail order nursery series for the year with a bang.
If you recall, my friend Linda at Each Little World starting posting about her experiences with mail order plants this year and I liked it so much, I decided to do it too.
I ordered several small shrubs from Garden Crossings in Zeeland, Michigan. It's obviously not my preference to order shrubs online, but I was dead set that I wanted Hydrangea serrata 'Tiny Tuff Stuff' in the patio garden where I cleaned out a bunch of stuff last year and although I was finding plenty of 'Tuff Stuff' (which grows to about twice the size of 'Tiny Tuff Stuff'), I saw no 'Tiny Tuff Stuff' anywhere. And as long as I was ordering (I can't tell you how many "as long as I was ordering" plants I have), I threw in some white impatiens that Garden Crossings' website raved about.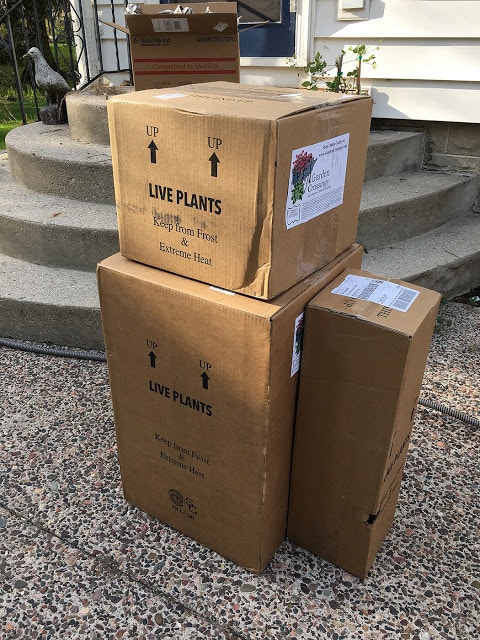 A neat stack of boxes was waiting for me. Four hydrangeas came in the big box, plus the fifth in the tall skinny box. The impatiens were in the square box.
I ordered from all kinds of nurseries this spring, both small and large, with specific focuses and some general focused-nurseries. My guess is that Garden Crossings was the largest nursery I ordered from. When my ordered arrived it was clear to me that they have a very specific system in place for shipping. A neat stack of boxes were waiting on the front porch for me.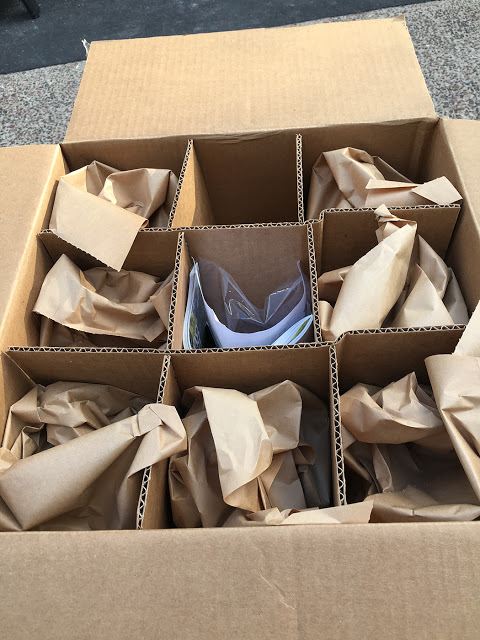 Impatiens were all neatly tucked in their own compartments.
The five hydrangeas were in tall boxes with dividers holding each plant in place. The impatiens were in a similar but smaller divided box.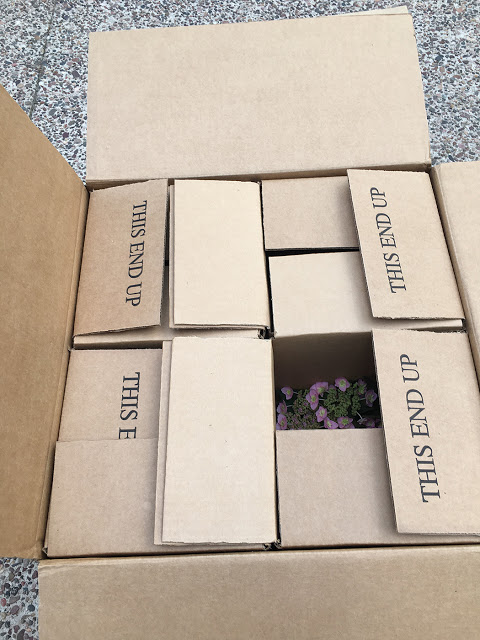 Each hydrangea had its own box so all of the foliage was in perfect shape.
The real genius of Garden Crossings' packing is in the paper. Every plant has a tight band of kraft paper that holds the foliage up in a column so it never gets crushed.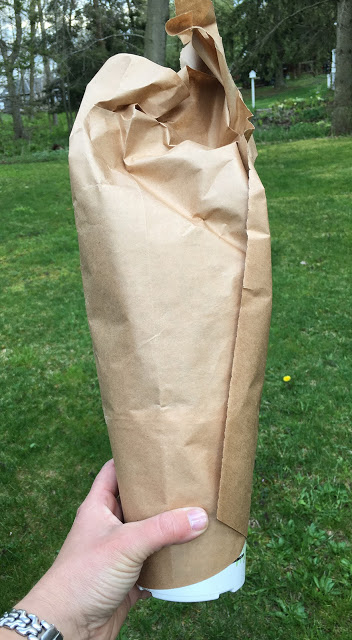 Every plant, regardless of size, was wrapped in kraft paper, keeping the foliage protected and making it easy to pull them out of their compartment.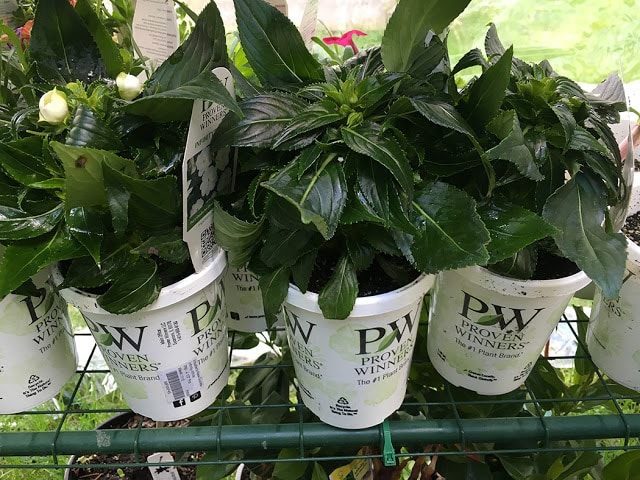 Healthy looking Infinity white impatiens.
When I took the hydrangeas out of the paper, I couldn't believe what I saw. They are basically fully grown plants (or very close) that were in full flower. I left the flowers because I have a heart and lack that hardened gardener ability to trim off a flower even if it's better for a plant. Everything was extremely healthy, although I stupidly didn't figure out that the hydrangeas were obviously greenhouse grown and I put them out right away without any hardening off. The results is that I now have five purple-leafed hydrangeas, all of them having been sunburned. The plants will be fine, I have no doubt, they will just be a little odd looking for a time.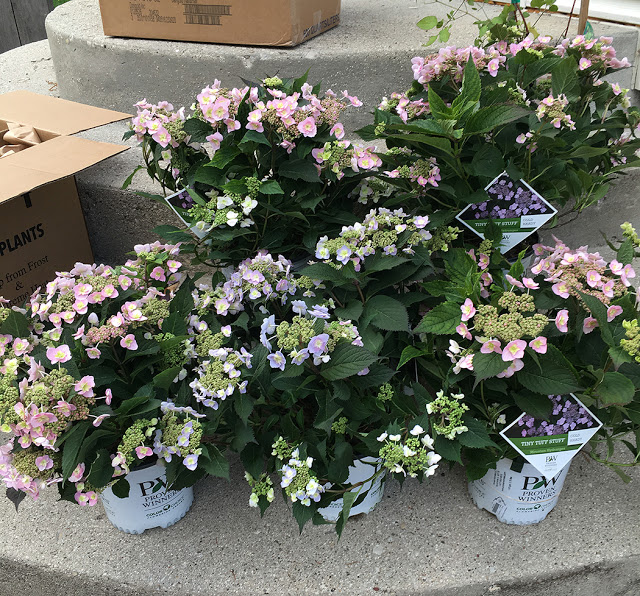 I ordered during a shrub sale, so that helped bring the costs down, although I don't feel like Garden Crossings charged any more than I would have paid locally for hydrangeas of this quality and size. Shipping was only $30, which I think was great, and proves that buying more can help you maximize your shipping dollar. I wouldn't hesitate to order from Garden Crossings again.
Because I feel like this series is perhaps getting a bit tedious, I'm just going to quickly tack on a note about the final nursery I ordered from this year: Classic Viburnums. I continue to be irritated with the lack of selection of interesting plants available even at the better nurseries near us and I was searching for a specific viburnum: Plicatum f. tomentosum 'Shoshoni'. This is sort of a dwarf version of 'Mariesii,' which is quickly becoming a favorite in my yard.
Classic Viburnums is pretty much the exact opposite of Garden Crossings. It's essentially a couple running a very specific nursery. There is a website with a lot of cultivar information, but you can't order on it, nor can you find out what they have in stock. You have to call or email, which is what I did and received a quick reply. By the next day I was on the phone with Gary learning that not only did they have a nice 'Shoshoni', but I was also getting advice on an additional virburnum I should get to maximize the shipping cost. With Gary's help I chose Plicatum 'Magic Puff'.
The two shrubs in gallon pots with lots of nice, healthy and well-shaped growth, came in one large box, each strapped in by a nylon strap and in perfect shape. Gary had told me that after I get the shrubs and everything looked good I should mail them a check for the amount on the invoice they sent. Yes, that's right, mail them a check. Which I did, along with a note letting them know how thrilled I was with everything. I'm chalking it up as my single best mail order plant buying experience of the year and I'm certain I'll be back for more.
So that's it. The shopping is finished (except for what I need to buy for the container at work). All that's left now is to get it all in the ground and to get the garden in full-on shape for the summer. And to give my bank account a chance to rest a little.
Here are the other mail order plant reviews I did:
Digging Dog Nursery
Arrowhead Alpines
Joy Creek Nursery
And here are Linda's:
Odyssey Perennials
Far Reaches Farm
Rare Find Nursery / Old House Gardens
Plant Delights Nursery
Arrowhead Alpines
Are you still buying plants or are you mostly finished for the year?