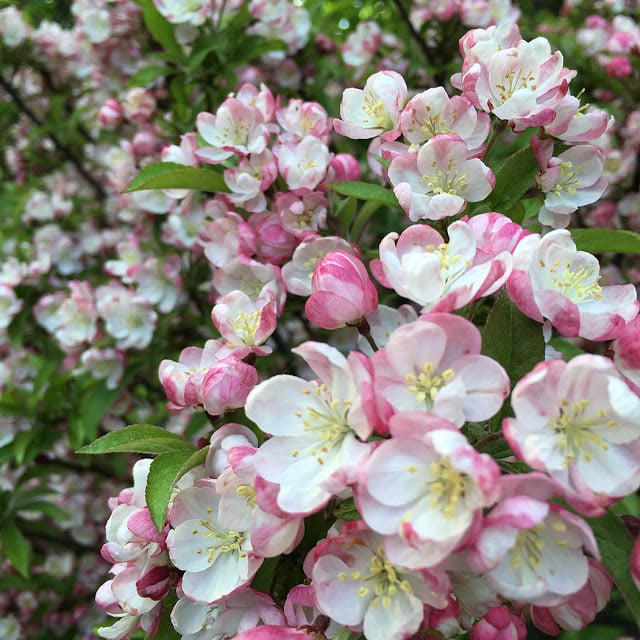 It's Friday Finds time, something I haven't had time to do for a couple weeks. I'm a little behind on my blog reading as well with craziness in the garden, at work and in life. All good stuff, just busy. I wouldn't have it any other way.
How about a pretty picture to start? The 'Coralburst' crabapple we planted last year is doing great and putting on a beautiful show. When our dog Hudson died we planted a Picea glauca 'Hudsonii' for him and Mr. Much More Patient decided we should plant a tree for our dog Rita while she was still with it so she could enjoy it too. We couldn't find a tree with Rita in the name so we opted for something pretty and girly instead. We've taken her picture by it while it's in bloom the last two years and I hope we'll have many more photos like that.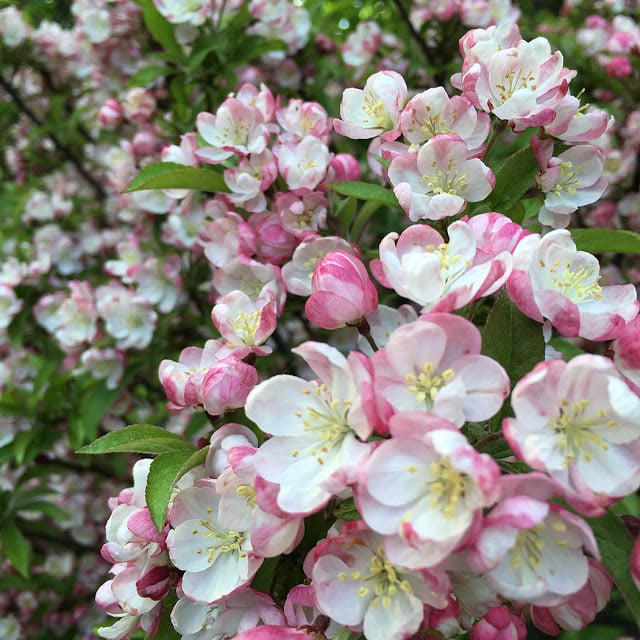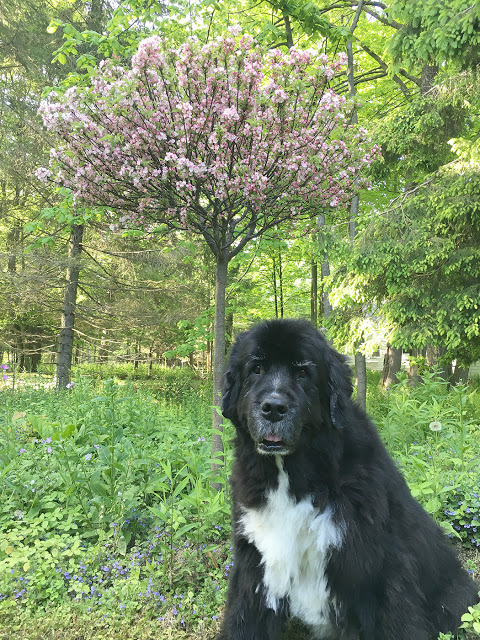 Although the area around the tree is mulched, that whole area is getting really weedy. The weed torch will be making an appearance this weekend too.
The weather has been wonderful here so most of this week's finds are all about summer. Bring it on!
I like to drink cocktails and experiment a bit in summer. Last summer I perfected a real dacquiri (not the sugary fruit laden variety but simple, crisp and limey). This gimlet sounds pretty good.
Are you using a spiralizer? Tell me if it's worth it. I hate to have kitchen gadgets everywhere so if I'm going to use them, they have to be something that's worth the space.
If you're into white gardens (as I predicted many people would be in my Garden Trends for 2016), here are some very pretty ones.
You'll notice a new addition to the sidebar over there ————>
I've created a very small Amazon shop featuring some of my favorite gardening gear. Honestly it's as much to help me find the things I buy frequently as anything else. Some of it is flashy and some is rather mundane (garden twist ties, for instance), but once I find something I like I tend to stick with it. Those are affiliate links which means I may get a percentage back if you buy something. That helps me buy plants to tell you about! 😉
I enjoy this blog because you never know what you're going to read about. It might be tiling a bathroom, digging a fence post hole or chickens. It's just a cool chick doing cool stuff, mostly on her own.
That's it folks. There is SO MUCH TO DO this weekend! I have to finish up container planting, oodles of work in the garden, find homes for all the plants (I can't keep up with the watering anymore so stuff needs to get in the ground), sailing, my nephew's high school graduation and so much more. What's on your agenda this weekend?