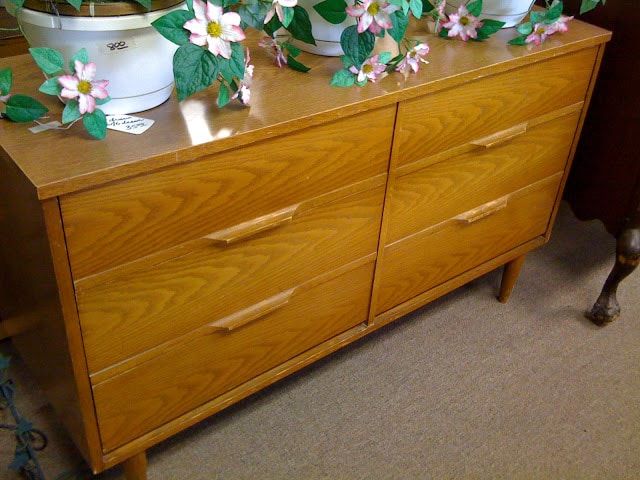 It's
Garden Bloggers Bloom Day
and I'll be back later with a few photos to actually participate (for the first time in months) but first I need a little help on a project.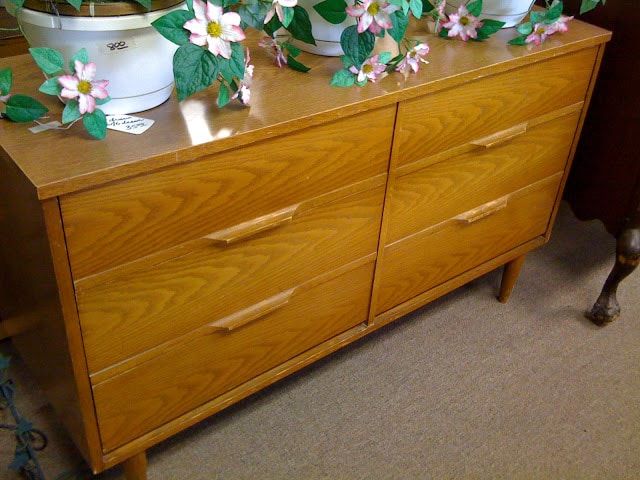 Please note, that's a picture from the store, not one showing my growing silk clematis collection.
This is one that has been a long time coming. I picked up this dresser at the thrift store for $35 about two years ago. I bought it because I couldn't leave it there. I don't (and didn't then) have a place to put it right now, but I like it, so it will get used. Like the buffet that lived in the garage for a long time, this dresser has been languishing in our unheated, gross garage for a long time. And I've hit it with the car more than once.
The law has been laid down: I MUST start finishing some projects before I take on anything else. You can probably guess who came up with that edict, but I'm on board with it. He's right. Our house is way too small to be storing future projects. That's why I've passed up some great stuff at the thrift store (including this chair). If I can't fix it up and use it immediately, it doesn't come in the house.
Anyway, in late fall we pulled the dresser out of the garage and I got to work on sanding it. It was covered in mildew inside and stunk to high heaven. I cleaned it a bunch of times with various things including vinegar and have been letting it air out and now it's all sanded, smelling sweet and ready for the next step.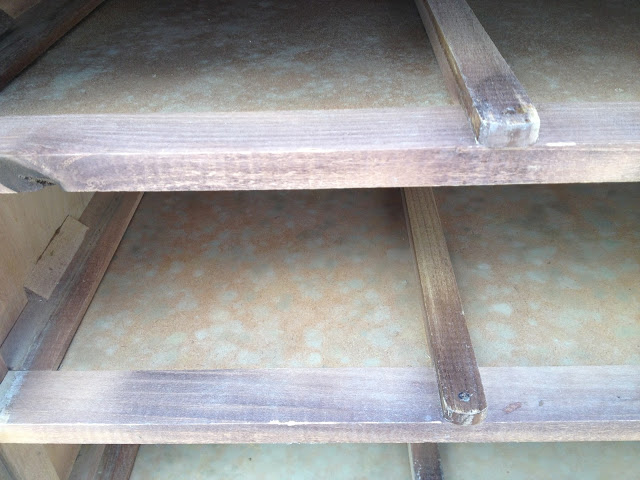 Ewww … check out that mildew in there. People, don't leave your furniture in your garage for two years.
And that's where you come in. I want you to tell me what you think I should do with it. But this is not a no-holds-barred kind of thing. I have a general concept I'm hoping you'll help me flush out.
Because the top and sides are laminate veneer, the entire outside of it (top, sides, bottom rail, legs) is going to get painted white. If you are cringing at the thought of painting that plastic wood-type stuff, check out what I did to my desk at work. It's been well over a year and it has help up amazingly well. There's not a chip on it. But the drawers are real wood and they are sort of pretty, so I'm not going to paint those.
My inspiration to even buy this dresser started at Young House Love, where John and Sherry refinished a very similar dresser for their daughter Clara's room. They went with a dark stain and only painted the top.
Here's a similar finishing concept from Twenty-Six to Life.
Here's the opposite finishing from Birdhouse. The wood is sort of a medium tone, rather than dark like the examples above. Pay attention to the wood color here, not the positioning of paint vs. stain because it's not an option for me to stain the top and sides.
Here's the reverse from Blessed Nest, again with a medium-tone stain (and amazing hardware).
Now we're getting slightly lighter with this one from Handmade Home.
And even lighter on this dresser from The Lettered Cottage. Layla toned down the wood color with a little bit of gray stain, but this not too much different from the natural wood color of my dresser drawers.
And there's this one, which just gives you an idea of colors.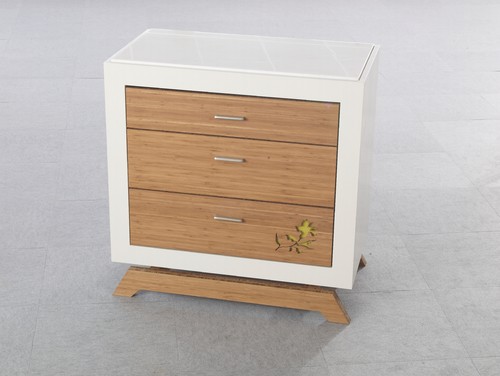 So, what color do you think I should go with for the stain? Since I don't know where this is going, let's just assume you don't have to worry about matching it to anything else. Logically it will end up in one of the bedrooms which, as you recall, have a darker bamboo floor in them, in case that affects your decision at all.
This is the master bedroom, just to remind you of the floors in there.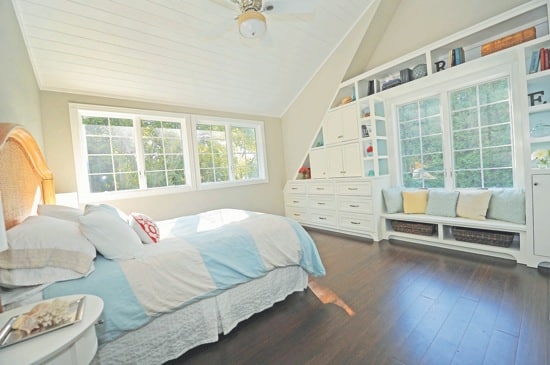 Let me know in the comments or on
facebook
what direction you think the dresser should go in.