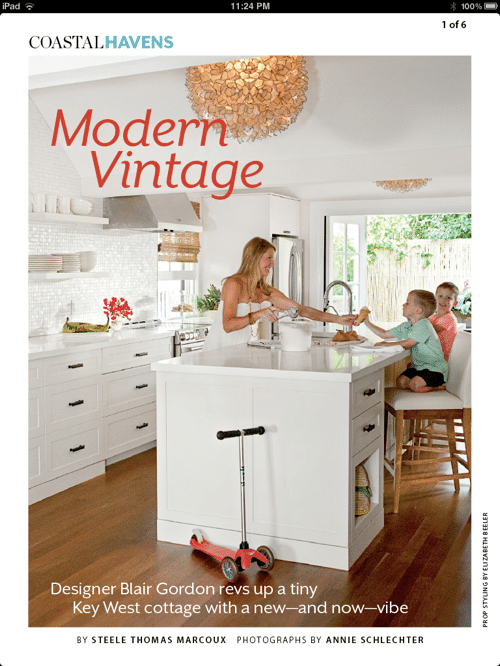 It's no secret that I love magazines. Nothing brightens a day more than coming home to a new issue in the mailbox. Interestingly enough, when it comes to shelter magazines, probably 90 percent of what I see in magazines is pretty/intriguing/fantastic/interesting but is not translatable to my life. What makes magazines great is that other 10 percent. The pictures and articles that illustrate what has been lurking in your head. The ones that say, "Look at me!"
The last two moments I had like that have come from Coastal Living magazine. The first was when I had just finished repainting the front door a darker blue and then saw a photo in Coastal Living and had to be talked off the ledge from repainting it immediately.
The second one happened this weekend when I saw pictures from a casual Key West home (you'd think that would be redundant, but it's unbelievable how many Key West homes featured in magazines end up feeling stuffy and overdone). The idea behind the house was "Modern vintage" which, the more I think about it, sort of sums up what I'm feeling my style has been lately. What grabbed me from the get-go was the kitchen.


 
Although sprucing up the working part of the kitchen isn't something we'll be doing immediately, it is part of the long-range plan. It won't be a total overhaul or anything, because most of what is there is just fine. But I'd consider refacing the cabinets (at the very least they need to be repainted) and replacing the counters. I know the cabinets will be white (I'm just a white cabinet kind of girl, I guess) but I've always envisioned a dark countertop. White on white kitchens are all the rage these days and I feel myself falling for the trend. What I like about this kitchen is how the cabinets are an off-white but the counters are true white. I think it's a really interesting look and not one I've seen before. It's all tied together with the great shell backsplash.
Up until now, I've envisioned some variation of a subway tile backsplash in our kitchen, but the mosaic in the Key West kitchen is interesting with just a touch of sparkle, but not too fancy. I'm a little bit obsessed with it.
Another trend this kitchen embraces is the whole open shelving concept. I have to admit, it's a super sharp look, but it's just not for me. First of all, it's one more area to "style" and this is something I struggle with. Also, half of our dishes are in the dishwasher most of time, so you either have a half-full shelf or you have to buy more dishes to fill it and then it's overstuffed when they are all clean. And lastly, all of the upper cabinets in my parents' kitchen are open and those dishes get dirty. About once a week my mom washes the top dish on every stack whether it's been used or not. For me, it's not practical. And while I can get behind a bit of form over function in a lot of spaces, for me, form has to follow function in the working part of a kitchen.
It's just a little something for me to obsess over during the depths of winter, before I allow myself to start dreaming in earnest about gardening.
P.S. I realize there's a great deal of irony in the fact that the images I posted are obviously screen shots from my iPad since I'm always extolling the virtues of real, printed magazines. In my defense, I'll just say that Coastal Living hasn't updated its website with the contents of the February issue yet and I couldn't wait to show you this kitchen so I had to view the magazine on my iPad (free for print subscribers) and screenshot the pages.