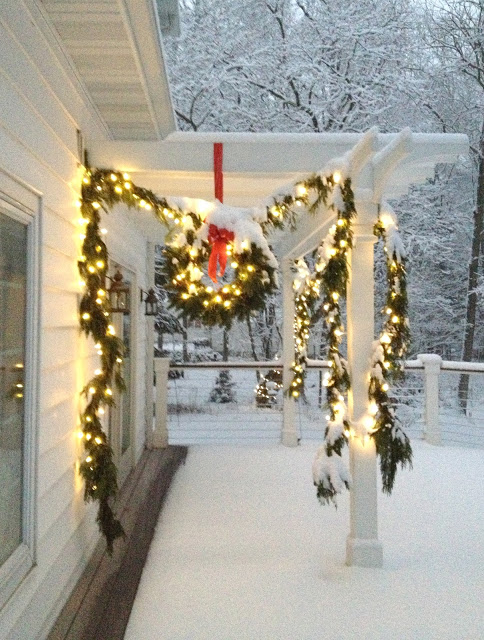 Holiday-type things are a-happening at The Impatient Gardener cottage. Last Friday we got a tree (a feat that is deserving of its own post), which is up in the house and there are lights on it. The decorating will come, I'm not worried. I know a lot of people who decorate their tree on Christmas Eve as part of a tradition so I'm hardly the only person in the world with a bare tree standing in their living room.
Christmas cookies have been baked. There are three more varieties to make and then I need to box them up for the handful of neighbors who I take some to every year.
I did end up decorating the pergola with garland and a wreath because Costco had their 25-foot garland on sale for $8 and I just couldn't pass it up. It took me all of 45 minutes to get it hung so it was well worth the effort.
The Christmas cards will go out in today's mail. I'm not thrilled with how the printing turned out on them, but that's how it goes.
But what REALLY makes it look like Christmas around here is the small snowfall we got yesterday afternoon. It's the first in 288 days which is a record.
I got home at dusk because I had to run a dog to the vet and happily pulled in with just enough light to snap a couple pictures of the pretty scene.
See? Wasn't the garland worth it?
This is looking down the last hill to the turn off to the house. I've been stopping in the same spot on the road when I can and snapping a picture and putting it up on Instagram. I thought it would be fun to see how the view changes throughout the year. This is the 25th picture I've taken there and the first with snow. It should be noted, those are not my crazy tire tracks!
The window box looks so festive covered in snow and all lit up.
It's amazing to me that we used to light the entire Serviceberry tree. Now we can only reach the bottom half of it.
The dogs, of course, love the snow and were so excited to see it. Rita prefers a snow mattress so I had to shovel around her.
Another snowstorm is on the way tonight and tomorrow but it doesn't look like we'll get much snow from it. Most of last night's snow is already melted but for the first time in a long time, I'm a little happy to see the snow. The white stuff really does go a long way to make it feel like Christmas is a'comin'.