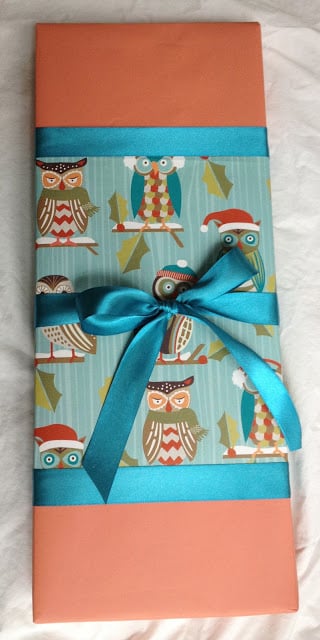 I love wrapping gifts. I wish I had unlimited time and money to lavishly wrap every gift I give, but that's just not the case. In the past, I've done wrapping themes but now I've amassed such a collection of papers and ribbon that I mix it up quite a bit.
Paper Source
, which is one of those really fun places to get into a lot of trouble with your credit card (and I've never walked into the store, only shopped online) had a holiday craft contest this year that included a wrapping competition. The rules were that you had to use Paper Source papers (not a problem for me since I've bought my paper from there for the last two years), but that you could put on any ribbon or embellishments you wanted.
I came up with three entries.
I wish I had straightened the bow before I took the picture of my first entry. The ideas was that the bow fell right under the owl's neck. This is the papaya solid paper with their Christmas owls paper wrapped around. The ribbon is Paper Source's satin ribbon in peacock.
I'm really happy with how this one turned out. The paper is solid paper in pool with baker's twine tied in a grid pattern with a flocked velvet ribbon around the middle. I cut a cardboard circle for the ribbon to feed through and then cut a tree out of the ribbon and glued it on, although I like how it looks like I actually cut a tree out of the circle. I feel bad for my nephew who is this for because there is no way other than a scissors to get in this gift.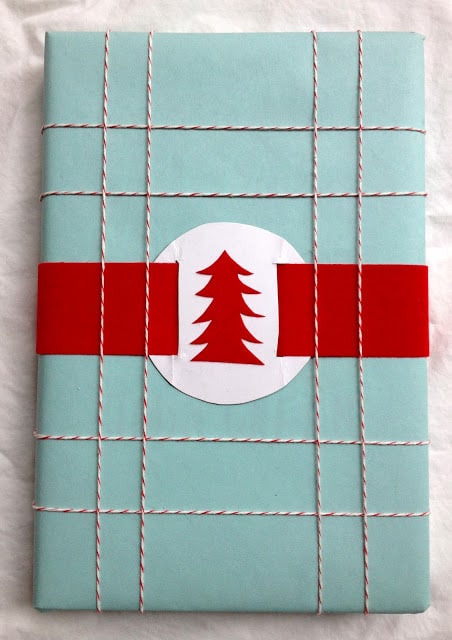 I had so much fun wrapping this gift. First I wrapped it in two colors I'm really into right now: navy and coral (papaya) and then I put on the most yummy ribbon ever. It's Midori's dupioni silk ribbon and it is so lovely. I was going to stop there, but the contest specified that this was to be holiday wrapping and it didn't look very holiday to me, so I started making paper snowflakes. I haven't done that in decades and it is so much fun! Anyway, after I had my fun (and cleaned up all the bits of paper everywhere) I glued them on which helped make the white ribbon relevant and definitely brought in the holiday feel.
I didn't enter this gift because I didn't think it said "holiday" but I really love it. The ribbon is more dupioni silk ribbon from Midori in a wonderfully bright plaid. I love pretty packages whether they are in a traditional color scheme or not.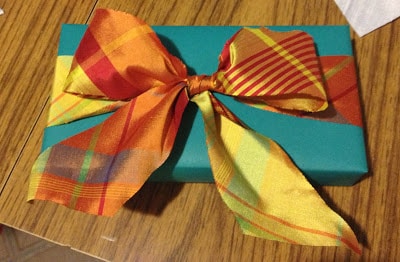 There are some great entries in the contest so if you're looking for a little wrapping inspiration, check them out on the
contest page
.
What's your wrapping situation? Do you do something special or are gift bags your thing? And are you finished wrapping yet? I am definitely not. In fact you are looking at the sum total of all the gifts I have wrapped so far. In fact, it's hard to wrap gifts you don't have yet, and there are a few of those to deal with too.