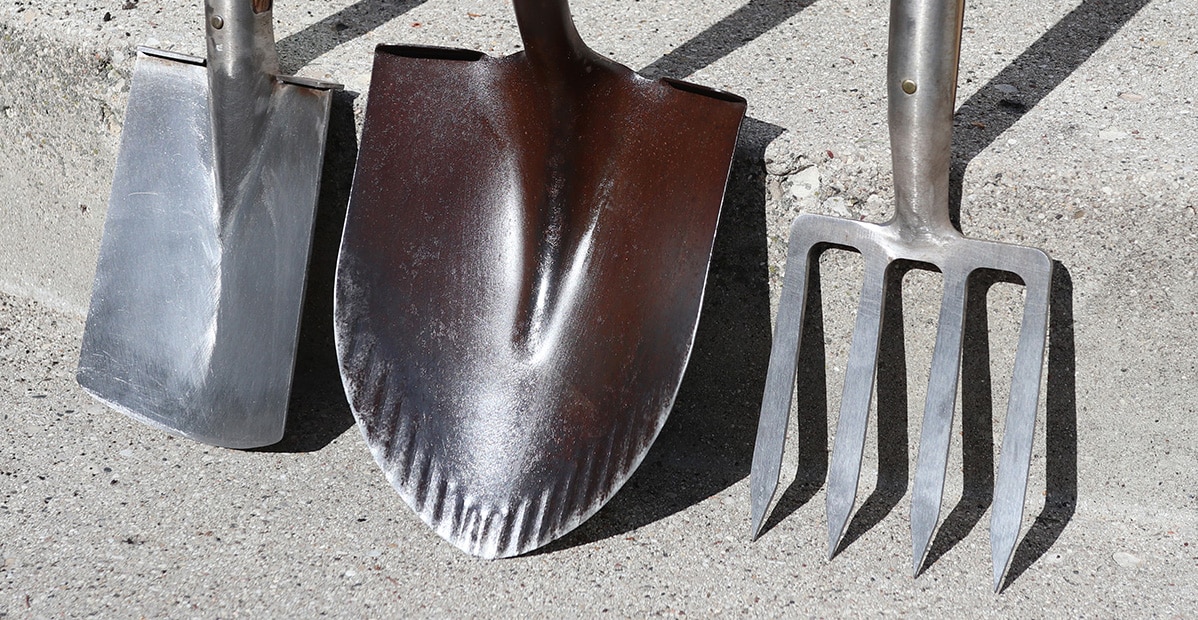 Hey gang! This post is sponsored by 3-IN-ONE®  Multi-Purpose Oil and Lava® Soap, but you know I will always tell it like it is, so all words and opinions are entirely my own. This post may also include affiliate links. Thanks for supporting the brands that support this blog.
A few years ago I made a rather public resolution on this blog that I would no longer put my gardening tools away dirty at the end of the day.
Want to guess how that turned out? Suffice to say this is probably another example of do as I say, not as I do, as evidenced by the state of my tools when I pulled them out of the shed last weekend. "Clean up garden tools" is one of those items I can do before I can actually garden and some mild weather created a good opportunity to check that off the list.
I had forgotten that not only did I not clean my tools after every use last summer, apparently at the end of the season I just stuck them in the shed and walked away. At least I hung them up so they weren't sitting on concrete.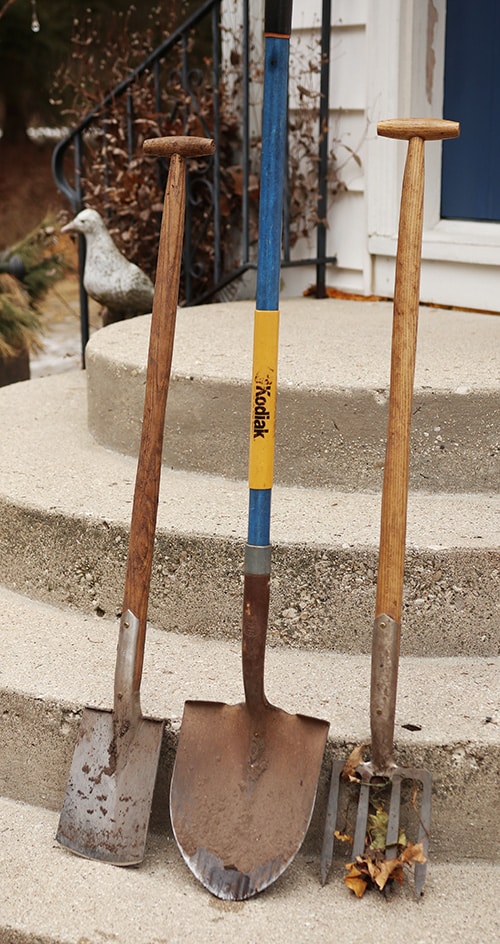 But you can see the state of things: leaves still stuck on my garden fork, soil caked on my favorite spade and that poor shovel that I haven't so much as hosed off for several years at least. 
There are two parts to cleaning tools: blades (aka metal bits) and handles. You don't have to worry about the latter if you're dealing with fiberglass or metal handles, other than the wipe them down if you feel the urge, but wood handles do require some care. I washed them with just some detergent and water the scrubby side of an old sponge (although a brush will work just as well if not better), then rinsed and dried them. If they are really rough you can sand them lightly, but I've not felt the need to do that. Then I just gave them a quick coat of linseed oil. It's very important to carefully manage linseed-soaked rags as they are highly prone to spontaneous combustion. I keep my linseed rag in a mini paint can and tightly sealed.
You can do the handles first or last, whichever you prefer.
For the blades, we (and I say we because this is the part where Mr. Much More Patient pitched in to help) started with a good brushing with a brass-bristle brush. Steel wool can work for this too, but the point is to remove all the debris. In the case of the fork and the spade this was just dirt, but the shovel had a lot of rust that we worked off.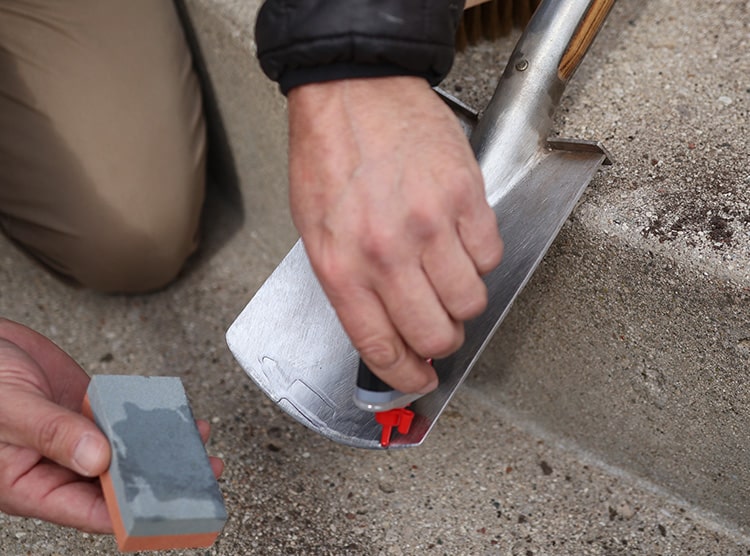 Then it's sharpening time. For sharpening big tools I like to use a whetstone lubricated with 3-IN-ONE® Multi-Purpose Oil, which can be used for more things around the house than I could possibly list (in fact, later in the day I lubricated my dog clippers with it). We put a few drops on the blade and a few more on the stone itself. I have an olfactory connection to this oil; it brings back memories of my grandfather, who was a constant tinkerer and seemed to always be surrounded by tools. 
Sharpening the blade is not nearly as complicated or scary as it's made out to be. All you need to do is follow the angle of the original blade using downward strokes. The whetstone we used had a two grits, and the finer grit was used just for a quick going over after the main sharpening and one quick swipe on the back side of the blade. You don't want to sharpen the backside of the blade, just smooth off any rough bit that might have been created.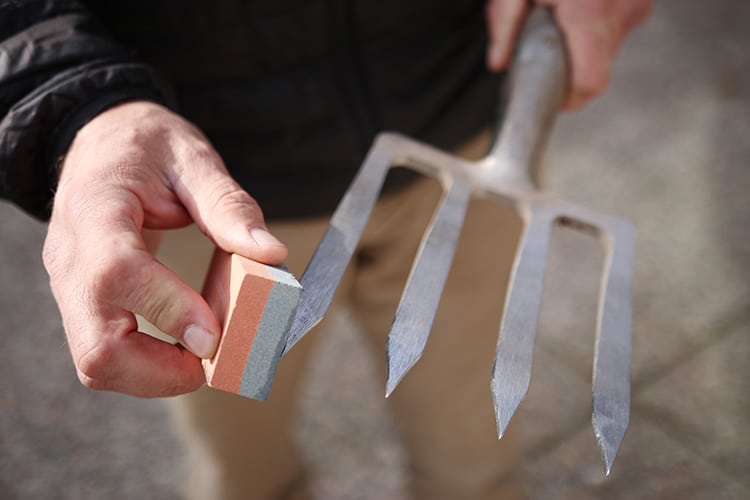 The garden fork was a little trickier, but the same general process applies, just at the end of the tines, from the knuckle down.
The shovel, though, required a bit more time. While my spade and garden fork are protected in that they are for approved garden projects only, the shovel is general purpose, used for digging holes, moving dirt and gravel and any other manner of abusive activities. We used more oil on the edge of the blade because we were doing a lot more sharpening on this one.
With the sharpening finished (and there is nothing better than checking that edge with your finger and just knowing that it's going to go through the soil like a knife through butter), we just put a light coat of 3-in-ONE Multi-Purpose Oil on the entire blade to protect it from rust and corrosion.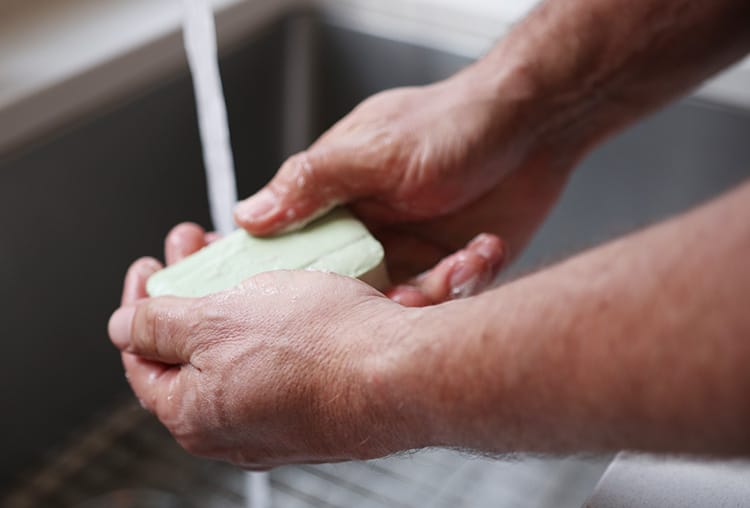 This whole process can get a little grimy, between the dirt and the oil. Turns out the solution to that is exactly the same as it was when I was a kid: a bar of Lava® Soap. Did you have this in your house when you grew up? We had a sink in the back hall at my parents' house and there was always a bar of Lava Soap there, usually surrounded by a dried-up puddle of soapy dirt because we never got to the rinsing part before we put the soap back in the dish (I feel like we must have been very dirty children).  Anyway, it turns out that that bar of Lava soap still works just as well as it did then, making quick work of any dirt or oil on our hands, including the linseed oil, which can feel a bit sticky.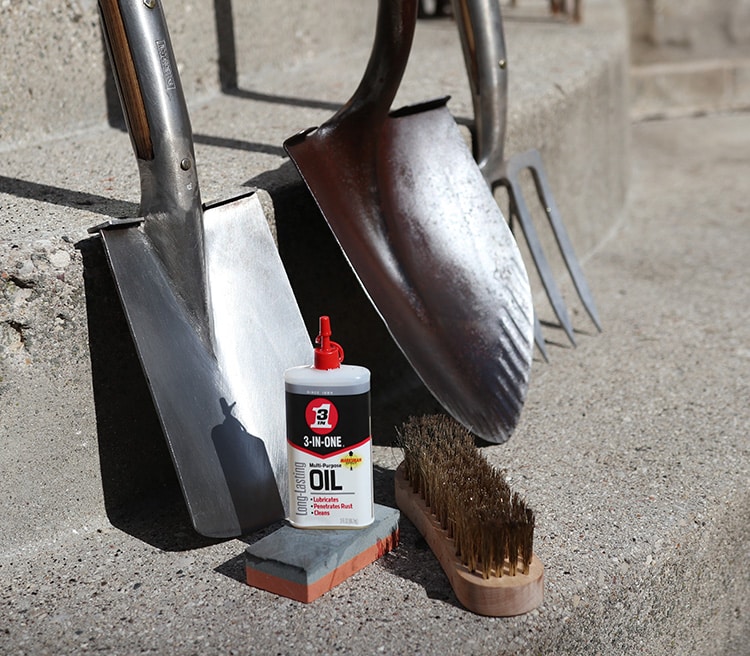 And the best part? One more spring job is checked off the list and I'm that much closer to digging in the dirt. I can't wait to sink my spade into the soil.
For more handy tips, follow 3-IN-ONE on Facebook and Instagram. Click here to find what store near you carries 3-IN-ONE Multi-Purpose Oil. To get a discount on a 3-IN-ONE product, print out this coupon. 
To find Lava Soap at a store near you, click here – and to get a discount on that purchase, click here. Don't forget to follow Lava Soap on Facebook.