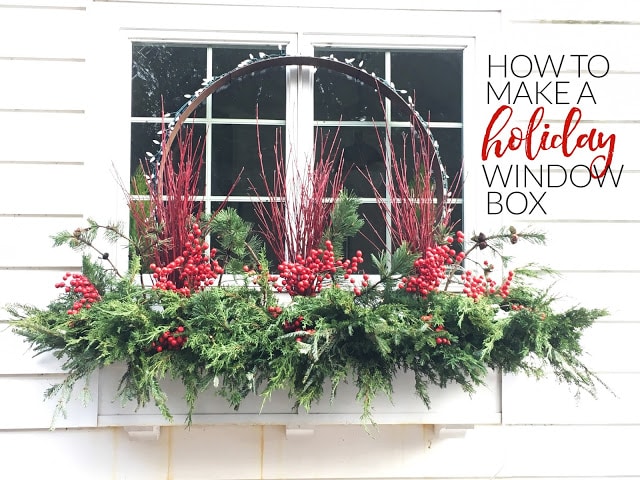 Just a reminder, my challenge this year was to only use foraged materials and things that I already had, so I did not spend a single penny on this window box.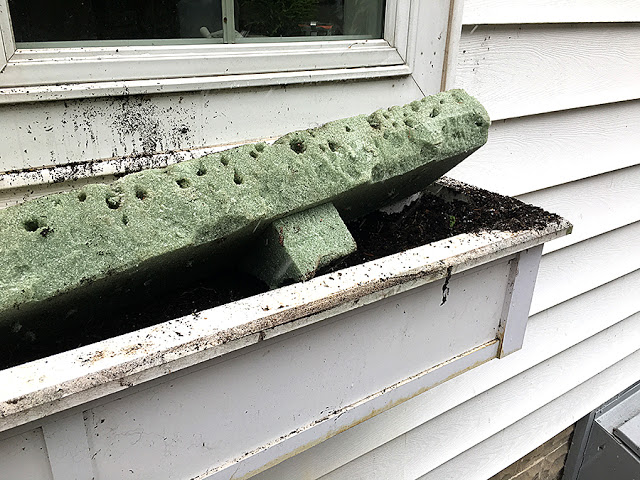 Small pieces of foam hot-glued to the bottom of larger foam pieces adds stability.
Once I have the foam fitted in, which sometimes requires moving some soil around, I use two bamboo stakes at an angle pushed all the way through to help hold it in. These stakes will freeze in the soil.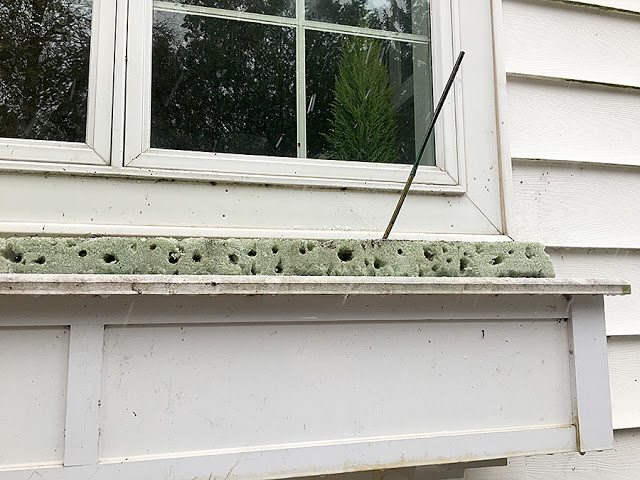 I use two bamboo stakes at angles to help secure the foam foundation.
I've also retrieved rings from rotted out wagon wheels (of which there several inexplicably kicking around my neighborhood) and the metal bands from old whiskey barrel planters. As an alternative, I think you could double up a pair of hula hoops or even PVC tubing and paint it black.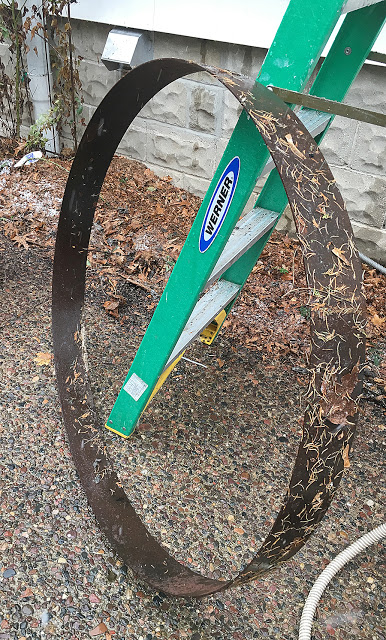 My metal ring (covered in pine needles) came from a local metalworker.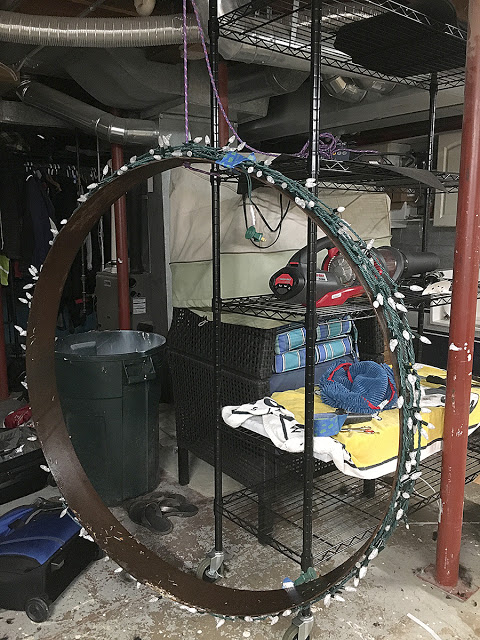 Hang the ring to make putting the lights on easier.
Putting the ring up is the trickiest part because it requires a bit of lean. I use a stake through the hole in it to keep it from rolling around but you could fashion a method of pinning it down with a bend wire hanger or something else if you don't have a hole.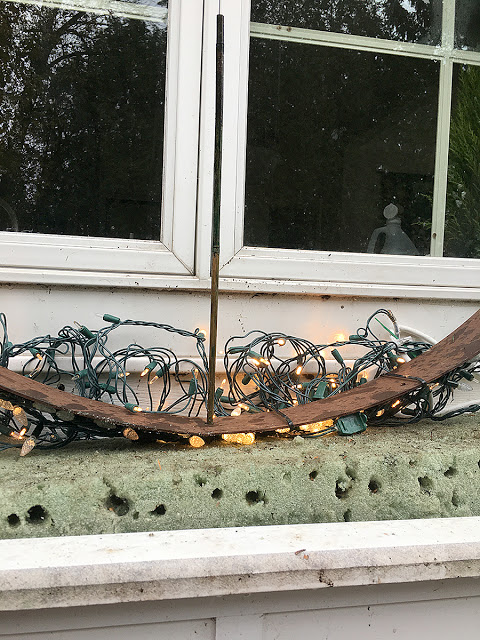 A stake helps hold the ring in place. Lights behind it help it "glow."
I like the window box to look like it's glowing from within, so take another string of lights and just lay them behind the ring. I wish I had added another set of lights or used a light garland (the kind that are nothing but lights) because I would have preferred more glow. You should also hook up your extension cords at this point because it's much easier to get to before all the greens are in.
Next I make the dogwood bundles. For this window box I wanted the red dogwood to have a lot of punch and that's difficult to get with individual branches, so I pick out the nicest, straightest branches and bundle them together. Then I take a bamboo stake (the same ones I used to prop up my dahlias in summer) and stick it in the middle and tie the whole thing together with zip ties. I actually needed two ties for each bundle because they were too fat for just one.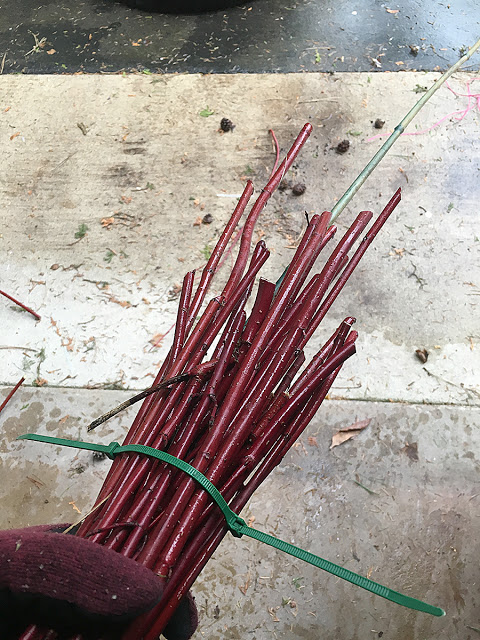 Insert a bamboo stake in the center of a bundle of twigs and secure very tightly with zip ties.
I try to make all the bundles the same size and height and I leave a little bit of room at the bottom to make the sticks shorter if needed.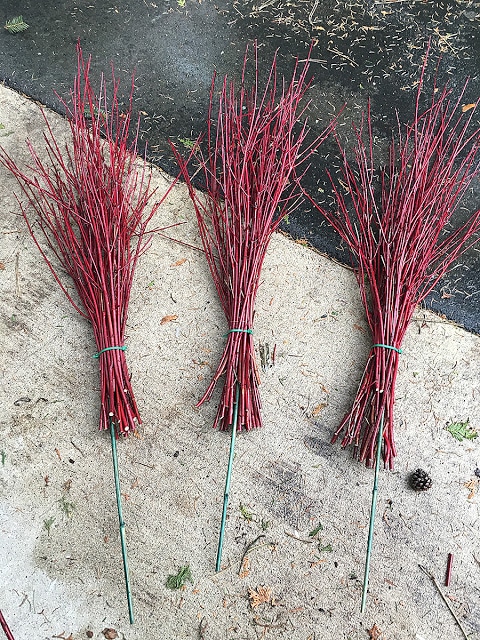 Make the bundles about the same size.
When I put the twig bundles in, the stake holds them in place and I made sure to drive it all the way through the foam into the soil.
After the twigs, the next step is the greens. I try to cut all the pieces roughly to the same size for some uniformity, but that's not required if you like it to look a little bit more natural. When I put them in I start with the branches sticking straight out, coming from the side of the foam, and starting from the bottom, I work my way up to more angled greens. Because this is a high window box, I don't worry if there is foam showing on top because you'll never see that either from the ground or inside.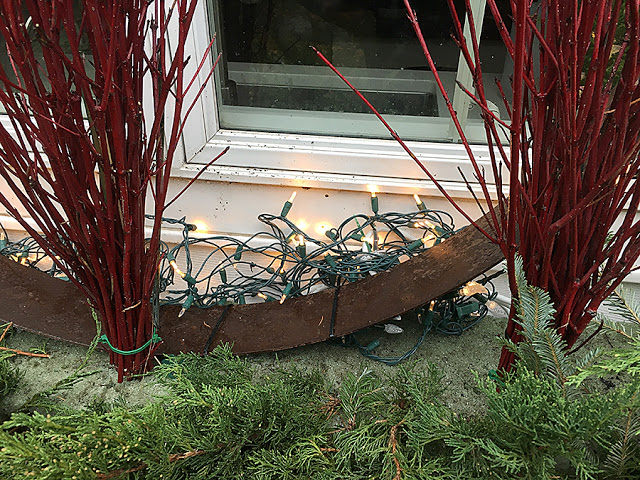 A little foam showing from the top doesn't matter because in a window box this high it will never be seen.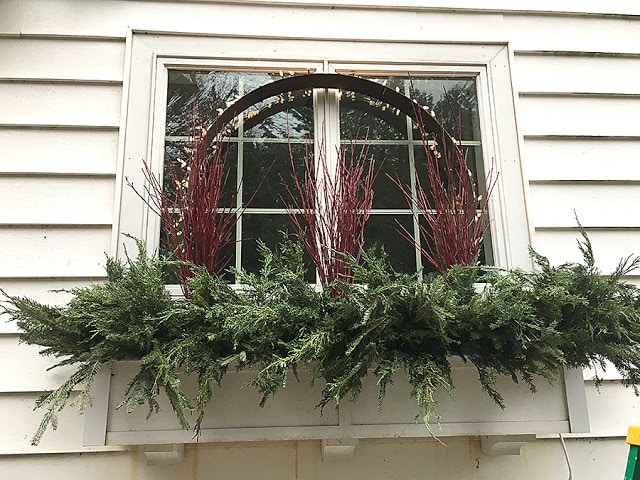 With the greens in, it needs a little color.
With the greens filled in and trimmed a bit here and there, I added faux red berries, purchased several years ago at a Black Friday sale and saved every year. Make sure you buy faux branches specifically labeled for outdoor use or they will lose their paint or completely dissolve quickly. I also had some short pine branches with adorable little pine cones still attached that I used to fill in near the dogwood. I don't like to fill in too much too high because I still want to see out the window from inside.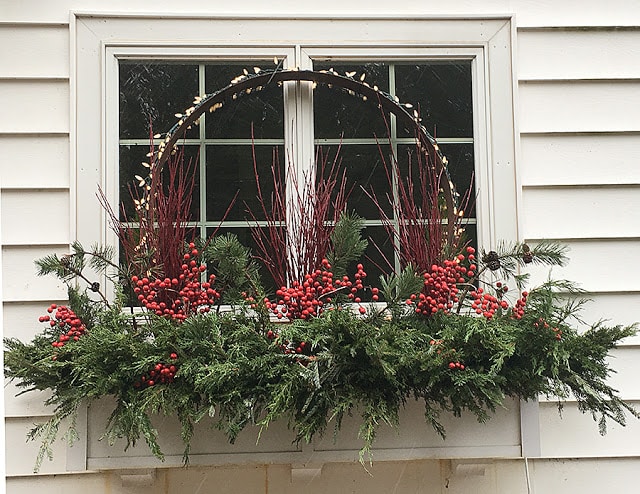 Make sure to use waterproof faux berries labeled for outdoor use.
And, of course, a good snowfall doesn't hurt either.
And even from inside, it's a lovely view.