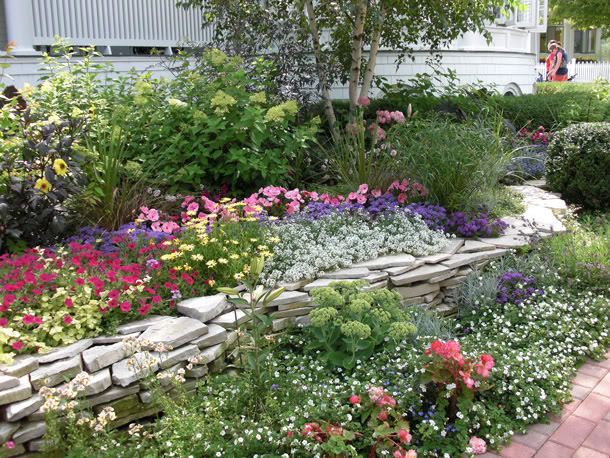 There is nothing like visiting a great garden to give you a jolt of inspiration and one that I like to visit every year is the garden at the Hotel Iroquois on Mackinac Island, Michigan. Before I even thought much about gardens I remember falling in love with an entire garden of huge alliums growing here. I think it's what started my love affair with alliums.
I was particularly excited to visit the garden this year because it is now a Proven Winners Signature Garden. Since I'm familiar with and grow many Proven Winners plants, I was excited to see how they used them in the gardens at the Hotel Iroquois. They also have a brochure about the garden at the hotel's front desk which was very helpful for identifying varieties.
One of the things I love about this garden is that it is a small space packed with plants. It also does an excellent job of mixing perennials and annuals as well as shrubs and small trees. It is everything a mixed border should be. Looking over these photos again, one thing I'm noticing is that even though it's a small garden they still used a huge variety of plants. Maybe restraint is overrated after all.
This picture shows my favorite part of this garden: The undulating flagstone terracing. It is so inviting and a great way to show off more plants in a small garden.
Some people hate what they call "meatball" boxwoods but I love them and I love the way this one punctuates the wall.
Check out all the different kinds of plants in this one small area of the garden near the restaurant. They've used purple fountain grass, Papyrus 'King Tut' (my favorite new plant of the summer), and oodles of petunias (and their cousins) plus about six other plants.
Here's a closer look at another area. Check out the boxwood hedge behind the plantings. These hedges run throughout the garden providing excellent structure and continuity. The taller pink plant by the purple fountain grass is a newer, shorter cleome called 'Senorita Rosalita.'
This picture doesn't look the least bit impressive but that bloom is from Incrediball Hydrangea which, if you've been reading this blog at all, you know is a bit of an obsession of mine. It was the first Incrediball bloom I've seen in real life and it was HUGE. And best yet, no flopping. I can't wait for some of mine to mature.
Height is added throughout the garden with small trees, both deciduous and evergreen, and plants like this clematis, which climbs up an adjoining building.
Some of the plant combinations really blew me away. Neither of these is particularly ingenious, but I think they both work incredibly well. Simple but packing a punch. The yellow plant is Argyranthemum 'Butterfly.'
These sedums (maybe 'Autumn Joy') might be prettier in their pre-bloom stage than they are when they bloom. I'm definitely going to add more sedums to my garden. Great structure.
Containers can't be overlooked here either. This one was a favorite featuring a plant I've not seen before: Juncus 'Quartz Creek' (the nice grass used at the thriller in this pot).
In addition to a guide to the garden and some of the plants in it, the brochure I picked up from the front desk has a small bio on the man who designed this garden. Jack Barnwell has been designing the garden at the Hotel Iroquois for 10 years. He's probably the man who planted those alliums that I'll never forget. He owns a landscape service on Mackinac Island and I suspect he also designs many of the other gardens on the island because many of them have a similar look and feel to them.
Are you on Facebook? So is The Impatient Gardener. Become a fan (or whatever it is called now that they changed it) and get sneak peaks of posts, links to other great blog posts of the day, notes about contests that I've found online and more. Check out the social networking links at the right and let me know if your blog is on Facebook so I can make sure to become a follower.