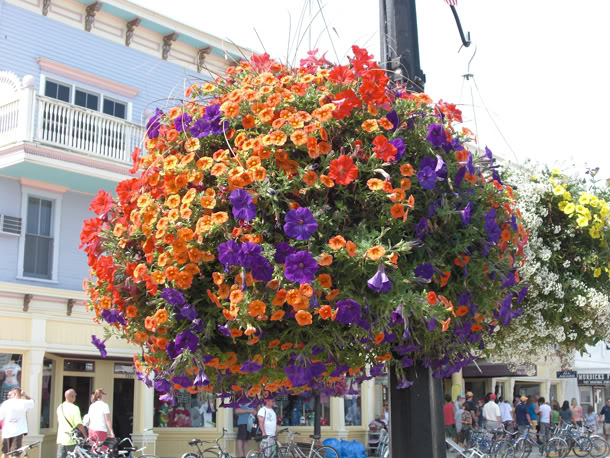 If you had told me a few weeks ago that I was going to fall head over heels in love with a red, orange and purple hanging basket I would have laughed out loud. Purple and orange? Oh yeah … love it. Red and purple? A little too Red Hat Society for me, but I can deal. Red and orange? Just makes me think of Heatmeiser. All three together?
Well hello, darling!
This beautiful container was one of dozens hanging on Main Street in Mackinac Island. You can see the one next to it was a much more subdued, but equally pretty, yellow and white number featuring Lobularia 'Snow Princess.' I liked it as well, but it didn't jump out and grab me like its neighbor did.
I like how there are just a few wisps of a grass peeking out the top, adding just a little bit of texture. I suspect the designer of this container intended that grass to flourish a little more, but I think just a hint of it is nice too.
I'm not positive about the plants in this container but I think the red flower is Supertunia Red, the orange is Superbells Tangerine Punch (it could also be just Tangerine, but Tangerine Punch has a red center that I think you can see in this container), and the purple is the great Supertunia Royal Velvet.
What do you think about this container? Too much color or a wonderful bold statement?