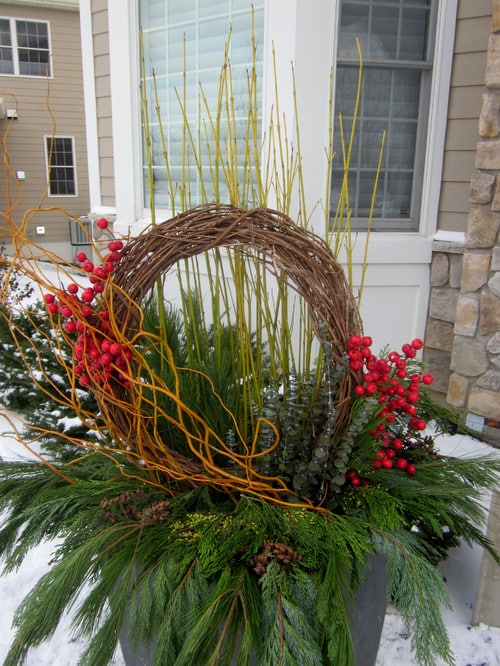 We got our first real snowfall (a few inches) last night which makes it a little harder to ignore the freight train that is Christmas.
Let me start by saying I really hate that Thanksgiving seems to have been forgotten other than to mark the Thursday before the weekend that everyone is putting up their Christmas decorations. I love decorating the house for Christmas but I also tire of the stuff pretty quickly, which is why I usually don't put up a tree until about two weeks before the holiday.
The exception I make is for outside decorations, which more and more is where I really focus my attention when it comes to holiday decorating. Despite the nice coating of white, outside is looking pretty bleak these days and I love adding a little color and interest out there.
I'm hoping to get the outdoor decorations finished this coming weekend so I've started gathering my supplies. You might recall the photo I posted a couple Fridays ago with the really fun holiday containers. These will serve as my inspiration for the large container by the front door. I found some birch branches on sale at a craft store a couple weeks ago and snatched them up. Yes, I paid for birch branches. It's a little embarrassing, I'll admit.
When I
"planted" the steel rings
in the septic mound, I had two leftover that I intended to put in one of the gardens closer to the house, but I never really found the right spot for them. That's still my intention, but in the meantime, I thought it would be fun to incorporate the smallest of them (3-1/2 feet in diameter, I think) into the holiday decorations. I think it's destined for a place in the window box.
Don't be too impressed. It wasn't my idea.
As always, I will need to collect some dogwood branches. There is dogwood growing wild all over the place here, but you only get good red color on newer growth. Also there is that little issue of just helping yourself to prunings from property that isn't yours. I got some very good branches from my parents' property last year so I'm just hoping it grew enough to be harvested again. Otherwise I might be in for a bit of searching. I refuse to pay for branches.
The same isn't true of evergreen boughs. I don't have any trees in need of pruning so I have no choice. I've had a little luck cleaning out the scrap bin at Home Depot where they throw the cuts from Christmas trees, but it turns out that little trick is no longer a secret, so you have to have good timing. I also like to incorporate a variety of greens so I usually end up buying some nice cedar boughs.
I scored a pretty good deal on weatherproof faux berry picks from the florist supply/craft store so I will be able to reuse those and of course I have lots of lights handy.
Last year, I used
Deborah Silver's method
of putting foam in the containers and it was so helpful. I saved all that foam (it was not inexpensive) and will reuse it this year.
I also splurged again and ordered several bunches of silver dollar eucalyptus. I used this
last year
and it lasted the whole winter and looked great even when it faded. I ordered from
here
because I was happy with how quickly it came last year and how nice it looked.
I hope to show you the finished product next week in a special holiday decorating round-up.