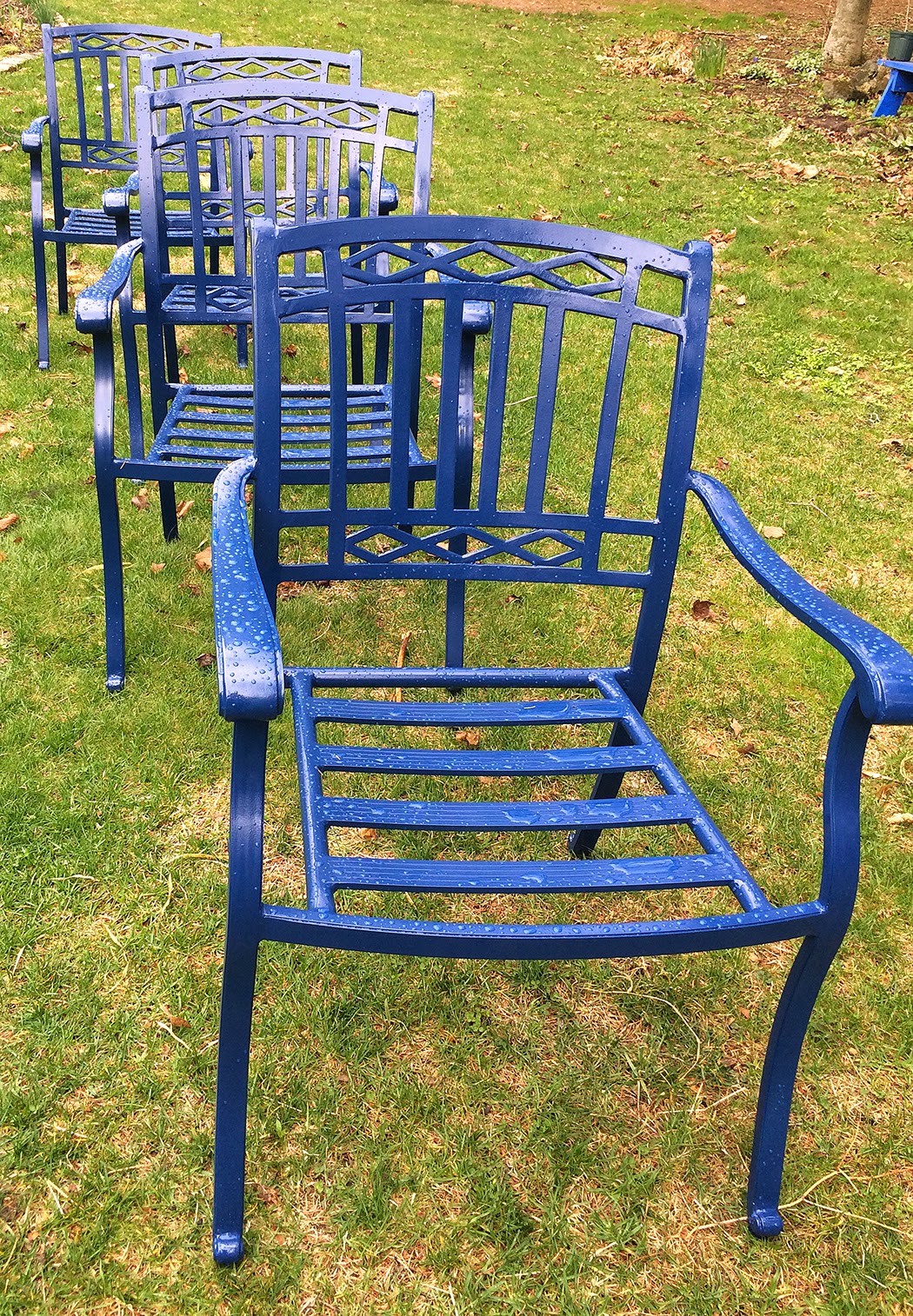 Quick giveaway notes: The winner of the Perfect Garden Hose is Linnae! Congratulations, Linnae. Check your email. The rest of the giveaways are still open. The next to close is the giveaway of the A.M. Leonard Deluxe Soil Knife.
There is efficient gardening and then there is the kind of gardening you do when a rainstorm is predicted that night. The latter kind of gardening is bound to leave with sore muscles where you didn't know you had muscles, very dirty and utterly spent.
I gave the patio chairs a new blue hue. I wish it was more navy, but you take what you can get when it comes to spray paint. They were dry by the time the rain came that night.
That's the kind of gardening I did Sunday. I also had a few painting projects started on Saturday—spraying the patio chairs and painting the cellar doors—to finish up. Among the day's gardening accomplishments:
I planted two small hornbeams that I picked up on a bit of lark (and to test whether they really are deer resistant before I invest in more). Hornbeams will pleach (grow together), so ideally some day they will form a bit of a raised gateway to the vegetable gardening area.
I planted 15 or so bareroot irises along the little creek. I'm hoping they will love this spot and take over an area that is otherwise nothing great to look at.
Stuck an equal number of small trillium bulbs in the shade garden (which needs tons of work; lots of plant labels acting as tombstones this year).
Dug out all of the Russian sage (Perovski atriplicifolia) and the drumstick alliums (Allium sphaerocephalon) out of the skinny patio garden and moved them to the other side of the house. Also rescued a healthy clematis (I think it's 'Mrs. N. Thompson'), hopefully rescued another (maybe 'Westerplatte') and declared a pathetic little tangutica not worth the effort.
Potted up some of the ostrich ferns (Matteuccia struthiopteris) that are in the way of path in the woods to sell at our master gardener plant sale at the end of the month.
Dug out much of the "soil" in the skinny patio bed that has been giving me so much trouble and replaced with with bagged garden soil, top soil, compost and manure.
It might not be much to look at right now, but the new skinny patio bed is all cleaned up, soil heavily amended/replaced and mulched until it is planted later this month. The only thing I didn't move was a daffodil that's been there forever. It's the very first thing to bloom in the entire yard every year and I just felt like it deserved to keep its spot.
That last one was the real killer, but getting in there and really digging down offered some answers as to why nothing has been thriving there. About 6 inches down it is entirely sand. Over the years the soil in that bed has been mounded up as I added compost and mulch on top of it, but since it was planted I was never able to incorporate that in. Since it's already a little drier area because of the small eaves on the house, very little moisture was getting to plants, even though I watered somewhat frequently. When I dug up the Russian sage and the clematis, they all came up bareroot—no root ball at all.
I mixed the whole thing up, along with the remaining sand, to a depth of at least 18 inches if not more. Because I don't expect to plant here until the end of the month, I also covered it up with a thin layer of pine bark fines mulch and it is now a lovely blank canvas. Or it was until the dog walked through it Monday monring.
I still have to do a small area on the other side of the cellar door, but that was quite enough for yesterday.
Back to waiting for rain though. Because we were supposed to get a rather impressive storm, the only thing I watered all day was the two hornbeam trees. Everything else—the bare root irises, trillium bulbs, alliums and transplanted Russian sage—was left to wait for the deluge. Skipping the watering step when planting something is a rarity but doing so allows you to fly through so many other tasks so it's a great coup when you can get Mother Nature to do the work for you.
We didn't get as much rain as I had expected Sunday night, but more is predicted this week. I gave everything a dose of water but I'm hoping Mother Nature gives everything a nice, big drink.