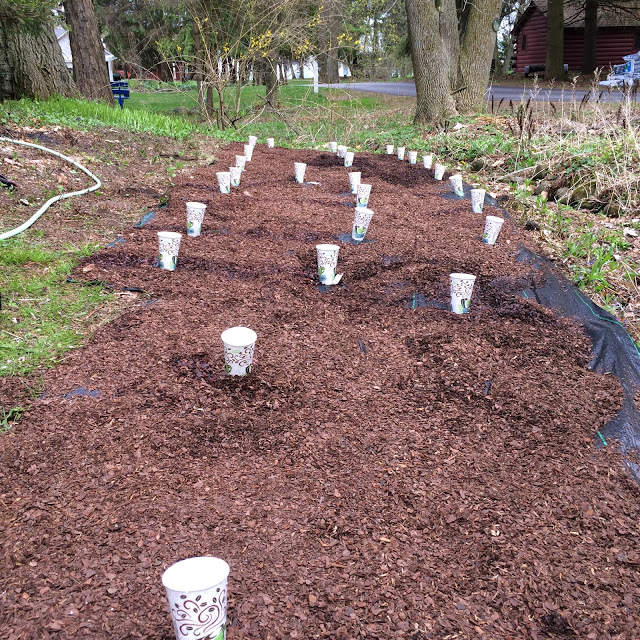 I posted this photo on Instagram over the weekend because it's just that ridiculous.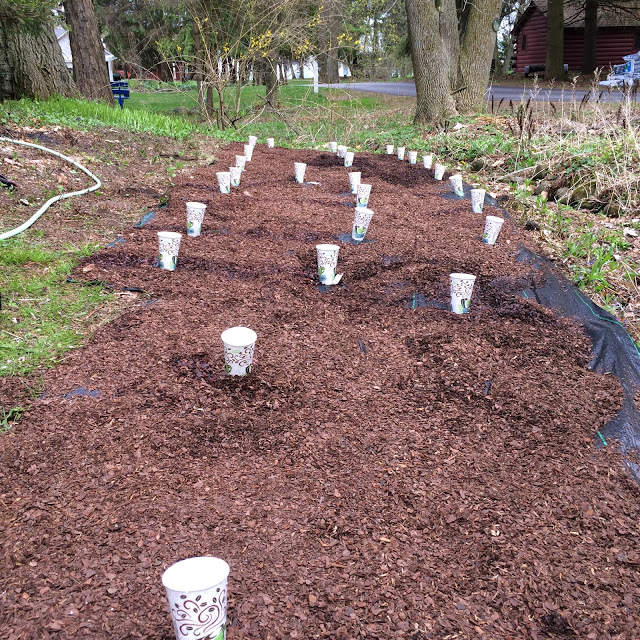 No, I'm not growing a bumper crop of lattes (although that would lovely). What you see here, this odd coffee-cup graveyard of sorts, was about plan C for this little area of the yard.
It started with this post on A Way to Garden. Margaret Roach is responsible for more than a few of my plant purchases and she really got me on this one. I got about 35 10-inch willow sticks in the mail last week and after soaking them for a few hours (the directions said to soak them overnight if you didn't plant them within a few days, so since I was within a "few days" I cut that time down to hours), I set about planting them.
The willow area is to the north of our driveway out by the road. I smothered most of the weeds there with thick layers of cardboard last summer and worked in some manure and topsoil before planting. Then I put down some landscape fabric.
Did I just hear a collective gasp? I know, landscape fabric is the devil's invention. And I'm not the only one who feels like that. I hate the stuff. But everything I read about planting willows said that they absolutely do not like any root competition and it all suggested laying down landscape fabric.
After pinning all that stuff down, I cut small holes, inserted a rod (actually a plant stake) to create a hole, then tucked in the willow stick and tried my best to get the soil in good contact with it (not easily done through landscape fabric). Then I went around with the hose and made sure to water all the sticks in really well (willows need water, especially in my somewhat sandy soil). And that's when I saw the water start to pool on top of the landscape fabric.
I quickly went back to check that I had indeed bought water permeable fabric, which I had, but obviously it wasn't THAT permeable. So now what? There was no way I was going to pull up all that fabric, buy new stuff and somehow get it around all those little sticks that you can barely see once they are planted. Mulch, which I was planning to do regardless, will probably help the water stay on top the "permeable" fabric until it can soak in, but even that didn't seem like enough to me.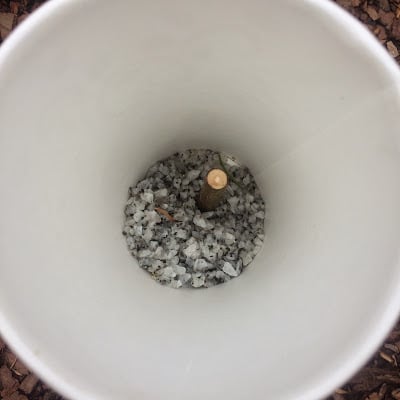 What's growing in that coffee cup? Just a willow stick with a little gravel around it to help hold the cup down.
And that's how I ended up raiding our stash of coffee cups. I poked a hole in each and put it over the tip of the willow stick, then I filled each cup with about a half-inch of gravel to help weight the cups down. When I water, I just fill up the cups and hopefully they will help the rain funnel in better as well.
Oh, and the important bit: what I'm planning on doing with all these willows. Two of the varieties I bought:
Salix gracilistyla 'Mt. Aso'
and
Salix elaeagnus f. angustifolia
aka Rosemary willow are purely decorative plants that I think will be beautiful. The rest of the varieties I bought are
Salix purpurea
, which is extremely bitter and distasteful to deer. It also makes a
good fedge
, and the more I read about fedges the more I think I want one.
So the area where the willows are now planted is sort of a nursery bed. Some of the angustifolias have been planted in places where I hope they will live forever, a few others in pots, and the pink pussy willows should look good over there. If my plan works, the rest of the varieties will be coppiced every year as I build a fedge.
In the meantime, I get to do one more thing that leaves my neighbors shaking their heads. It's not the first time.