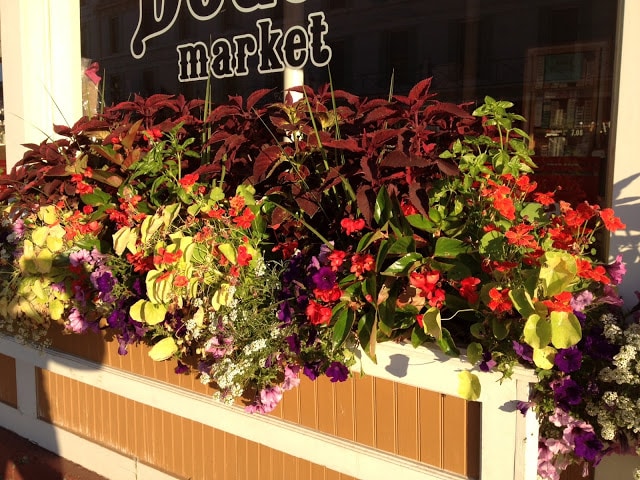 As you probably know by now, every year I end up on Mackinac Island after sailing 333 miles to get there. The amount of time I have on the island depends on when we get there and how much work there is to do once we're there.
This year left precious little time for any sort of island sightseeing. Thankfully it's easy to snap photos of flowers wherever you go on the island. I can report that it looks like the drought that has affected much of the country extended to Mackinac Island because even some of their containers looked a bit spent, which is highly unusual.
Here are a few iPhone shots I grabbed while walking by, or in the case of most of them, from the taxi (horse-drawn, of course) on the way up to the airport. Imagine this scene: Me and 10 other people are in a big wagon thing pulled by Jack and Nipper (you must ask the horses names) and after securing a preferred spot on the outside in order to take pictures, I keep leaning out to try to avoid getting, literally, a horse's ass in the shot. This is high-quality photography work I tell you.
Doud's Market always has beautiful window boxes. I assume that Jack Barnwell (who I interviewed for this blog post) designed these again. I apologize in advance for the glared-out pictures. I was up early and there was no one on the streets so it was a good time to snap a few. I think I preferred last year's plantings from this window box (see them here), but I can appreciate a new look each year.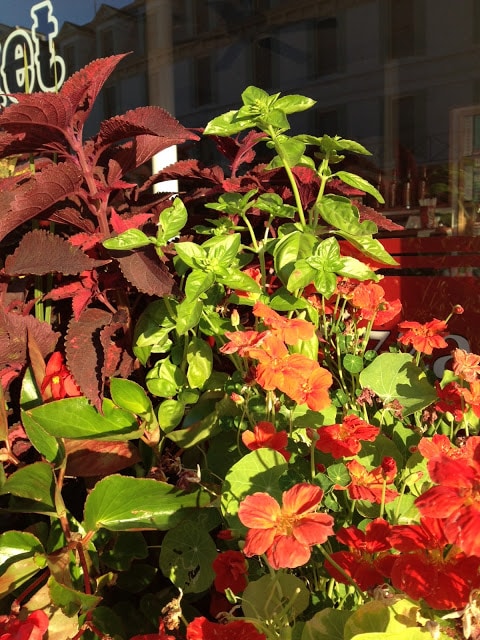 I love how Jack is never confined by what you might think of as traditional window box plants. Basil is an unexpected addition but the bright green foliage looks great.
The plantings at the Grand Hotel (which the taxi up to the airport goes right by) have a very autumnal feel to them this year. I'm not sure I'm really liking it.
Compare that to this picture I took of the same garden in 2009:
But back to this year. Red geraniums are the signature flower of the Grand Hotel and I don't think this little wall could be improved upon.
This is the garden outside the gift shop at the hotel, which I find much more summery than the plantings along the dining room. I do love the ornamental cabbage they stuck in all the gardens. A great texture and just as appropriate for summer as it is for autumn.
Just up the road from the Grand Hotel is this lovely house (with and even lovelier view. Their annual plantings are simple but colorful. But mostly I adore the pig peeking out from around the shrubs at the end of the path.
This house (or maybe it's a B&B) is downtown, but every year I pass it I'm reminded of the power of mass plantings. Behind that fence is nothing but those pink astilbes, not my favorite flower most of the time, but I absolutely love this layered look.
And then I was off, far too soon, but I got to sit in the co-pilot seat of the small plane on the way home, which was really cool. I snapped this photo of the famous Mackinac Bridge as we passed over it and I thought about how interesting it is that within 36 hours I sailed under it and flew over it. I've done one of those things (fly over or sail under) at least 45 times in my life (probably much more) but I've only driven over it once.
I write a lot about the gardens on Mackinac Island, including here, here (one of my favorite Mac Island gardens), here (a great container) and here (a chair I'm still obsessed with and have plans to kind of recreate in a month or so).