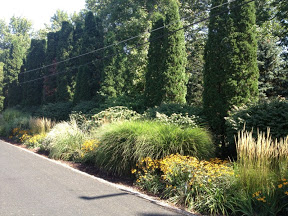 It's been awhile since I've done any garden crashing and this one is more of a mini crash but its still quite different from most gardens lurking around this area. I visited with my mom, who was writing about it for the home and garden section of the local newspaper.
The garden is THE feature at this house, a mid-century ranch. The garden envelopes the house to the point where you have to look for the structure from the entry side. It is located on a beautiful property on the shores of Lake Michigan, which can be a blessing and a curse for a gardener. That giant body of water (skeptical readers who live near the ocean will scoff at that adjective, but Lake Michigan is more of a mini ocean than a lake) dictates the weather, which means summer is slow to come as the water warms up and the growing season is extended in fall as the relatively warm water wards off frost.
My favorite garden on the property may actually be the one that borders the road. I love its simplicity and statement. When you see a garden like this before you even enter a property you know something good awaits.


The shady driveway is lined with beach stones. I imagine they would be a pain to weed around but it's such a charming look.


The front door is flanked by a large Bloodgood Japanes maple. This is view from the right of the front door. Clematis 'Sweet Autumn' crawls over the roof softening every hard edge.

I loved this classic combination of hackenachloa and Japanese painted ferns.
This is the view from the other side of the arbor that supports that clematis. It also supports a climbing hydrangea (it's a beefy structure).


Along the path that runs along the house to the arbor, the gardener kept it simple with just pachysandra and I think eunonymus, providing a nice resting space for the eye.
In the back the gardens are varied. According to the gardener, this will be the last year for a high-mainentance rose garden. Other areas feature native plants (that were looking a bit spent at the end of the season). But the real star of the show back here is the view. You can't go wrong with that.