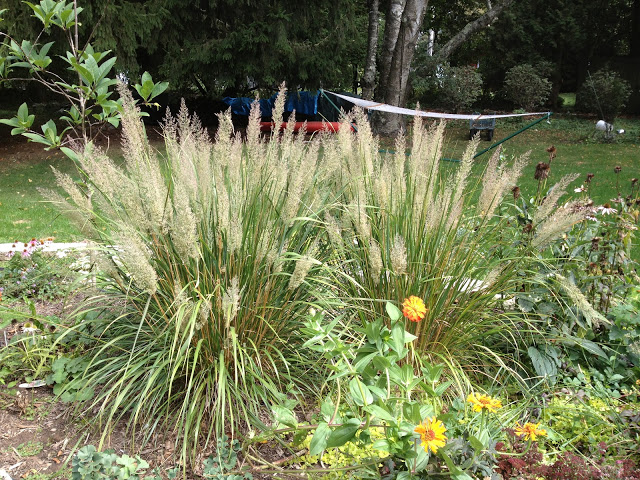 It was a beautiful weekend here in Wisconsin and I did not spend a single moment of it in the garden. That's not a good thing. I should be taking advantage of good weather when I can to start sprucing up for fall.
Usually my fall gardening chores consist of weeding (the more weeding I do know, the fewer weed seeds will have a chance to take root in the garden) and cutting back a few things. But with the incredibly dry summer we've had, this year I'm concentrating most on watering. I want everything to be very deeply watered as we go into freezing temperatures. It's already stressed, but if it went into winter dry, I suspect I'd lose a lot more plants.
So in between moving the sprinkler around (which seems to be the story of the summer), I paused for a moment to enjoy a plant that is really at its peak right now: Clamagrotis brachytricha (Korean feather reed grass).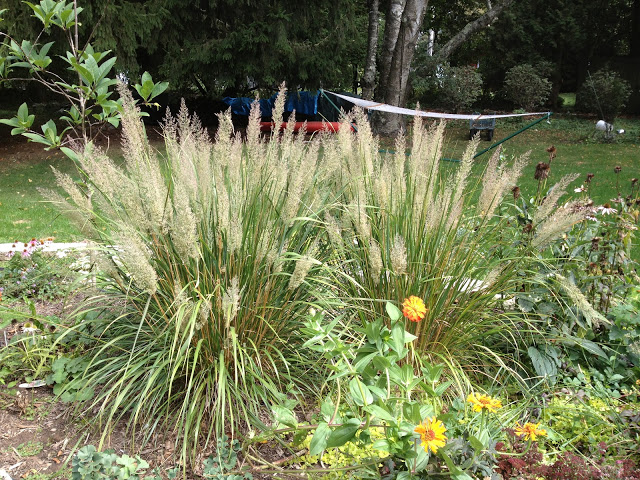 I love grasses in the garden, but I like well-behaved grasses. Runners make me mad. I also like them to have four-season interest. They are great standing in the landscape all winter if you can keep them that way without folding over. I discovered Korean feather reed grass in Tracy Disabato-Aust's book 50 High-Impact, Low-Care Garden Plants. I don't know what became of Tracy. I went to a wonderful seminar by her several years ago, bought several of her books (all of which, I love by the way) and followed her blog, but I've heard nothing of her lately.
Anyway, I couldn't be happier with this plant and I completely agree that it falls in the "high-impact, low-care" category. In fact, I've done absolutely nothing for it since I planted it last year other than watering it along with the rest of the garden and cutting it back in late winter. This one falls in my "highly recommended" list.