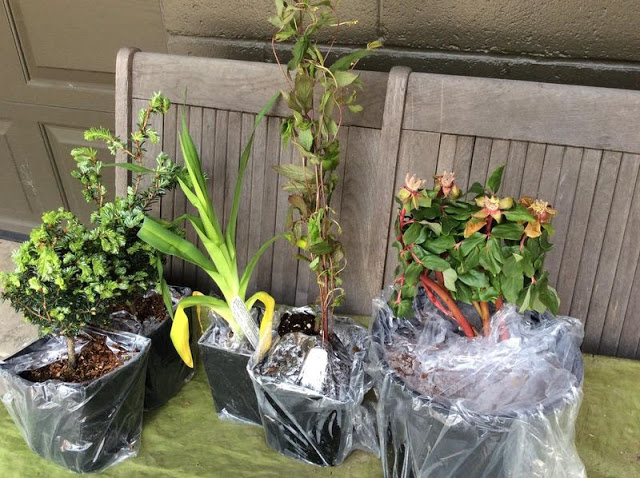 I hate to whine about the weather so much, but my goodness it has been COLD here. I have a lot of seedlings in the temporary greenhouse and I'll be honest, I haven't gone in there in two days because I'm afraid of what I might find. They cannot have been happy the last few days with very cold nights and hardly any sun during the day to even build up any heat in there.
The weeds don't seem to mind the cold though. They are taking off and like every year, I think I have them under control and then I turn around and they are everywhere. I'll be spending as much of the weekend as possible in the garden to the north of the house, giving it a going-over that it has sorely been lacking the last few years. I'm also going to reshape those beds and try to get things a little better organized. It's a big job, so I'm going to load up on podcasts and audiobooks and just try to crank it out.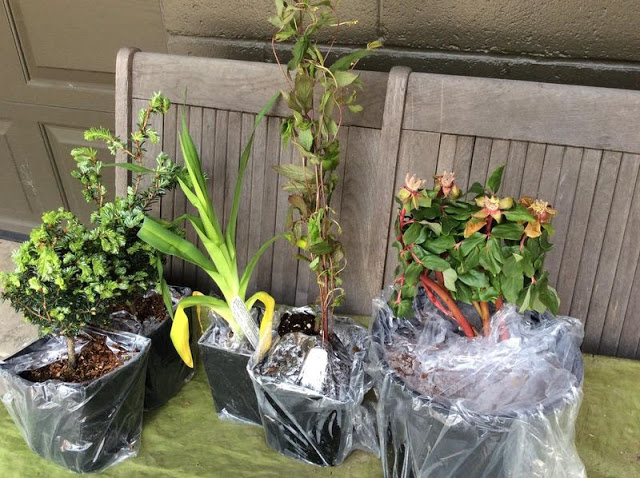 Some of the plants Linda at Each Little World received from Far Reaches Farm. Check out her Friday reviews of mail order plants. These look beautiful! Each Little World photo
I did pretty good about not ordering too many plants online this year, although in recent days I've hit "order" more than once. I did go completely nuts on dahlia tubers (in fact, 12 more arrived this week that I had completely forgotten about) though. Linda at Each Little World, on the other hand, did order a lot of plants via mail order this year and she is doing fabulous posts on Fridays showing exactly what comes from each nursery and how the plants look. Since buying plants sight unseen can be an exercise in trust, it's so nice to see what really shows up. With Linda's permission, I intend to do a couple similar posts when the few things I've ordered show up. But in the meantime, check out her posts on her experiences with Odyssey Perennials and Far Reaches Farm.
I like this post on zero-waste living. Although we recycle and compost, I'm still amazed at how much garbage just the two of us produce every week. Several years ago we took a sailboat charter in New Zealand's Bay of Islands and the two of us lived on a boat for a week and produced a single bag of garbage, mostly because in New Zealand they minimally package their food. At the grocery store closest to us, zucchini is packed in twos on a styrofoam tray and wrapped in plastic (yet you still pay by the pound). As my personal form of protest I've taken to ripping open the plastic and grabbing the one zucchini I want (and telling the store owner that I think it is ridiculous to package produce that way).
I sort of loved this list of outdoor showers because they are very cool and sort of romantic and summery. On the other hand I remember when we were kids at we had an outdoor shower hooked up to a hose at the pool at the cottage we shared with several families. All of us dreaded using it because it was so damn cold.
Growing roses organically seems like the holy grail of gardening practices, but really, it can be done.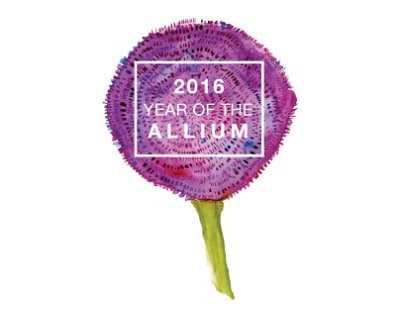 Several bloggers have teamed up with Longfield Gardens on allium giveaways to celebrate allium being named the bulb of the year by the National Garden Bureau. I love alliums of all varieties. They are generally very well behaved (although some of the smaller ones do reseed rather prolifically), require basically nothing in the way of maintenance and create punctuation in a garden that few other plants can match. Angie at The Freckled Rose has a beginners' guide to growing them and is giving away at $50 gift certificate to Longfield.
Give me some great news about what kind of gardening you'll be doing this weekend to inspire me to get out there and crank out that north garden despite the cold!