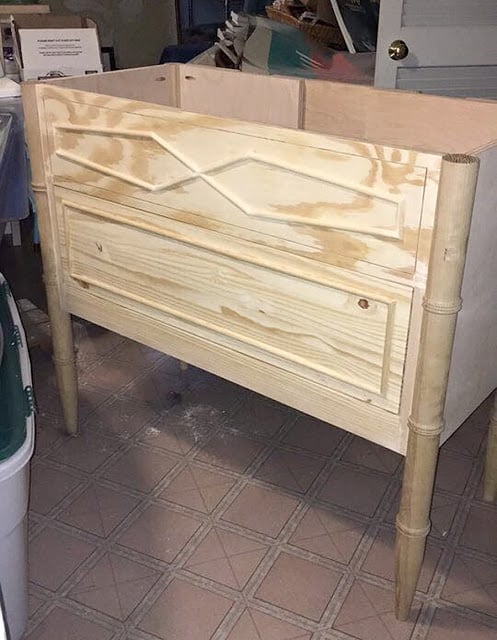 If you're wondering what all this bathroom talk is in the middle of high gardening season, I'm participating in the One Room Challenge, a quest to renovate one room in six weeks. Start from the beginning of this journey here.
We all know that every renovation has its stumbling blocks and this one is no exception. But it is interesting that in this case most of those hiccups are focused on a very specific area and it has gone from bad to you-gotta-just-laugh.
I knew from the start that we were going to have to get a custom vanity. I wanted a rectangular vanity, not the stair-stepped design of the old one, so it had to be about 18 inches deep at most, and off-the-shelf options for vanities like that are quite limited. We needed a little bit of storage but not a ton because there is a pretty big linen closet in this room as well.
I based my design for the vanity on the inspiration vanity coupled with a few others that I found along the way that I liked features on. In the end, I designed a 39-by-18-inch vanity with faux bamboo legs, a fixed panel on top and one large drawer cut around the plumbing with a lot of room under the drawer to keep it from taking up a lot of visible "space" in the room and show off the floor.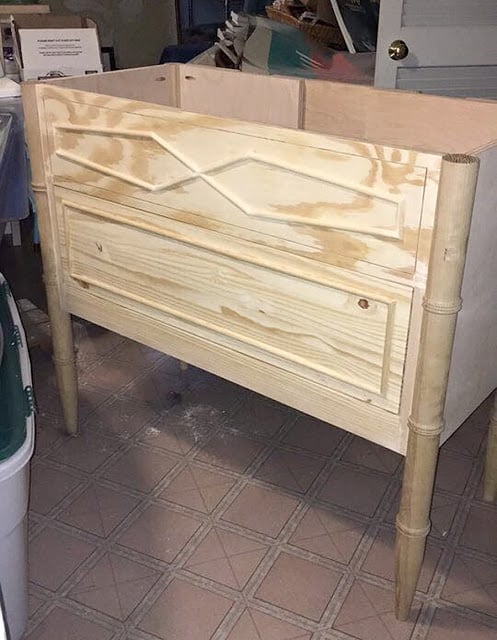 The unfinished vanity hanging out in the basement waiting for some paint love.
Of course I ended up designing a very expensive vanity. The woodworker I've used in the past for the kitchen cabinets, banquette and built-ins in the master bedroom quoted me a price that was higher than I had budgetted and with the tile adding up to more than anticipated, it was more than I wanted to spend. A big part of the cost was wrapped up in the legs, which we couldn't find pre-made anywhere but I wasn't willing to give up.
Somewhere along the line Mr. Much More Patient also fell in love with the vanity design and in order to make it happen he offered to help build it along with a co-worker who did some woodworking on the side. We found a wood turner through the wood supply store (a place that has all kinds of gorgeous wood for custom woodworking projects) and had the legs made a much better price than we anticipated. And the vanity was underway.
Unfortunately there was some miscommunication because Mr. MMP didn't realize that my design was drawn (on graph paper) to a specific size, and at some point there were some liberties taken with the design size. This wouldn't have been a big deal except that I didn't know that it had grown in size when I ordered the marble vanity top. You can see where this is going right?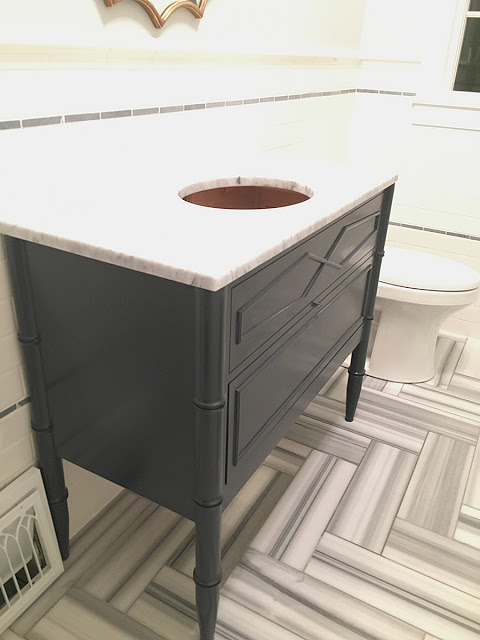 Although the marble top is sitting on top of the vanity, it's not attached and what you can't see is that it's too small for the vanity.
As if that weren't bad enough, the top was cut a quarter-inch smaller than I had ordered it. Normally this wouldn't have been a big deal, but with the combination of the slightly too big vanity, even after we modified everything we could to make it fit, the top is just too small. Oh, and when we went to mount the sink we found out they also cut the sink hole incorrectly.
No problem: Have the countertop people make a new counter, right? Not so easy, actually. Of course they used a remnant piece (this is the same thing we ran into with our vanity upstairs so I was prepared this time) and there are no more remnant pieces. In fact, the next chance for a remnant piece is from a kitchen installation they are doing May 6, which you'll note is well after this challenge is finished. It's all a little frustrating given that we had this vanity in production MONTHS ago in preparation to do this bathroom.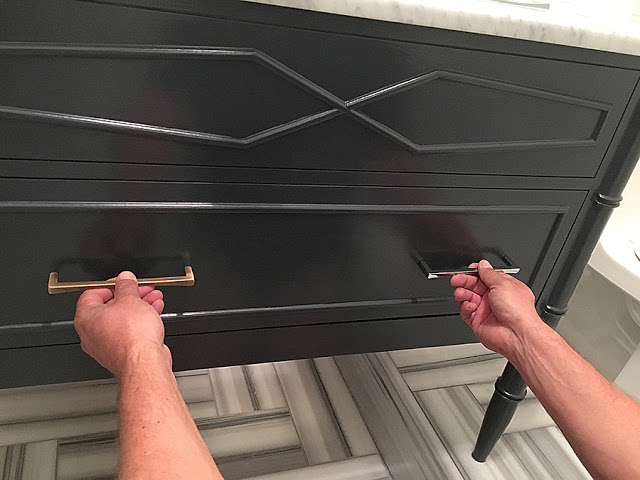 Mr. Much More Patient has a lot of jobs. One of them is holding pull options up to the drawer.
So that's the big hangup. The good news is that the vanity has been painted: Benjamin Moore's Hale Navy, which was the color I had painted the old vanity a couple years ago. It is awaiting some drawer hardware, which we were still deciding on.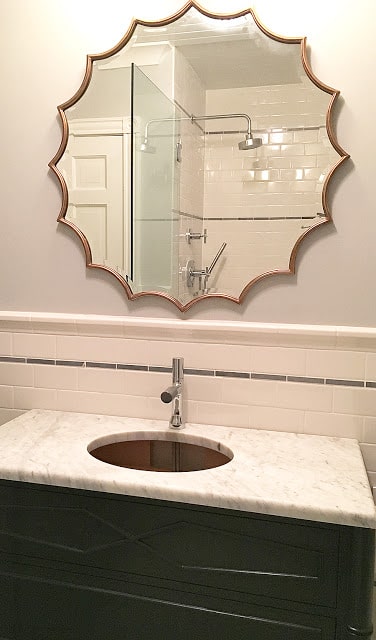 This is a fairly horrible photo of the mirror, but it's hard to get a good angle on the whole program. The faucet is just sitting there in the hole until we get the counter sorted.
We've also hung the mirror and I love it enough to make this vanity issue fall into the background a little. I wanted something a little different to make a bit of a statement on the wall and I think this scalloped number does just that. It has a bronze/copper finish on it that I also think brings a little warmth to this room, which overall has a very cool color palette to it. I like clean, crisp bathrooms but "hospital" isn't the feel I'm going for. I know the mixing of metallic finishes will drive some folks nuts, but I don't mind a little of it.
Let's hope this vanity is the main hiccup we run into. It's a biggie, and I'm disappointed that it means we won't be officially finished in six weeks but there's nothing to be done with it.
If you want to catch up on what we've done in this room so far check out these posts:
Week 1 – The before + the design
Week 2 – Floor tile
Week 3 – Wall tile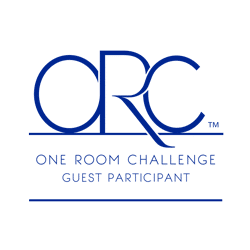 Don't forget to check in with the other guest participants in the One Room Challenge as well as the featured bloggers.