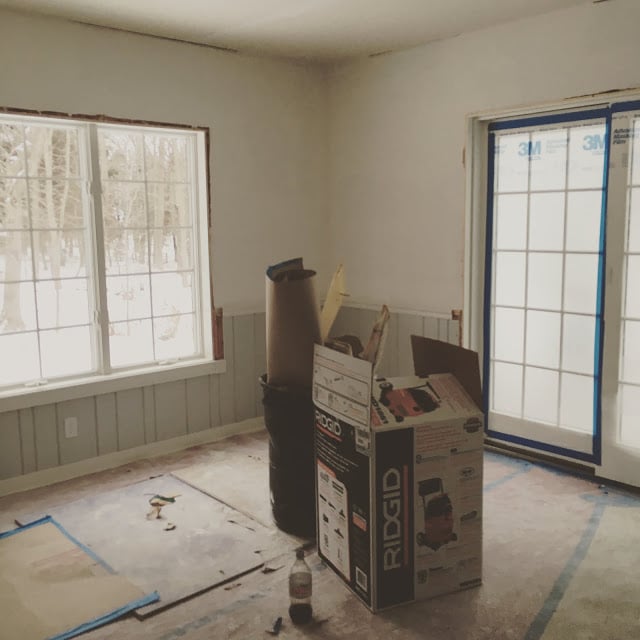 Holy smokes, a whole week got away from me without a single post. Sorry about that! Busy week with a lot of late nights up painting.
A quick update on the reno in the office before I get to the fun stuff. We had a little surprise early in the week when the drywall guy thought he was finished, but we thought he wasn't at all. We asked for smooth walls (can you blame us for going smooth after finally ridding ourselves of that texture?) like we have in the rest of the house, but the finish was some kind of sprayed-on primer with a very rough texture. So we made him sand them all down and now they are nice and smooth. And our house is covered in a fine layer of dust because that stuff goes everywhere. At least it's not as bad as when I sanded the walls in the hallway.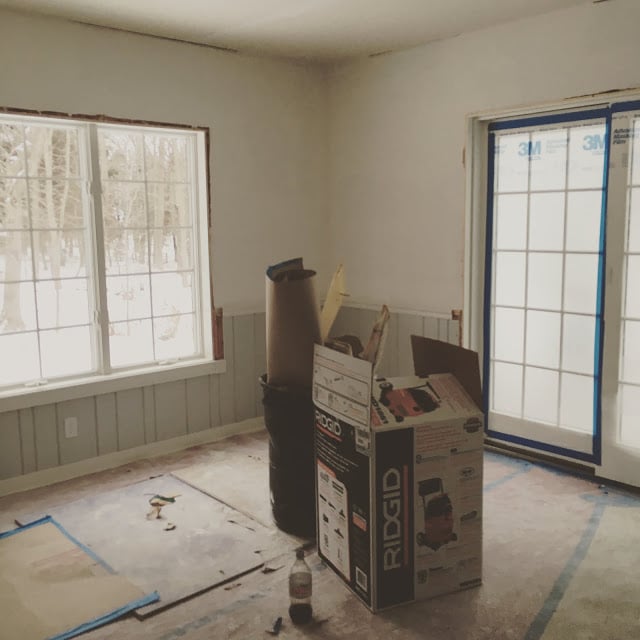 Smooth (but dusty) walls. This is before we pulled up the rosin paper and realized that it stained the wood floors. Oh and that shop vac box is there because we blew up our other one cleaning up there over the weekend and had to buy a new one.
With that settled, Mr. Much More Patient did some cleanup. We were happy with how the walls ended up but the drywall guy was horrible about cleaning up. The red rosin paper they had put on the floors to protect them was ripped in a lot of places so dust got under there and we wanted to clean it up before it got more ground in. Except when Mr. MMP ripped up the rosin paper he not only found glops of drywall dried to the floor, but where the rosin paper got wet (it was snowing much of the time they were working in there), it stained the floor red. So far we've tried hardwood floor cleaner, soap and water, elbow grease and Simple Green and nothing has worked. The people who refinished our floors several years ago recommended we try mineral spirits and I found a suggestion online to try a magic eraser, so I'll give those a shot. But if that doesn't work, the floor is at least going to need to be screened (this is where they rough it up with a screen rather than sanding and put one coat of finish on it). Which is expensive, takes time and is going to require a rather unpleasant conversation with our contractor.
But let's think positively and say that's all going to work itself out. We'll be painting in there all weekend (thanks for weighing in on the color, by the way … the poll was pretty heavily in favor of a navy color) and the contractor is scheduled to come back early next week to put the wood ceilings up and the trim back on. Stay tuned on Instagram as I'll put some updates there as they happen.
But onto the fun stuff. Here's what I'm digging this week.
The coolest staircase handrails ever. Obviously you have to have the right space for them, but wow, who knew handrails could be such statement pieces?
I bet this post irritated some people, but I have to say I agree with most of it, particularly the bit about handscraped floors. (Sorry if you have them! All that matters is that you like them.)
This is just a great update from an excellent blog. Plus there are puppies in it, so how can you go wrong?
Last year, I said that leaf lettuce was the one thing that everyone should grow, and now Emily at Pass the Pistil offers some suggestions for growing greens in small spaces.
I like this super fun bathroom. I don't think I'd want a bathroom like this for my main bathroom but if you had a house with several bathrooms I think it would be neat to have one that's just fun.
That's it for this week gang. I promise to be back with some real posts next week. As for my plans for the weekend, they are the same as last weekend: paint, paint, paint. Good thing I like painting.
What's on your docket for the weekend?