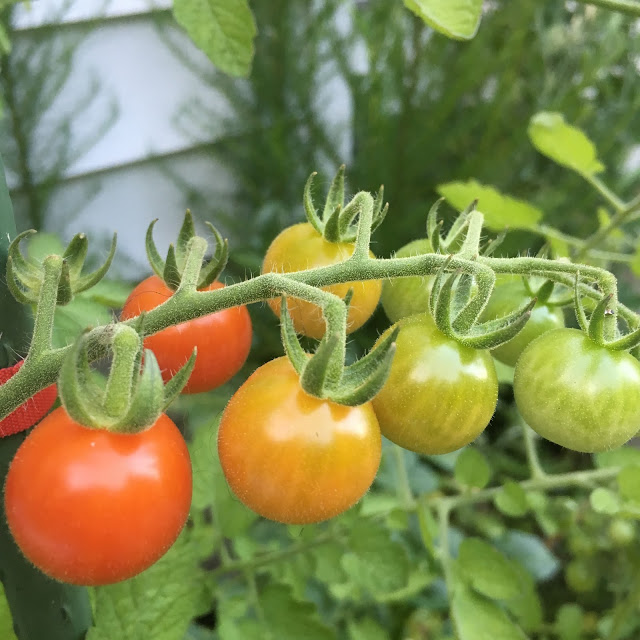 I don't want to talk about how it's almost the middle of August, or how the back-to-school ads are incredibly annoying to me (not because I have any stake in anyone going to back to school, but such ads signal a certain time of year). Instead I'd rather revel in the fact that last night for dinner I ate a heaping plate of tomatoes, cucumbers and basil (with a little feta, balsamic vinegar and olive oil) straight from the garden. It absolutely doesn't get any better than that folks.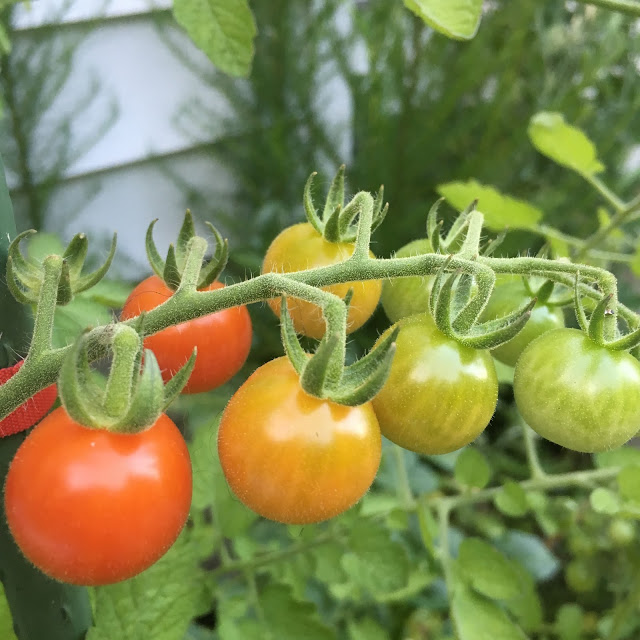 The Mexican Midget tomatoes I have growing in a container near the door and I love how they ripen from end to end. Not a single tomato has made it inside yet. All are consumed as fly-bys.
Everyone must be thinking about gardens at this time of year because it seems like it was a week filled with celebrity gardens.
First there was a tour of Anna Wintour's garden. Don't miss this beautiful New York Times video of her garden with a tour by designer Miranda Brooks. If I had to guess what Anna Wintour, the notoriously prickly and demanding editor of Vogue, would want her garden to look like, never in a million years would I have guessed it was this free-flowing (but very planned) garden that seems to be rooted in romance rather than cutting edge style. Sometimes I think people's gardens are truly the most intimate spaces, the ones that more than any other truly reflect their style, and if that's the case, the Anna Wintour most of us think of is a different person indeed. More photos and the story of the garden can be found here.
Then Ina Garten posted a photo of her lush but proper garden on her Facebook page the other day. Both of these gardens are in the Hamptons, but they have completely different feels to them. I couldn't tell you which garden I prefer because I think it would depend on my mood that day, but I love what Miranda Brooks says about Wintour's garden: "It's an adult, it's 20, it's got its own personality, so it sort of tells you; you know what's right for here."
By the way, notice the climbing hydrangea working its way up either an arbor or an outbuilding in the background.
In a complete change of subject, we're getting a kitten (well, a 5-month-old kitten) this weekend. We've missed having a cat around the house and Odin is getting lonely being the only four-legged in the house. But I've never experienced a kitten before so I don't exactly know what we have in store for ourselves. I did, however, learn that scratching posts and "cat furniture" are required, so I went on a hunt for not-ugly cat furniture. OK, folks, I'm just going to say, there is a market out there. All not ugly cat furniture (and by this I mean not covered in beige carpet remnants) is crazy expensive. I did, however, find this cat tree thing that is at least tolerable.
I know the cat won't care what the thing looks like, but I'm the one who has to really live with it in my face. I may pick one of these up but in the meantime I'm going to see if I can't come up with a creative solution to this problem.
One last note: I'm working on switching over the way posts are delivered via email. If you read The Impatient Gardener posts via email, hopefully all you'll notice is a nicer looking design. I'll probably officially switch things over sometime over the weekend, but if you ever have a problem, please drop me an email or contact me on the Facebook page.
Have a great weekend! What's on your schedule this weekend. I'll also take kitten advice, because I have a feeling I'm going to need it.