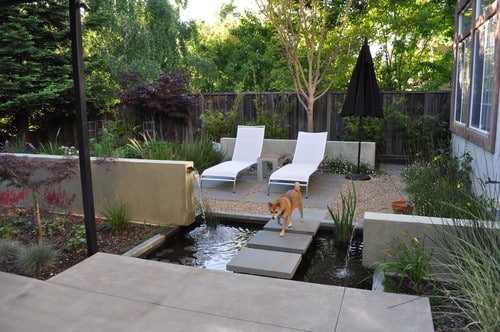 First of all, thank you all so much for your kind words about the loss of our
dog Hudson
. So many of you shared stories of your beloved pets and I know that you know just what we're feeling.
Hudson loved water as all Newfs do. In fact they love it so much that having a water feature in my yard would be an invitation to a constantly wet dog. Plus, some water features can be a bit more maintenance than I'm interested in, so beyond the natural creek that runs through the yard, we don't have a water feature. But there is nothing like water in the garden, and water features are so much more than overgrown ponds or tri-level Italian-style fountains. In fact, I found some really creative water features ranging from quite large and complicated to simple but beautiful.
Enjoy.
And then there is this absolutely amazing work of art from Deborah Silver's Branch Studio. You must visit her blog to see how this fountain was created. I hope this ends up in a garden that is created around it, because it is just that special.
Do you have water in your garden? What would your dream water feature be?