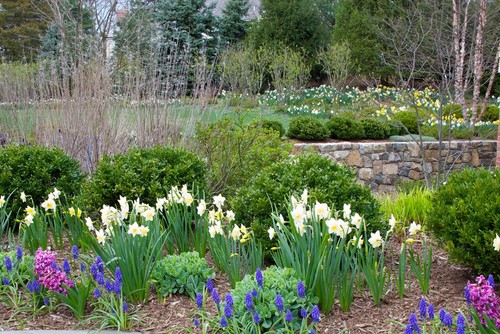 The declaration in the headline might be more optimistic than realistic, but I thought it would be appropriate to mark the first full day of spring with some shots of spring bulbs in full bloom, even it will be several weeks before such a thing happens in my area.
When I did the garden design styles series, one reader had a comment that had me laughing so hard and I've not forgotten it. Now every time I see a photo of a garden with a boxwood hedge I think of it.
Casa Mariposa said, "I don't like structured, formal gardens and little boxwood hedges drive me nuts. I just want to take a pair of shears to the side and cut an escape route for all the plants penned up inside."
The image of cutting an escape route for the plants stuck in boxwood jail (such as the tulips below) brings a smile to my face every time.
Looking at these photos, I'm a bit sad that I don't grow more tulips, but it seems like a worthless cause when every critter around seems to line up to eat them.
I've discovered some of the fancier kinds of daffodils and that helps me forgot that I'm missing tulips. I love the doubles and many of them have a lovely fragrance too.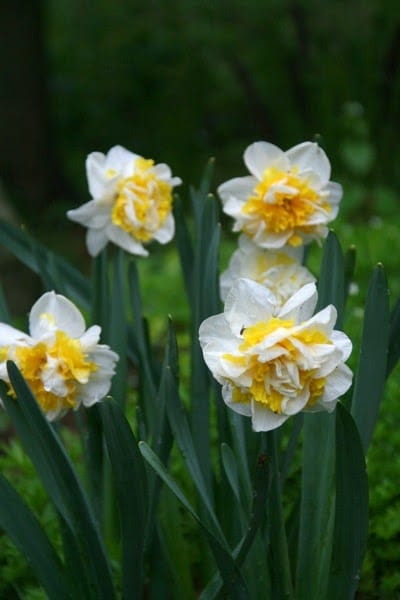 The Impatient Gardener photo
Every spring I tell myself that I'm going to plant more spring bulbs come fall and then every fall I decide that I have too many other chores to do in the garden so I skip it. The only negative about spring bulbs as far as I'm concerned is having to deal with the foliage after the flowers have faded. The more daffodils I have, the more braiding of leaves I have to do and that gets tiresome. Still I doubt that few things can stir a gardener's soul more than the springs first flowers.
What are your favorite spring bulbs?
All photos from Houzz.com. Click on the photo for more information.