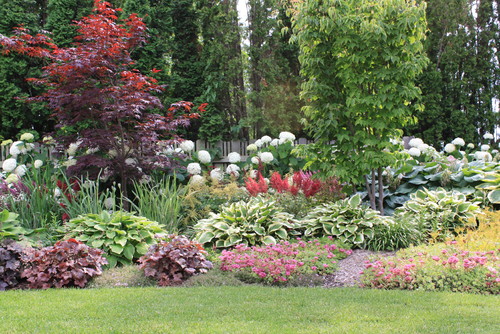 I'm sorry the posting has been a bit sporadic lately. Although a deadline a work certainly has much to do with that, I've also been spending some blog time working on a redesign. It's almost finished and I hope to launch it soon so don't be alarmed if you visit The Impatient Gardener soon and it looks different. Same blog, same gardener, different look.
I've been staying up late at night watching all the BBC gardening shows I can find on youtube, and one was on herbaceous borders. The examples they showed were stunning, although I detest such borders when they have a bowling alley of grass down the middle. Anyway, it got me thinking, and I believe that a mixed border is my favorite kind of garden.
Tracy diSabato-Aust has several wonderful books and one of my favorite is The Well-Designed Mixed Garden. In particular, I love the mix of textures in mixed garden, especially when a few evergreens are mixed in. Even just seeing the trunk of a tree does something really interesting for a mixed garden.
So that's what this week's Feature Friday is about.