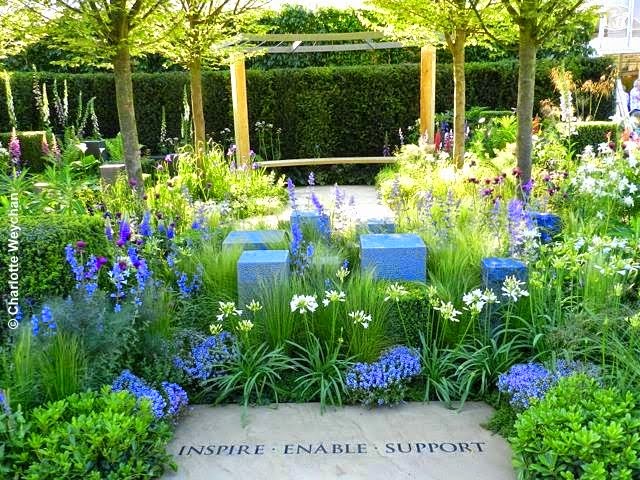 I'm declaring it here: Someday I will go to the
Chelsea Flower Show
. This annual event is a veritable utopia for gardeners who go to take in the show gardens (from large to small), and special booths often featuring specific plants. The only thing keeping me from booking a ticket for next year is the crowds. I'd have to figure out a way to avoid the public days because after watching some shows on it, I would go nuts dealing with all those people.
Continuing my addiction to BBC gardening shows, I watched almost all 14 hours of Chelsea Flower Show programming on Youtube last week (go here to watch most of them) and while much of it was repetitive, it gave me the best look at the show I've ever had. The website has a handful of photos of each garden (not nearly enough, in my opinion), videos and, best of all, a few gardens provide plant lists (this should be mandatory for every garden, I think).
What amazed me was how the large show gardens, all designed and sponsored by different people, seemed to have so much in common. A blue, white and yellow color scheme (in other words, very soothing) seemed to be everywhere (this was just fine with me because I'm learning that is my favorite, for now, anyway). The planting styles were also very similar. Giant chunky drifts of plants (as we've been taught to plant in and I have preached here, although sometimes still struggle to do in my own garden) seem to have given way to a more naturalistic style of planting. Many of the gardens seemed to have a small number of plant varieties, but mixed them up and repeated them throughout. It's one way to make a garden that I feel is always successful, but it requires far more restraint than I'll ever have.
My favorite garden was the Hope on the Horizon garden designed by Matthew Keightly, who is just 29. It won the People's Choice award and I can see why.
This is my favorite part of it.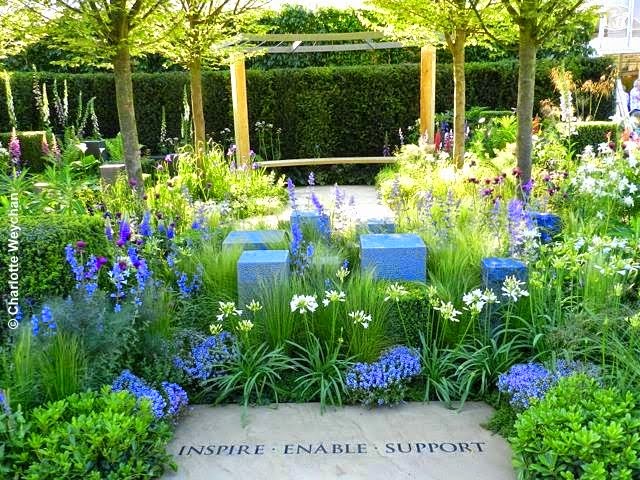 The Galloping Gardener photo
The combination of the granite blocks, the ethereal Mexican feather grass (which I'm now obsessed with and in search of for my own garden even though it's only an annual here and relatively invasive in warmer zones), the white agapanthus and the pops of blue is just amazing. I think the plant selection in this garden is absolutely amazing.
There was a very similar color palette used on the Best in Show garden, the Laurent-Perrier garden designed by Luciano Giubbilei. I don't care for this garden nearly as much but clearly the judges didn't agree.
Another garden that I liked was the Telegraph garden, which the design brief says is a modern interpretation of an Italian garden. If this is what a garden in Italy is like, I consider that one more reason to get there soon.
My favorite thing in it is the lime trees (Tilia x europaea 'Pallida' aka European linden) that have been trained to form a roof. What amazing structure they add! And they make the perfect spot to sit for a cappuciano. I also quite like what I'm calling the ottoman boxwoods. We've seen boxwoods pruned into just about every shape imaginable, but this is the first time I've seen them all squatty. The planting is great, and while straight lines aren't usually my thing, I think they make perfect sense in this garden.
As much as I love that color scheme, even after looking at these three gardens, I'm a little sick of it. Thank goodness for this Japanese garden by Kazuyuki Ishihara to change it up.
Chelsea gardens aren't meant to be real, of course. Every plant is coddled to be at its peak for the show, a situation you could never reproduce in a real garden. But it's incredibly inspirational. I wish I could see them with my own eyes.