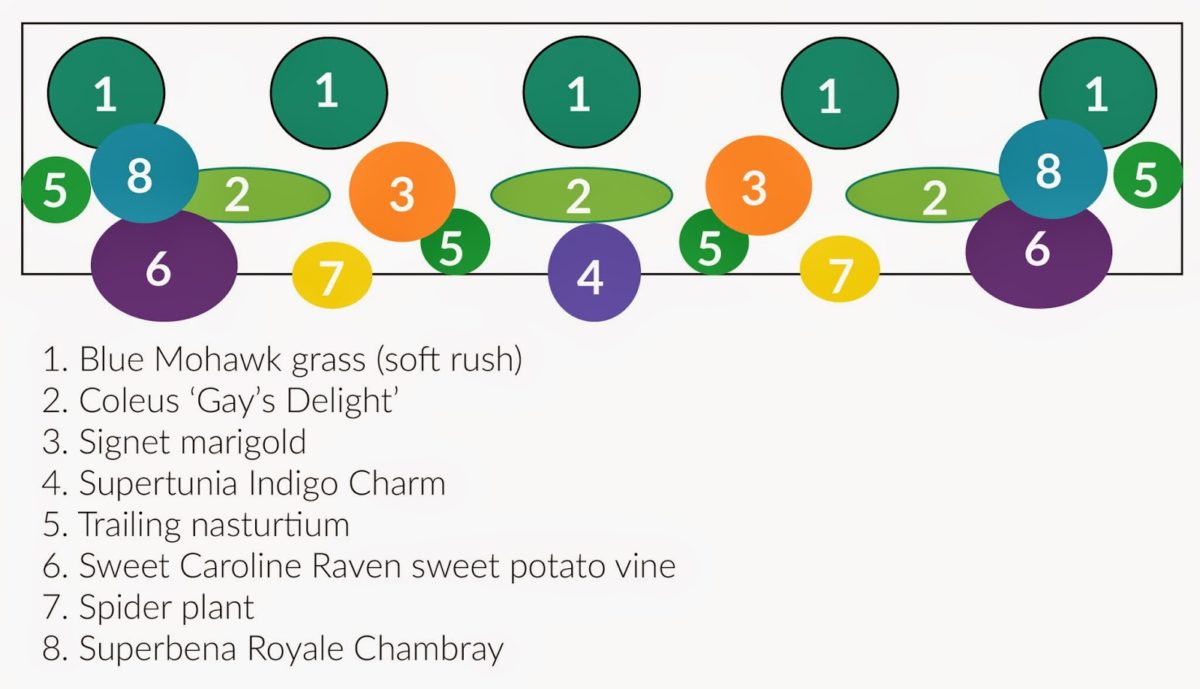 As you know, I love planting containers. Of the containers I plant I think I put the most emphasis on the window box. It is probably the first thing you see when you pull up to our house and it's one of the few containers I can see (part of, anyway) from inside the house. So I spend a lot of time planning what will go in it.
I was happy with how the window box turned out last year, maybe for the first time ever. A logical person might think of just doing the same thing, but not me. There are just way too many flowers in this world to repeat a container planting as far as I'm concerned.
I did, however, take some cues from last year's box. Two years ago I had a very colorful planting but there was no variation in texture. Everything was about the same size and shape. So last year I went out of my way to vary the foliage size and shape.
I did even more of that this year. Like last year, I started with a row of five Blue Mohawk grasses in the back. I loved how they grew last year but not so much that the view from inside was blocked. And like last year, I put a layer of coleus in front of them, although this year I went with a chartreuse one with purple veining called Gay's Delight. Right now the leaves are starting to turn more yellow than I'd like but I'm hoping that's because it's been thrust into full sun with only a short period of hardening off from the greenhouse.
Skipping ahead to the front row, I put a Supertunia Indigo Charm, one of the few absolutely can't-miss plants that I use just about every year, in the middle. Then I repeated the planting on either side of it starting with a trailing nasturtium, a spider plant (or something like it; it wasn't labeled), Sweet Caroline Raven sweet potato vine and then another trailing nasturtium on either end of the box.
In the middle I stuck in two orange signet marigolds, both for their orange flowers and their feathery texture, and two Superbena Royal Chambrays.
I wasn't doing the window box any favors by taking this in the evening and without hauling out the ladder. I just held the camera over my head and hoped for the best. Still, you get an idea of what's going on in there.
I'll be honest, I'm not feeling particular confident about the design and I can't guarantee that I won't rip something out and change it in a few weeks. I'm worried that I'm short on flowers. I'm also fearful that the coleus is going to be too bossy color-wise with the rest of the plants. I actually think the key is going to be the signet marigolds, which I've never grown before, so that's a lot of pressure. If those don't fill out and bloom decently, the whole thing could be a flop.
Of course it all looks underwhelming right now, as all new plantings do. Whether it's a successful design remains to be seen. Time will tell.