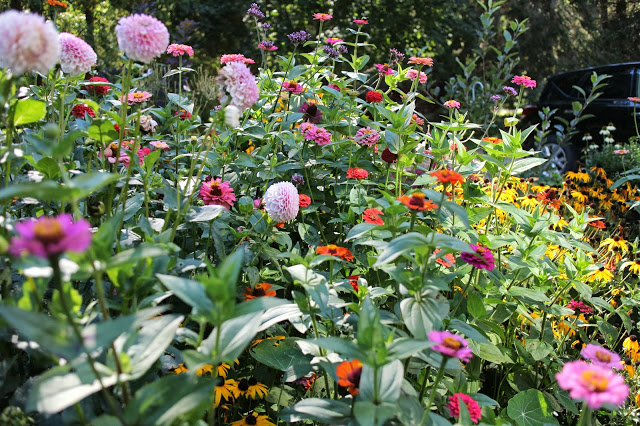 There wasn't too much exciting to report from my garden chores, but I will say that all those zinnia seeds I threw in the garden certainly seem to be happy. The garden looks a bit messy right now but it's not lacking in color, that's for sure.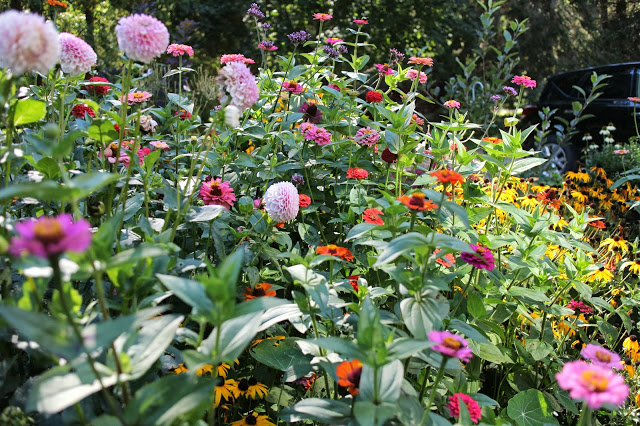 I will write more on my first experience in growing cardoons some other time, but of the three I planted, this one is loving life the most. It is huge, at least 4 feet high and wide and it is in the least amount of sun of any of them, which is surprising to me. It's still mostly sunny, but you can see when I snapped this picture in the afternoon it was already in shade.
Watering continues, especially in this area where the cedar tree came down and everything is newly planted this year. I've found that the single best thing you can do to ensure that new plants survive the winter is to make sure they are well watered before they go dormant.
The window box is rather ridiculous now, it is so overgrown but I sort of like it. This was certainly the most interesting window box planting I've done and perhaps the most successful, depending on how you define that term.
This photo was taken July 7, at least three or more weeks after it was planted. You can tell it was a cool start to summer because there really wasn't much happening at this point.
This was taken August 21 and boy do I wish I had turned off the light in the kitchen before I took it. If the nasturtiums (which were planted WAY late) were a little bigger in this picture I think I would say that hands down this would be my favorite phase of this planting.
This is what it looked like this weekend. You can see that it has essentially turned into a study in foliage, as there is little left to see of the Supertunia Indigo Charm and the Superbena Peachy Keen. Interestingly though, I think this is the best I've had a window box look this late in the season. It's not really what I had originally intended, but I don't mind it, really. I'm really happy with the Blue Mohawk grass in the background and I think I will do that again in the future.
What do you think? Which is your favorite look or are none of these your cup of tea? Did you work in the garden this weekend?