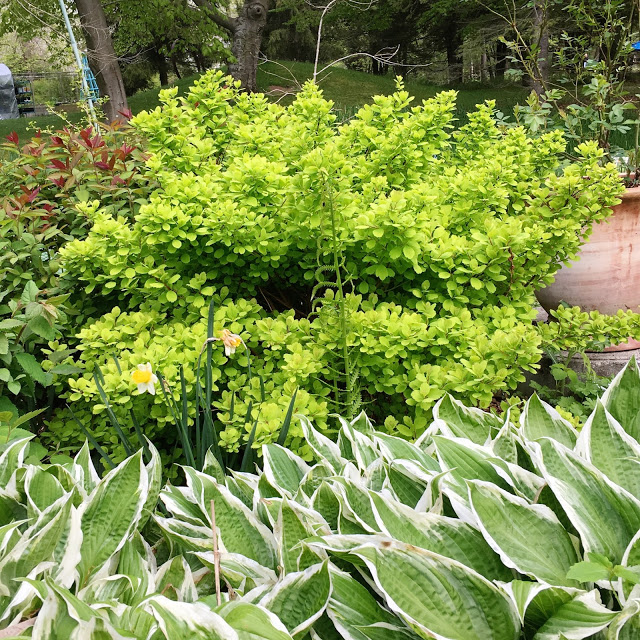 We've officially hit the height of Holy Crap There's a Lot to Do in the Garden season. I've been taking it chunk by chunk, trying to completely finish one area before starting on another. The problem with this plan, of course, is that the other areas of the garden farther down the list are turning into jungles while they wait for their turn.
Short of hiring help, which I talk about every year and then come up with 18 reasons why that won't work, there's nothing to be done about it other than to just plod on. It is frustrating because right now a good amount of time is spent tending annuals and other plants that have congregated in multiple areas of my yard while they await planting. And yet, I'm still on the fence about whether I want to plant containers this weekend. It's still quite cold at night here (often in the 40s), and that's not treatment that most annuals like. Right now I can cover them all at night, but once they are in containers, it's every plant for itself.
Anyway, there's no question what I'm doing this weekend. Gardening. I'll take a few breaks for some Memorial Day gatherings and a graduation party, but we're rapidly getting to the part where I wish all the big work in the garden were done and I could go into maintenance mode. Also … why are there so many weeds? It is infuriating.
There are moments of glory in the garden though and here's one. This spirea. I'm pretty sure it's Glow Girl and I'm very sure I planted it too close to another spirea, but holy smokes, that foliage is outstanding. A loose hedge of these would be phenomenal.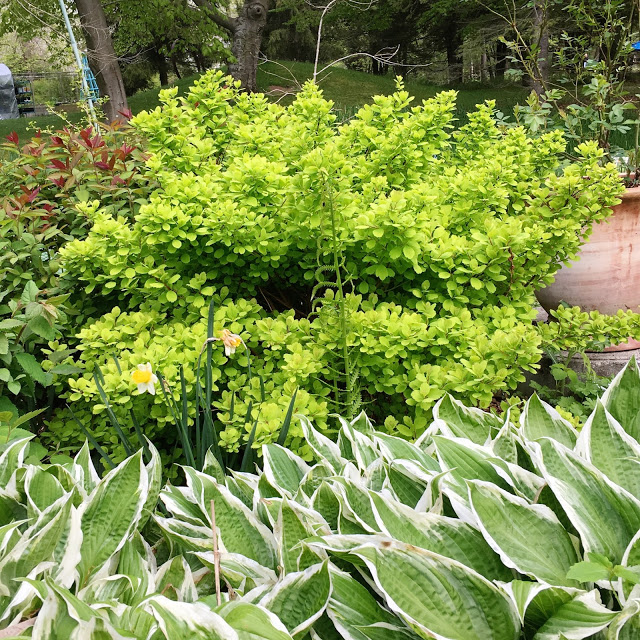 I feel like that rogue ostrich fern is photobombing this picture.
Speaking of containers, which I guess I was about four paragraphs ago, I planted my first one last weekend, just to do one because I couldn't wait any longer. And I made a video of it. Check it out here and stick around the mini blooper toward the end of it.
And now a few finds for this Friday:
It's Chelsea Flower Show time, so I've been checking out all the gardens. Honestly it's a bit of a let down from previous years, but apparently the Brexit vote came right around the time they were taking garden submissions and very few companies felt comfortable spending money sponsoring show gardens then. Anyway, this is my favorite of the bunch. I'm not at all a fan of the Best in Show garden, although I imagine it garnered major points for being such a huge undertaking.
I think my friend Linda's garden looks better in spring than any other time of the year. She has such interesting foliage plants that all the fresh green popping up is delightful. Do check out her blog to see the fabulous photos she's been posting lately.
If you're into fairy gardens, don't miss Lisa's adorable wheelbarrow garden. I had a wheelbarrow that meant a lot to me and when it rusted out and got wobbly we pitched it. I now wish I would have saved it for a mini garden/container. Woulda coulda shoulda.
A few weeks ago I did a cocktail hour stroll through the garden, completely with cocktail making, on a live Facebook broadcast. It got LONG (I'm a talker), but if you want to check it out here you go. I want to do more of these (but maybe as videos instead of live broadcasts) because I can't think of a better match than cocktails and gardens.
Well that's it for me. What are you up to this weekend? Anything OTHER than gardening? Or do you take these holiday weekends off from the garden?