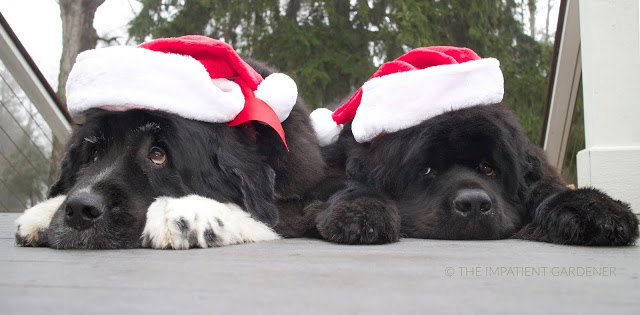 Ever since we threw a Santa hat on our first dog Hudson when he was just puppy and mailed it out, Christmas cards featuring the dogs have become "a thing." Mr. Much More Patient says we've been slacking off in recent years and needed to do something more extravagant this year, but I've found that the more complicated we make the setup, the less likely the photo is to work.
So we went for plain old cute this year and, in a nod to the past, we brought the Santa hats back.
And here's what we ended up with.
And here are few from the big Christmas card photoshoot that didn't make the cut.
Here are some of our Christmas cards throughout the years:
My favorite will always be the snowman one because we did not expect Hudson to eat the carrot nor Rita to look so horrified about it.
A lot of people don't send cards anymore and I can certainly understand why, but they are one of my favorite parts of Christmas. I love seeing photos of my friends' kids as they grow and just hearing from friends who we see all the time and those we don't. We get one good old-fashioned Christmas letter and I sort of love it because it's completely nuts. Plus, it's so nice getting something other than a bill or a catalog in the mail!
Do you send cards?