It is predicted to rain here. All week. And hover in the 45-degree range. The optimist in me assumes this is because Mother Nature wants to make sure we get our fill of April showers so we get our May flowers.It does give me a chance to take a break from talking about gardening, to catch you up on at least one inside project with a very important lesson.
First, the lesson: Black is not black.*
I discovered this lesson when I set out to repaint the inside of our back door, that opens to our kitchen.
You may recall that the first time I painted it black, I did so on a whim and over cocktail hour. There's a chance I may not have done a good job on my prep and I think it's safe to say we can and should blame the Cabernet for that. Anyway, that paint job was chipping and getting a bit scratched up so I figured I'd redo it the right way this time.
I sprung for very expensive Fine Paints of Europe Eco Brilliance paint. After sanding and priming, I put a coat of the insanely high gloss paint on. The color was to die for. The most amazing black (just "Black" in FPE parlance) that was deep and rich and just lovely. The first coat didn't go on well, but that's to be expected with dark paints. The second coat went on weird. It was all lumpy in some spots. The third coat (sanding between coats) only made it worse. Something was horribly wrong.
It may have been the primer I used (FPE says you must use their primers with the Eco line and I no longer think that's just a sales strategy). It could have been that high gloss paints are just difficult to work with and even FPE recommends that you paint the first coats in satin and finish with a coat of Brilliance. Whatever the cause, it looked awful and I couldn't stand it.
So I sanded it all off (some areas came off in sheets, proving that the paint had not bonded with the primer). I would have stripped it if the door weren't very much in use. And I reprised and I went back to my comfort zone, which is Benjamin Moore Aura, although in an exterior formulation for better durability.

You can sort of tell the issues with different paint colors in my little finger-dip paint testing method. I can't remember which two Ben Moore colors the first two are, but the color farthest to the right is Fine Paints of Europe's Black and it is utterly gorgeous.
I bought Black. And I put a coat of black on. And Black was gray. Not even charcoal gray, actually. So I took it back to the paint store, where they told me this is not an unusual problem. I exchanged it for Onyx which looked very black on the swatch. And I put on a coat of Onyx. And that was better. I'd say it was the color of a chalkboard that had been erased. Beautiful color, but not black. Then I bought Twilight Zone, which looked darker than Onyx, but was actually lighter.
So I wrote to Benjamin Moore who very nicely replied to say that Black is their richest, darkest color. Hmmm, that didn't add up because Black was the lightest of the colors I'd tried. But maybe there was a calibration problem at the paint store.
So I went to ANOTHER paint store. This time I found a paint guy willing to get creative (while I love my regular paint/hardware store, they are reluctant to mess with paint formulas), so we mixed up Black and then added as much additional black pigment as the can could hold.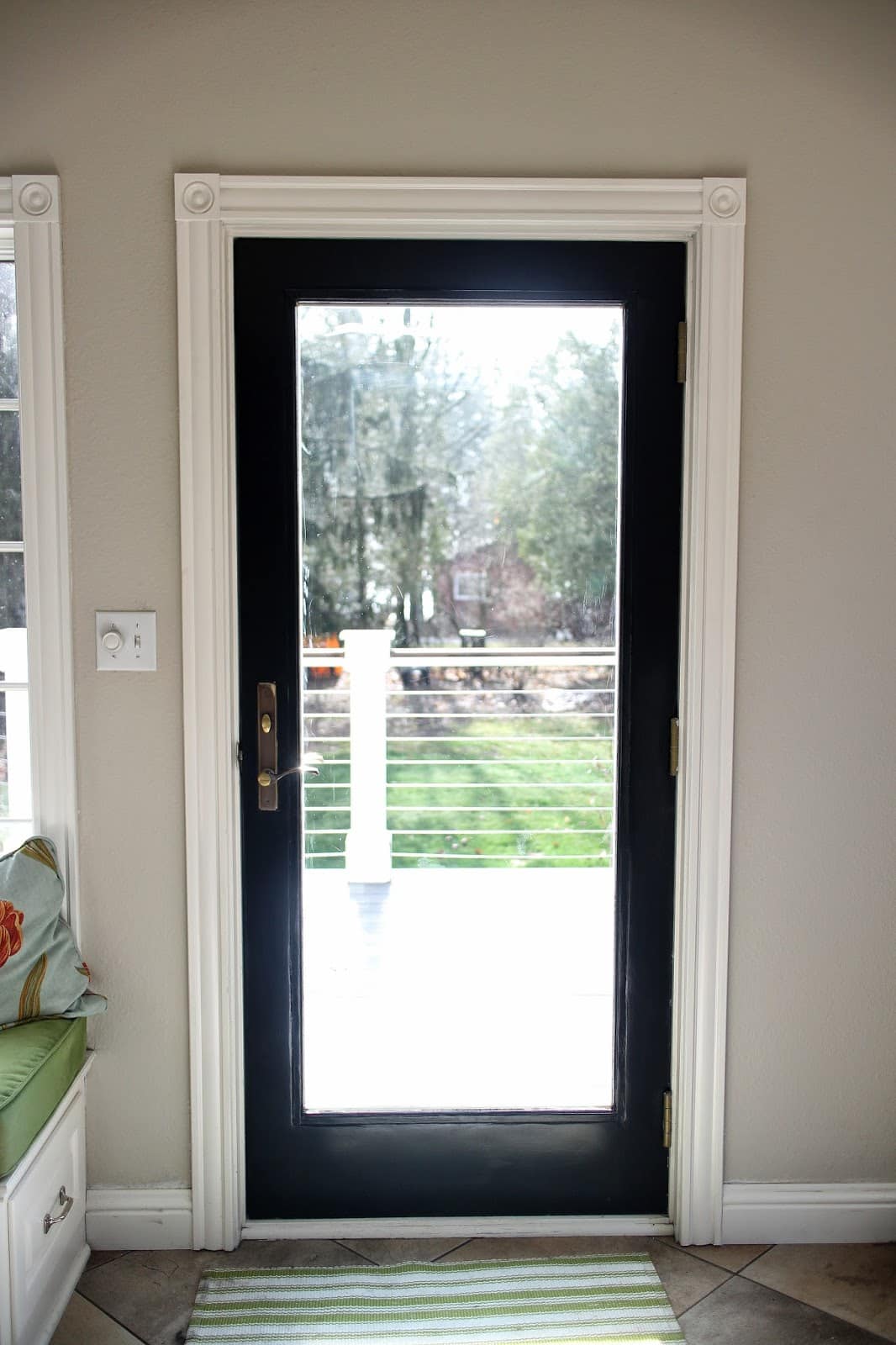 All that and we're back, more or less, to where it was, sans scratches and chipping. Looking at this photo, I realize I need to touch up some of the baseboards. Sigh. Another day.
It's still not as nice and rich as that gorgeous FPE paint, but sometimes it's a compromise. And for me, a good paint job in a not-perfect color is better than a great color that looks like a mess.
I know you're wondering why I didn't just paint it the same black it was. Would you believe I don't know what color that was? I actually gave the can away to my nephew for a project so I don't have it and I didn't make note of it in the blog. Looking back at those photos from when I first did it, I think the original was actually darker. Which goes back to the theory that something has changed with the paint colors or pigments or machines since then.
The lesson? I don't think I'll use Benjamin Moore paint if I want a true black in the future. And if you do use it and you want a real black, find a nice paint guy who will just load up the can with as much pigment as you think it can handle.
* When it comes to paint, anyway.


P.S. Longtime readers may remember that I once posted an entry with almost the same name (or exactly the opposite depending on how you want to look at it), only about white. Maybe I should stick to gray.