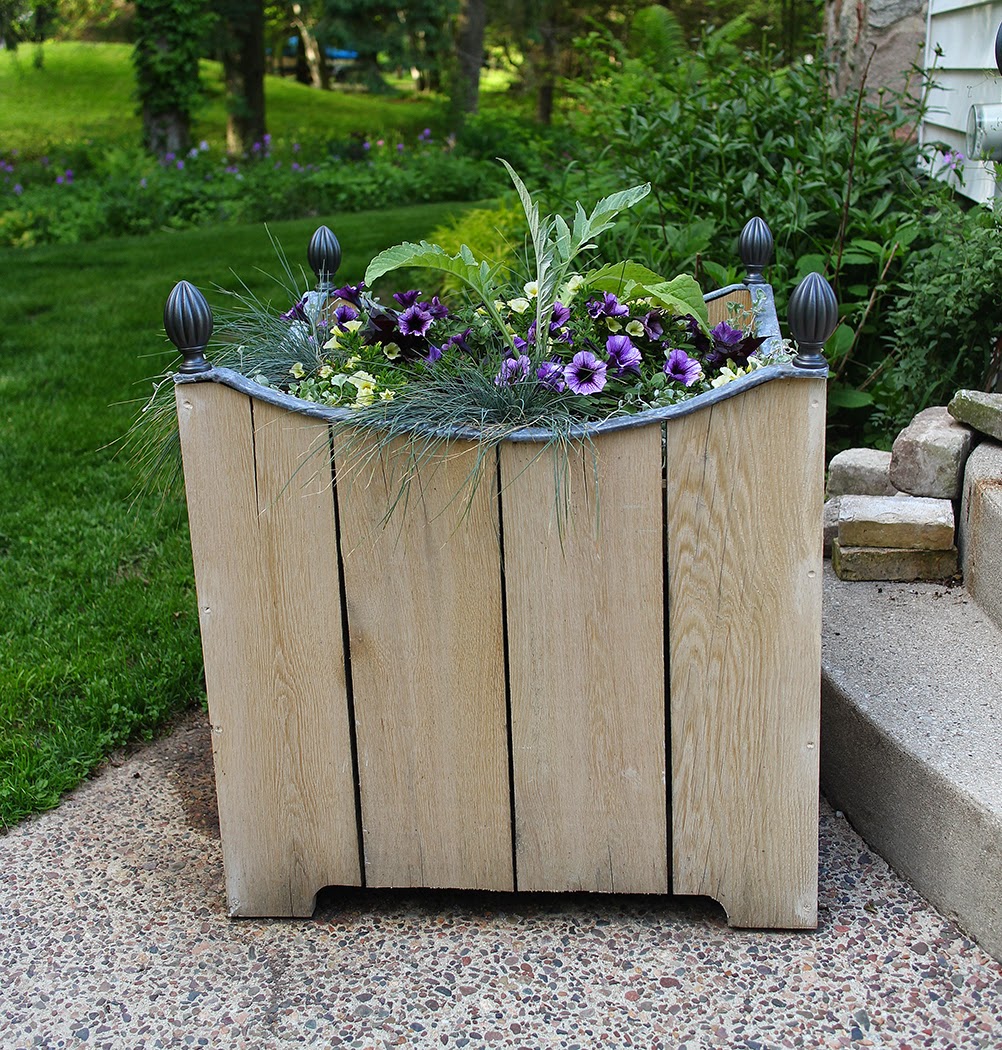 I've finally finished planting all of my containers for this year. The weather since they've been in has not been great so they are not filling in as quickly as one would hope, but they'll get there, I'm sure.
I thought it would fun to see how they change throughout the summer, so I'll try to check in with them once they start changing a bit.
The first container is the new white oak planter
by the front door. I filled it with a cardoon, white superbells with light yellow centers, Bordeaux petunias, dicondra 'Silver Falls', 'Elijah' blue fescue, and a black sweet potato vine.
On the other side of the front door, I always put my blue containers on the steps. This year I filled them each with plants from Proven Winners 2015 trials. These should be available in nurseries and garden centers next year. Honestly, this isn't the most creative pairing in the world, but I was running short on creativity. Each container has Supertunia 'Black Cherry' and Superbells 'Frostfire' in it. Black Cherry is a very dark red flower (the color is divine and really unlike what you can often find in annuals) and is supposed to be more upright (and therefore more of a filler than a spiller) than many Supertunias. Frostfire is a white flower with a mustard-yellow center with dark red veins.
I've already told you about the window box. So far the only thing that seems to be growing is the nasturtiums.
Near the back door are two more utilitarian containers. In the past we've planted a patio tomato in a container for Hudson (he loved tomatoes). He's gone and our other dog has no use for tomatoes, but I was always a little jealous that Hudson got tomatoes weeks before we did, so I'm growing one in a container again. Next to that is a bit of spearmint, already taking over the container. Let this be your annual reminder to never, ever plant mint directly into the ground.
On the deck, I did planting similar to what I've done in the past, although this year I used pink mandevilla vines instead of red. There is also some creeping Jenny, profusion zinnias, Superbena 'Royale Chambray' and another Proven Winners trial plant Superbena 'Royale Cherryburst'. I've been so impressed with the entire line of 'Royale' Superbenas so I hope this latest one is as lovely.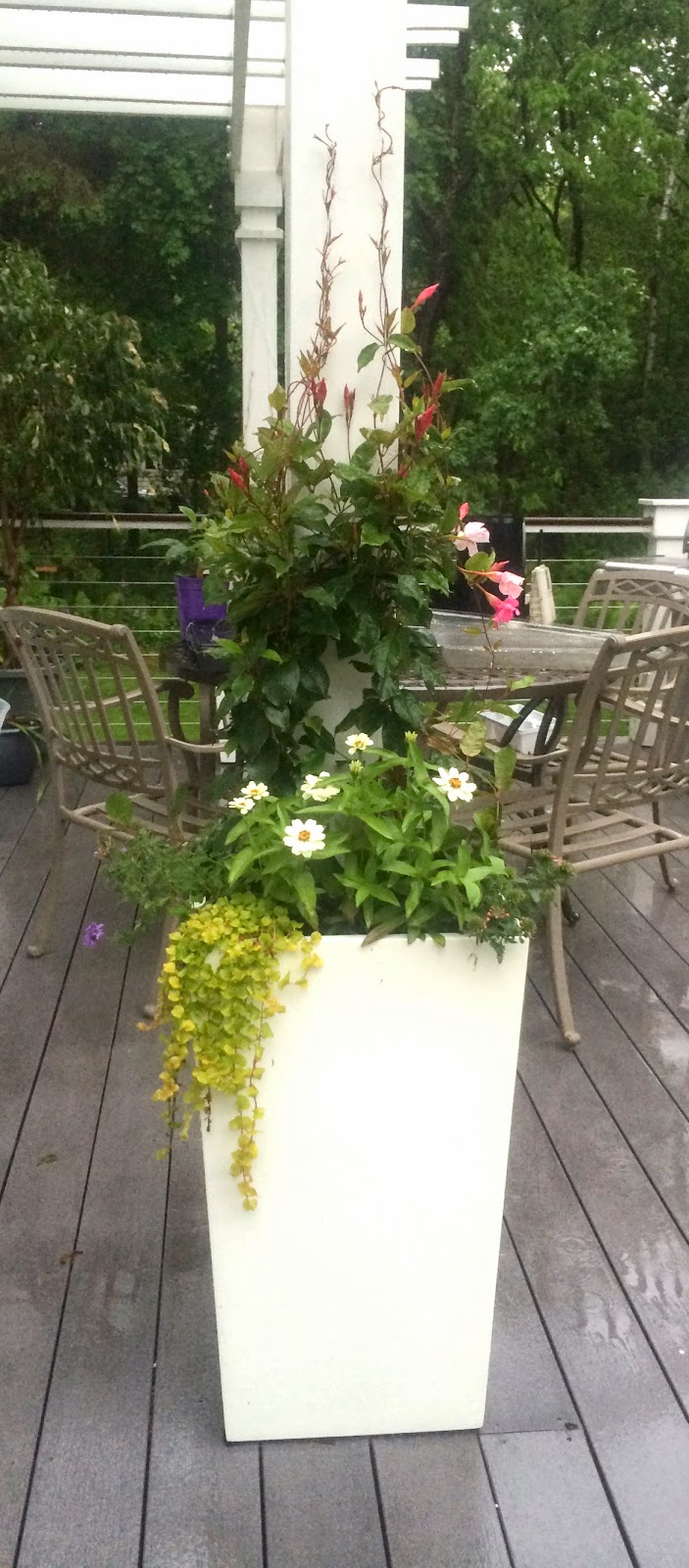 I snapped this photo quickly in the middle of an epic rainstorm.
In the urn in the middle of the garden off the patio, I was really stymied this year as to what to plant. By the time I got to that container I was sort of sick of buying annuals so I wanted to work with what I had. The thriller in that container is actually a dahlia I grew from a tuber called Urchin. I'm not sure how it will work out in a container, but we'll find out. I also put in some more Superbena 'Dark Blue' and 'Silvervista' Supertunias as well as a little 'Diamond Frost'. I have no expectations for how this container will turn out this year. Last year I planted a 'Diana' clematis in front of it that is already starting to mingle with the container plants just as I had hoped it would.
By the garage, I planted a boxwood with some white annuals around it.
And this year, there is one more "container." When we had some more trees cut down in spring, one of them had a double trunk that was completely hollow in the center. The tree cutter just left the chunks there, but I thought this piece might make an interesting planter in the garden. If I can keep the deer from eating it, it might be a pretty burst of color out there.
That's all the containers at the house. At work I bought a new planter that was taller for by the door. I think it makes much more sense proportionally than the old planter, which I moved by a pillar and hope to have the hyacinth bean growing up. In that planter I also put some 'Diamond Frost' and an annual called Kiss Me over the Garden Gate. I picked up all four plants for less than $7 and really, that's what lead that that rather odd combination.
In the new planter by the door I used a caladium, an interesting little fern I found at a nursery, more of my vining nasturtiums, some angel wing begonias and a non-stop begonia in white. This is a very challenging location to plant as it gets hot sun until about 11 a.m. and then is completely shaded the rest of the day. The caladiums have already died, so I'm looking for a replacement for them. In the meantime, the nasturtiums have gone nuts and the whole thing looks rather ridiculous.
A note about these planters. I used MiracleGro potting mix in them. I usually never buy it, but I had to use what was available at the hardware store where the company has an account. I will never use it again. In addition to being almost entirely peat (which is hard to soak and once it is soaked, it stays soggy for a long time), it must have been very old because it is so dry I don't think I've still properly rehydrated it.
Anyway, that's the container roundup for the season. I can't say anything is particularly inventive this year, but sometimes it's hard to find the inspiration (not to mention the plants) to do something wildly different. I'll check in with them soon to see how they are growing.