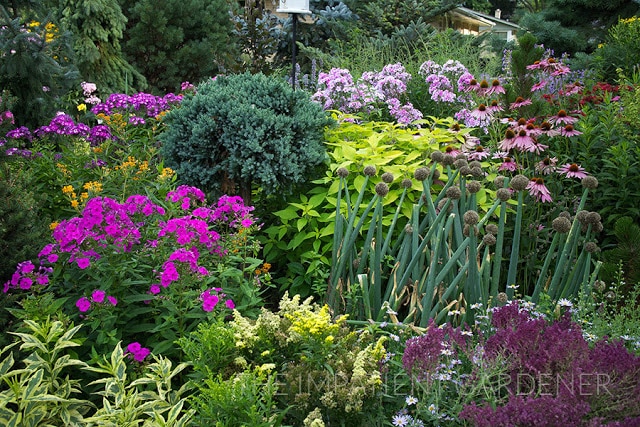 When I hear about structure in the garden, my mind immediately goes to what I consider the backbone of a garden design: trees, large shrubs and structures. These typically create the framework around which the rest of the garden falls into place.
But a relatively new-to-me plant has me rethinking the idea of where structure comes from in a garden. I don't know its name (and if you do, please enlighten me because I've been looking), but it's some kind of perennial allium. I received it as a small plant from a woman whose garden I visited a few years ago (she has a small annual plant sale) and I didn't notice it having particularly noticeable bulbs, although as an allium I'm sure it has some kind of bulb lurking under the soil. 
Here's what it looked like the first time I spotted it in her garden. 
There are a lot of plants in that photo but I don't even need to tell you which one I'm talking about because your eye is immediately drawn to it. 
Mine is obviously much smaller and is just starting to flower (bees seem to love, by the way). 
I'd say it's about 30 inches tall and it's thick, hollow blue stems are unlike anything else in my garden. What caught my attention the other day is that the stems have arranged themselves in a very artistic crossing pattern that is quite pleasing to my eye. 
But the architectural form of this plant makes it more than a focal point; it provides structure. I love loose, natural and even wild perennials that have a tendency to flop (but not too much, please) and go their own way, but without structure, they can look messy and out of control. Add in a structural element, like this strong-formed allium, and it all starts making sense.
In my garden, above, it's near the 'Orangeola' maple, which in itself provides structure, but to me, it's the allium that makes the structural statement. (And the bare spots you see are where the rabbits have done their worst.)
And I think you'll see it does the same elsewhere. You can barely see it in the photo below but I think this garden would be much less successful if it weren't there.
It's not the typical kind of plant one associates with structure, but there's no doubt that's what it provides. Sometimes you never know what a plant can do for your garden until it's there.